How Bette Midler, Mark Ruffalo and Other Celebrities Reacted to Rudy Giuliani's COVID Diagnosis
Rudy Giuliani has contracted COVID-19. The president's attorney has tested positive for the virus and is currently being treated in hospital.
Donald Trump tweeted to wish the former New York City mayor a speedy recovery Sunday.
"@RudyGiuliani, by far the greatest mayor in the history of NYC, and who has been working tirelessly exposing the most corrupt election (by far!) in the history of the USA, has tested positive for the China Virus. Get better soon Rudy, we will carry on!!!" Trump tweeted.
It is understood that Giuliani was admitted to Georgetown University Medical Center in Washington, D.C., on Sunday.
Addressing the situation himself, Giuliani tweeted: "Thank you to all my friends and followers for all the prayers and kind wishes. I'm getting great care and feeling good. Recovering quickly and keeping up with everything."
News of Giuliani's positive coronavirus test is being widely discussed on Twitter where many people are questioning how many people he infected by sharing clips of crowded events he attended in recent days.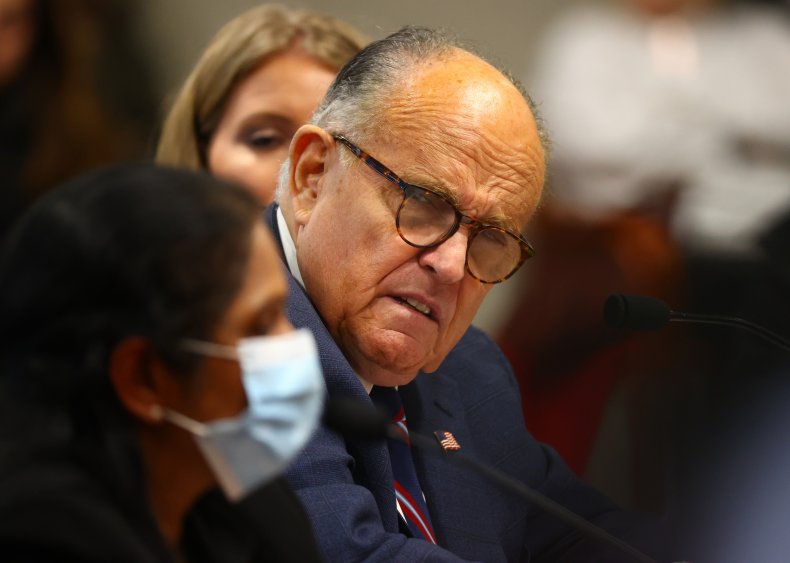 One clip doing the rounds shows Giuliani asking a witness to take off her mask during an election fraud hearing in Michigan last Wednesday.
A number of vocal anti-Trump celebrities have been commenting on the news of Giuliani's diagnosis, with many criticizing his stance on mask-wearing and general approach to the pandemic.
"#RudyGiuliani has tested positive. Oh, dear," frequent Trump critic Bette Midler tweeted, before adding: "#RudyGiuliani exposed hundreds to COVID-19 as he relentlessly criss-crossed the country seeking to overturn the election; pix of him maskless, hugging, kissing, posing with other Covidiots...it's enough to make you gag. Pity the poor doctors & nurses who have to treat him."
In a later tweet, she said that Trump and Giuliani should be "charged with murder."
Avengers star Mark Ruffalo added: "SHOCKING! UNIMAGINABLE! F-ING UNAVOIDABLE! What a [eggplant emoji]."
"Rudy Giuliani can now only hear his farts," comedian Mohanad Elshieky joked.
The Majority Report host Emma Vigeland summed up Giuliani's last few months and called him "an icon."
Sarah Silverman added: "What a month. Remake 'Rudy.'"
Late-night host Conan O'Brien tweeted: "Biden is looking for a new Attorney General. So, we may not be done with Giuliani after all."
George Takei of Star Trek fame remarked: "Rudy Giuliani tested positive for COVID-19. I offer him my farts and prayers."
He added in another tweet: "After testing positive for COVID-19, Rudy Giuliani filed a lawsuit with the lab demanding the results be overturned."
While Star Wars legend Mark Hamill said: "@RudyGiuliani-by far the greatest conspiracy theorist in the history of America & who has been working tirelessly to undermine faith in our democracy in service to the most corrupt president (by far!) in the history of the USA, has fallen victim to the Fake News COVID Hoax. #SAD."
"I know it's easy to make fun of Rudy Giuliani, but that's only because he's an awful person whose entire career consists of hurting people to benefit the rich," comedian Mike Drucker tweeted.
Supernatural's Micha Collins added: "Rudy Giuliani didn't wear a mask as he traveled around & talked to people. Rudy now has COVID (and may have infected hundreds of others). Don't be a Rudy. Stop the spread! Wear a mask."
"@RudyGiuliani has tested positive for #COVID19 -- After traveling state to state to state with no mask, shaking hands and hugging people," author Don Winslow said. "In other words, that MF has done another stupid, stupid thing to hurt this country."
He added in another tweet: "I hope @RudyGiuliani recovers quickly so he can be disbarred, prosecuted and jailed."