Newsmax Guest Doctor Calls Rudy Giuliani a COVID 'Superspreader'
A doctor appearing on conservative news channel Newsmax has labeled Rudy Giuliani a COVID-19 "superspreader."
Dr. Bob Lahita, a professor from New York Medical College, said he is "concerned" about the health of the former New York City mayor.
Donald Trump's personal attorney has made headlines this week after it was confirmed the 76-year-old tested positive for coronavirus, after months of refusing to wear a mask and downplaying the pandemic.
"We of course revere him in New York City as one of our great past mayors," Dr. Lahita said on Monday. "He is up there in years and I really regret the fact that he traveled around the country basically not wearing a mask at any time. I never saw him wearing a mask. And inadvertently, he may have been a superspreader. That is having the diagnosis and then perhaps infecting quite a few people."
He added: "I wish him all the best and I hope that he gets better quickly."
Giuliani was admitted to Georgetown University Medical Center in Washington, D.C. for treatment on Sunday.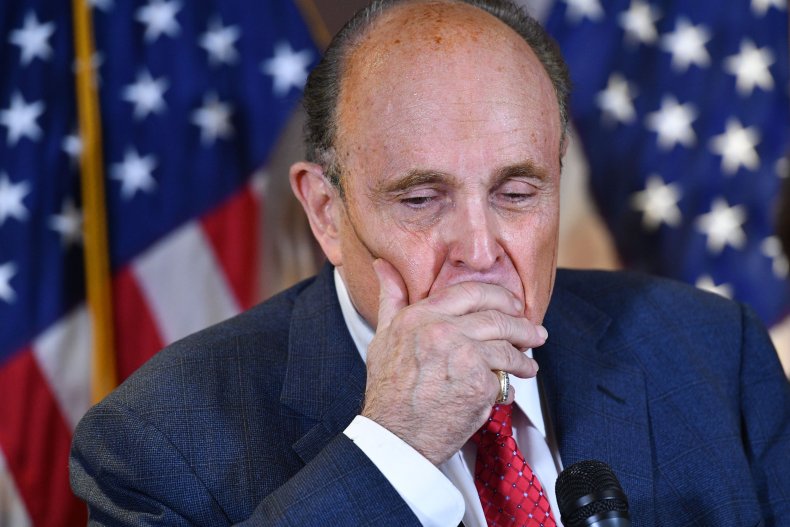 However, Team Trump has been attempting to downplay said superspreader fears, despite the fact that Giuliani attended a public hearing at Michigan's House Oversight Committee on December 2, while maskless.
"Mayor Giuliani tested twice negatively immediately preceding his trip to Arizona, Michigan, and Georgia. The mayor did not experience any symptoms or test positive for COVID-19 until more than 48 hours after his return," a statement reads.
"No legislators in any state or members of the press are on the contact tracing list, under current CDC guidelines. Other team members who are defined as having had close contact will be following their physicians' directives and CDC guidelines on isolation and testing."
Meanwhile, on late-night television, Trevor Noah lambasted Giuliani, saying he has "only got himself to blame" for contracting the virus.
The comedian and host joked that the virus "finally struck its least surprising victim yet," on Monday's installment of The Daily Show.
"I mean, this dude was going all over the country refusing to wear a mask. What do you expect?" he said. "If I go around licking car windshields, I can't be shocked if I get bird flu. Or if I go around drinking at bars until 3 a.m., I can't be surprised when I go home with yo mama!" he said.
Giuliani is at least the 40th person from Trump's White House to contract coronavirus since late September, according to The New York Times.