Rudy Giuliani: Trump's Former Lawyer Michael Cohen Is a 'Pathological Liar,' Not Credible
Rudy Giuliani called Michael Cohen a "pathological liar" after reports emerged that Cohen would tell special counsel Robert Mueller that Donald Trump knew about the infamous 2016 Trump Tower meeting in advance, contradicting the president's claim of ignorance about it.
"I expected something like this from Cohen, he's been lying all week. He's been lying for years," Giuliani, the former mayor of New York City and now member of Trump's legal team, told CNN's Chris Cuomo on Thursday night.
It was a marked change in tone from June, when Giuliani said he was "very comfortable" about Cohen, did not believe he would lie, and that he had no incriminating information on Trump anyway.
Cohen was Trump's longtime personal attorney and "fixer." He is under pressure from prosecutors after the FBI raided his office, residence and hotel room, seizing documents and tapes covering several topics, including an investigation into hush payments made to women on behalf of the president. Cohen has signaled he will cooperate by giving information against Trump.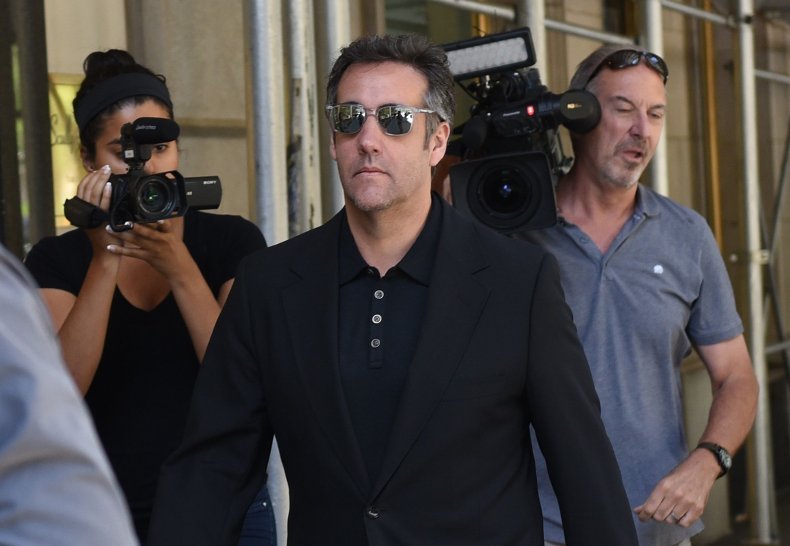 A source in the Cohen camp told Newsweek they are furious about the leak because it undermines his ability to talk to Mueller.
"This is a Saturday Night Live satire," the source said. "This cannot be real. The President of the United States, who lied about this meeting, and his son, who lied two or three times about this meeting—and they both got caught—are now accusing Michael Cohen of not having credibility. Are you serious?"
In June 2016, top members of Trump's campaign team, including its now-indicted former manager, Paul Manafort, the president's eldest son, Donald Trump Jr., and his son-in-law, Jared Kushner, met with Kremlin-linked Russians touting dirt on Democratic candidate Hillary Clinton. President Trump denies any prior knowledge of the meeting at Trump Tower in New York City.
Mueller is investigating alleged election interference and possible collusion between the Trump campaign and Russia. The U.S. intelligence community concluded that Russia waged cyberwar against America to undermine its democracy by trying to influence the 2016 election in Trump's favor.
Among actions allegedly taken by Russia was the theft of Democratic Party emails, later leaked through WikiLeaks to cause maximum embarrassment to Clinton at the height of the campaign.
A so-called Russian "troll farm" also sought to play up social divisions in American society by disseminating and amplifying misinformation, creating fake profiles and pages around fiery political issues, and rallying support for Trump by relentlessly disparaging Clinton.
One of the seized Cohen tapes was leaked to CNN. The recording featured Cohen and Trump talking about how to structure a payment to the parent company of the National Enquirer to buy the rights to a story alleging an affair between the real-estate mogul and Playboy model Karen McDougal.
Giuliani claimed Trump's legal team had tapes that "demonstrate any number of serious lies by [Cohen] back a year and a half ago, including his fooling people, hiding tape recordings, telling them they weren't recorded, lying to their face, breaking faith with them. Taping his client, which is a disbarrable offense. I don't see how he has any credibility.
"There's nobody that I know that knows him that hasn't warned me that if his back is up against a wall he'll lie like crazy because he's lied all his life," Giuliani said.
"I saw the president when the president first found out that he had been taped. And the president was completely shocked. He wasn't angry. You know, President Trump can get angry sometimes. He was disappointed. Almost like a father who's been betrayed by his son."
During a June appearance on Fox News show The Ingraham Angle, Giuliani complained to host Laura Ingraham that the prosecutors and the Mueller investigation were "harassing" Cohen.
"Michael Cohen I think would tell you he's got nothing incriminating with the president. And really, they should stop going after him. They're torturing the guy," Giuliani said.
"The reality is, they're trying to frighten him… Michael's a tough guy. I don't think that's going to happen. And if it does, he surely isn't going to lie… I empathize greatly with Michael. I do not believe he is going to tell a falsehood. And I think he's going to tell the truth.
"We are very comfortable with that. The president is very comfortable with that, he's known him for years. I've known Michael… I still trust in him until they show me something to the contrary, and I haven't seen it yet."
Cohen's lawyer Lanny Davis declined to comment other than to deny responsibility for the leak.
This article was updated to include a quote from a source in the Cohen camp.