Giuliani Defends Trump Over Tax Returns, Touts Soros Conspiracy Theory
Lawyer and former of New York City Mayor Rudy Giuliani has defended President Donald Trump over the release of his tax returns, touting a George Soros conspiracy theory in the process.
Giuliani said the Supreme Court's call that Trump's tax returns must be handed over to a grand jury in New York was a "terribly decided" case.
Thousands of prosecutors can now come after the records, he said, commenting on the "burden this could put on the executive."
He said there was still room for opposition and there was "no reason to believe that there's anything wrong" with the returns.
Along with this statement, he said that most of Trump's tax returns, except perhaps the last, had been audited.
The lawyer said there should be finality in tax returns, adding: "In other words, we get audited, we make a deal, we pay the government, you don't come after me forever for that."
Giuliani's comments come after Kayleigh McEnany said last week that Trump's tax returns would be published once they had been audited.
"The media's been asking this question for four years and for four years the president has said the same thing. His taxes are under audit and when they're no longer under audit he will release them."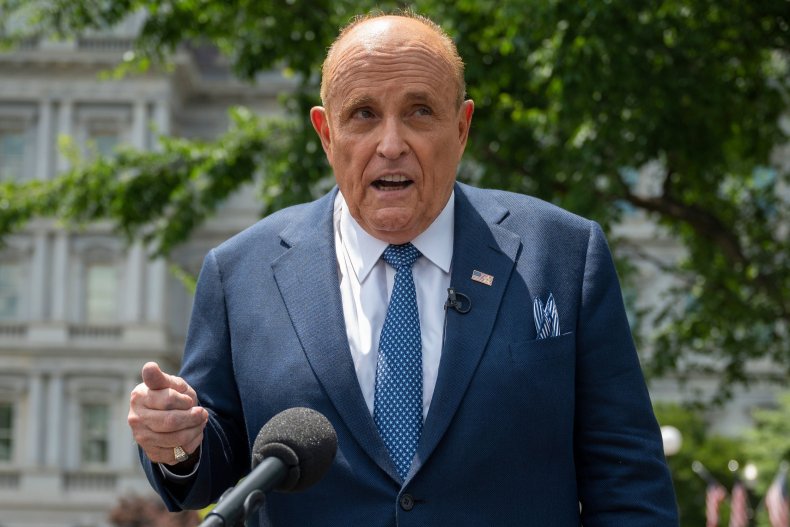 In addition to these comments, Giuliani also went on to link Soros to district attorneys, touting a conspiracy that he has funded DAs to "undermine our government."
"Look at the DAs we have now, we have Soros-elected anarchist DAs," he said.
"They're not there to prosecute the law, they're there to undermine the law. He put them there, why would Soros pay for DAs other than to undermine our government?"
Giuliani has been criticized for comments he has made about Soros before, previously claiming he was "more of a jew" than the Holocaust survivor and philanthropist.
Newsweek has contacted the White House, Giuliani and Soros' Open Society Foundations group for comment.
The Manhattan District Attorney has subpoenaed Trump's financial records as part of a New York grand jury investigation.
This probe is looking at criminal violations of state law, with alleged hush-money payments made prior to the 2016 election at the center of the inquiry.
Trump has lambasted the Supreme Court decision, hitting out at "politically corrupt New York."
"The Supreme Court sends case back to Lower Court, arguments to continue. This is all a political prosecution," he said.
"I won the Mueller Witch Hunt, and others, and now I have to keep fighting in a politically corrupt New York. Not fair to this Presidency or Administration!"