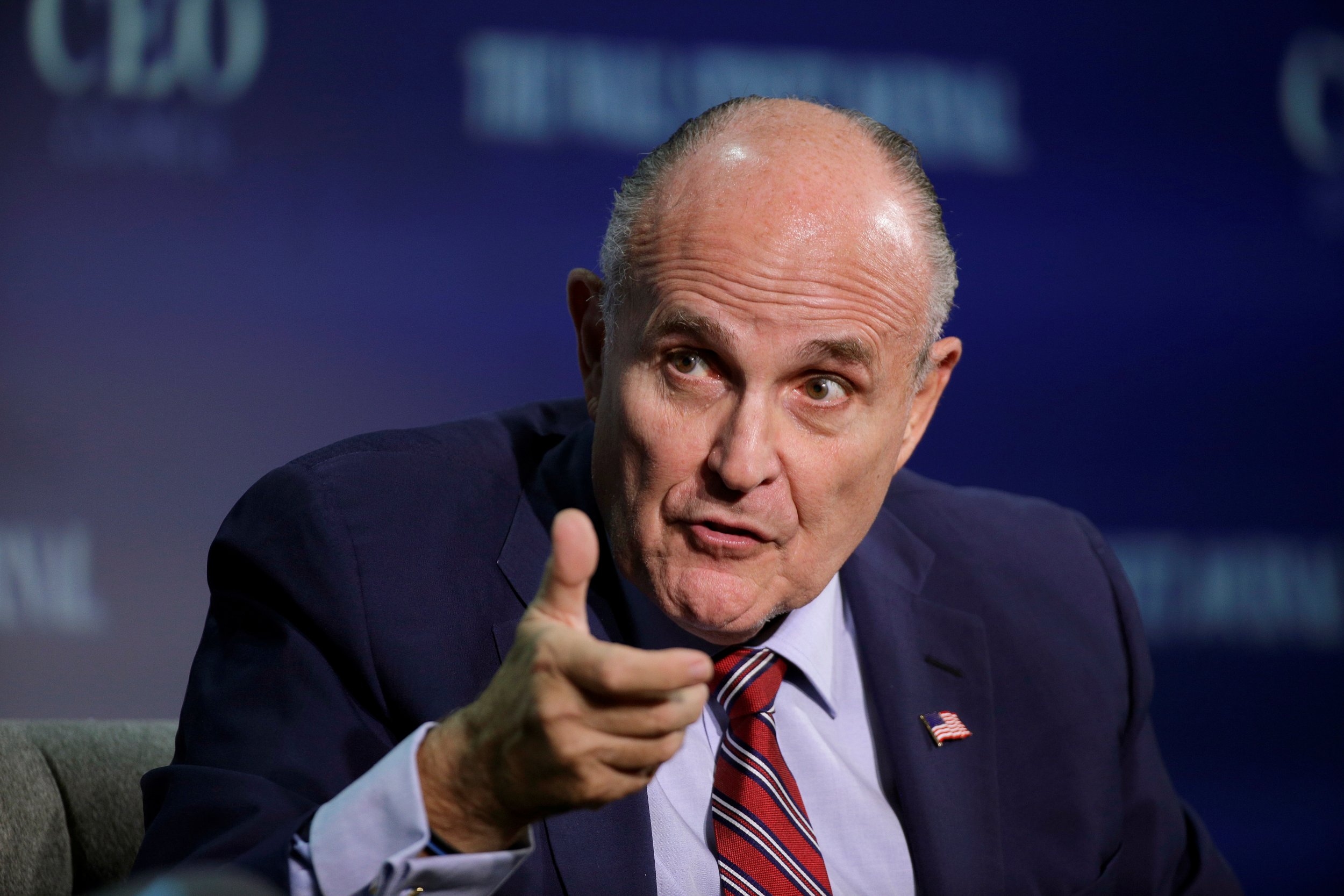 President–elect Donald Trump is said to be close to naming Rudy Giuliani as secretary of state, a move that would install one of the nation's most combative public figures as its chief diplomat. The choice would signal Trump's willingness to reward loyalty—Giuliani played a key role in FBI leaks that helped crush Hillary Clinton in the presidential election—and to thumb his nose at the Washington political establishment.
As mayor of New York City, Giuliani gained national recognition for his post-9/11 actions, but locally he was better known for being unwaveringly pro-cop, instituting law and order policies such as "stop and frisk," and for the occasional insanely petty battle, like banning the ownership of ferrets as pets.
Giuliani's few foreign policy forays as mayor at times turned into minor international incidents.
In 1995, he ejected PLO Chairman Yasser Arafat from a Lincoln Center concert in honor of the 50 th anniversary of the United Nations. Even though Arafat was an invited guest, Giuliani insisted he was not and booted him—over the objections of President Bill Clinton. A senior administration official called the incident "an embarrassment to everyone associated with diplomacy" and a setback in the Middle East peace process. The New York Times ran an editorial headlined "The Clumsy Diplomacy of Rudy Giuliani." Two preceding mayors, Ed Koch and David Dinkins, held a press conference to condemn the action. "Mayor Giuliani has behavioral problems dealing with other people," Koch said.
The mayor was unapologetic. "Maybe we should wake people up to the way this terrorist is being romanticized," Giuliani said.
A few years later, in May 2001, after meeting with the president of Taiwan at the Waldorf, the mayor referred to the nation of 22 million as a "remarkable country"—even though China does not officially recognized Taiwan as a country, considering it part of China even after it split from the communist country. When Chinese reporters at the City Hall news conference lobbed heated questions at him about whether calling it a nation meant the U.S. was reneging on a deal with China, Giuliani replied: " Well, I don't get to recognize countries. I'm not the State Department. And the State Department said it was OK to visit with him. So, you can now go out and make a big deal out of it in some distorted way if you want. That's your job."
A State Department official shrugged off the mayor's remarks at the time, stating Giuliani "doesn't represent U.S. policy."
After 9/11, he got in a spat with a senior member of the Saudi royal family who made a $10 million donation to families of emergency-responder victims of the World Trade Center attack. Giuliani toured the site with Prince Al-Walid bin Talal bin Abdul Aziz, a nephew of the king, and Walid handed over the check. But after hearing that Walid had suggested the United States should "learn from" the attack, Giuliani issued a statement saying his office had rejected the money.
A staunch supporter of Israel, Giuliani visited the country at least twice as mayor, in 1996 and again late in 2001, both times to show solidarity after terrorist attacks killed civilians.
During the Iraq War, when he was no longer mayor, he pushed for Bernie Kerik, New York's police commissioner for the last 16 months of his mayoralty, to be named interim interior minister in occupied Iraq. He also pressed the Bush administration to promote Kerik to run the Department of Homeland Security. Kerik took his name out of consideration for that post and eventually did prison time after pleading guilty to eight felony tax and false statement charges.
After his two terms as mayor, Giuliani, a lawyer and former federal prosecutor, went into the private sector. He founded a security consulting firm among other businesses, and eventually signed on as a partner with a Texas-based lobbying outfit, Bracewell & Giuliani, that represented oil and gas interests. Early this year Giuliani moved to another law firm, but he has been on leave since October, reportedly after colleagues objected to his enthusiastic surrogacy for Donald Trump.
Giuliani has claimed that his experience dealing with 9/11 and its aftermath qualifies him as a foreign policy expert on the Middle East. During a Republican primary debate in New Hampshire when he was running for president in 2008, he said: "I am the only one here who actually has had to face an Islamic terrorist attack. With regard to foreign policy, I've negotiated with governments when I was in the Justice Department. I worked on a task force on terrorism in the 1970s."
In 2008 he said his security consulting work had taken him to 35 countries on nearly 100 trips.
Like Trump, Giuliani is a staunch supporter of Israel and a staunch critic of the Iran nuclear deal. But he has taken money to advocate on behalf of a Marxist opposition Iranian group called the Mujahideen-e Khalq (MEK), which claims to be the legitimate government of Iran. Giuliani is among a number of American politicians to have taken money from MEK, which gets some of its funding from wealthy American-Iranians, according to The Washington Post.
Political scientist David Rothkopf, editor and CEO of the FP Group, which owns Foreign Policy magazine, lectures and writes extensively on American foreign policy and the State Department. He says Giuliani "does not have foreign policy experience, he does not have State Department experience, nor does he have a reputation for being a cool-headed balancer of differing points of view. He was an in-your-face mayor and he will be an in-your-face secretary of state."
What that would mean for America's foreign relations—and global diplomacy—remains to be seen. Rothkopf said the selection of Giuliani would signal that Trump is surrounding himself with advisers who think like him. But no matter who ultimately gets the job, he says Trump's foreign policy program is already compromised by his global business interests. "If you took all the conflicts of interest of all the presidents from Roosevelt to the present, that number would not come close to Trump's," he said. "That's a potential problem on its face."