Rudy Giuliani Gets Fact-Checked by Legal Experts, Including George Conway, Over Latest Defense of Donald Trump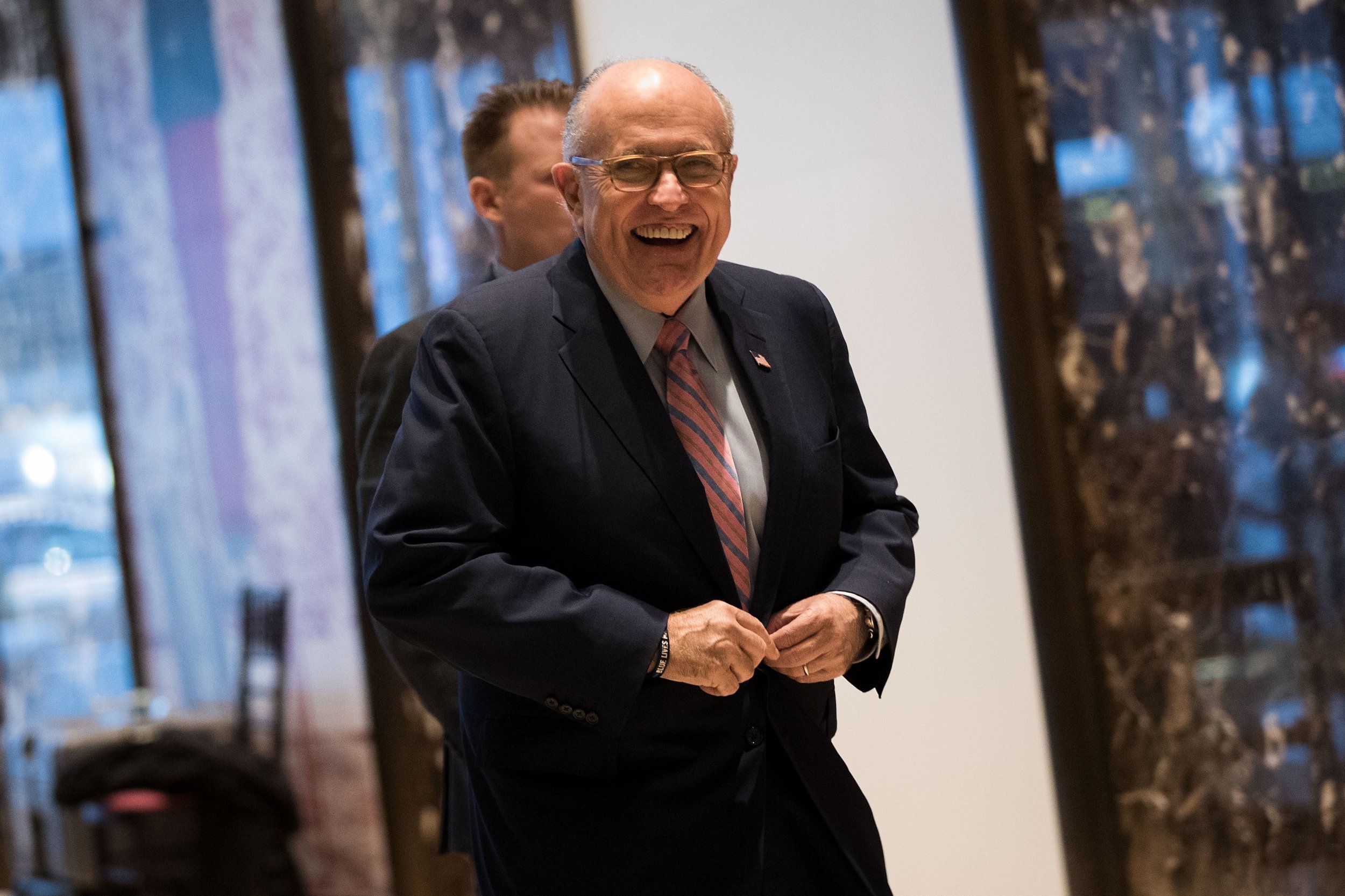 President Donald Trump's lawyer Rudy Giuliani slammed a Fox News analyst who was critical of the president regarding the Mueller investigation, and ended up getting fact-checked by legal experts—including George Conway, husband of counselor to the President Kellyanne Conway.
Giuliani on Thursday night went after Fox News analyst Judge Andrew Napolitano, who had been criticizing Trump and Attorney General William Barr. The judge was discussing Barr's appearance before the Senate Judiciary Committee to dicuss special counsel Robert Mueller's report on his investigation into Russian election interference and allegations of obstruction of justice by the president.
"Under Attorney General Barr's view, you cannot obstruct an investigation of yourself unless you committed the crime for which the government is investigating you," noted Napolitano. "That, of course, is absurd."
Giuliani responded to the comment on Twitter, where he prefaced his statement by saying he considered Napolitano to be a friend, "so I write this with regret."
"An obstruction case where there is no proof of an underlying crime is questionable," Giuliani tweeted. "If you add to it nothing actually obstructed, there's no case. Judge reconsider your position. This is a Weismann."
Vermont Law School professor Jennifer Taub was among those who replied to Giuliani that his assessment was "incorrect."
"Obstruction of justice even applies to efforts to interfere with civil litigation. See U.S. v. Lundwall," Taub tweeted. "Also, corrupt attempts to obstruct a proceeding even when one isn't the subject, is a crime. Mueller's grand jury indicted many people."
Lawyer George Conway piled on the arguments against Giuliani by tweeting that there is a section in the Department of Justice manual that "nicely captures what obstruction of justice is about."
"It's got nothing to do with whether there's an underlying offense," George Conway wrote. "It's all about whether someone is trying to wrongly influence a participant in federal proceeding … or to retaliate for someone's past participation in a federal proceeding."
He included an image of the passage in the criminal code and said the manual has an entire section stating that obstruction does not need to be successful to be considered obstruction.
"There doesn't have to be an underlying offense; the proceeding can be about trying to figure out whether there was an underlying offense. This isn't hard," George Conway tweeted. "So stop it with the garbage, Rudy."
Mimi Rocah, a former federal prosecutor in the Southern District of New York, also tweeted that Giuliani's claim was "100% wrong as a legal & factual matter."
"Obstruction is - & must be - prosecutable regardless of an underlying crime or else 'successful' obstructors would always be rewarded," Rocah tweeted. She credited George Conway for bringing the "receipts to show why @RudyGiuliani & Bill Barr are wrong about obstruction law & need to read the DOJ Manual which is the 'bible' for federal prosecutors."
As of late afternoon Friday, Giuliani had not responded directly to the legal experts on Twitter.