Rudy Giuliani 'Has Totally Sold Out To Trump,' U.S. Attorney Predecessor Says
President Donald Trump's lawyer Rudy Giuliani has "sold out" to Trump and is not the attorney he used to be, Giuliani's predecessor as U.S. Attorney opined.
"He has totally sold out to Trump," John S. Martin, who preceded Giuliani and later became a federal judge, told The New Yorker in a piece published Monday. "He's making arguments that don't hold up. I always thought of Rudy as a good lawyer, and he's not looking anything like a good lawyer today."
Martin's remarks were not the only ones critical of Giuliani as a lawyer in the story, titled "How Rudy Giuliani Turned Into Trump's Clown."
Preet Bharara, who was U.S. Attorney between 2009 and 2017 when Trump fired him, said Giuliani makes "blatant misrepresentations" on television.
"It's sad because I looked up to him at one point, and this bespeaks a sort of cravenness to a particularly hyperbolic client and an unnecessary suspension of honor and truth that's beneath him," Bharara said. "I would not send Rudy at this point in his career into court."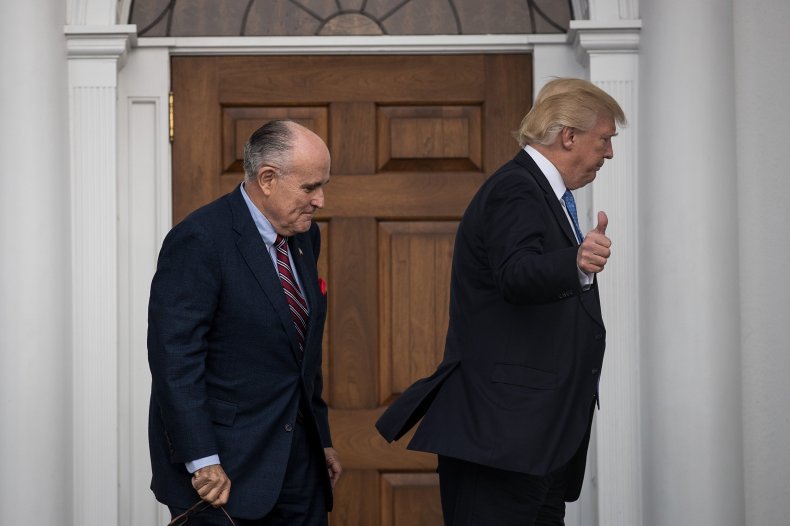 Trump, who hired Giuliani, a former mayor of New York, six months ago, was looking for a combative approach to special counsel Robert Mueller's probe into possible collusion between the Trump campaign and Russians in the 2016 presidential election.
Of the early defense, Giuliani said: "I thought legally it was getting defended very well. I thought publicly it was not getting defended very well."
Trump early in his presidency as Mueller began his investigation apparently said, "Where's my Roy Cohn?"—a New York lawyer who used the media to slam opponents—and found him in Giuliani.
Giuliani has since made numerous bombastic claims on television, even one that Trump discredited. Last month, Giuliani while arguing that Mueller was trying to get Trump to commit perjury, said "truth isn't truth," drawing ridicule, and later clarified his remark.
He calls Mueller's investigation a "witch hunt" and the prosecutors in the case "thugs," as Trump does, and his legal work backs up controversial claims the president makes on Twitter. "Giuliani, like the President, is not seeking converts but comforting the converted," The New Yorker piece states.
His work for the president is an about-face from his days as a prosecutor when he was known as the sheriff of Wall Street and effectively attacked organized crime.
However, Giuliani believes he's performed well overall for Trump.
"I enjoy being a lawyer more than I do being a politician. As a politician, a lot of people are better than me," Giuliani said. "This is what I think I do best."