Giuliani Warns Media 'You All Should Be Careful,' Says Reporters Should Be Investigated For 'Fake News'
President Donald Trump's attorney, Rudy Giuliani, continued his cable news onslaught against Michael Cohen, attacking the former Trump fixer's "criminal" father-in-law and accusing CNN's Jake Tapper of "hysteria."
The "State of the Union" host immediately asked the former Republican Mayor of New York City Sunday about the president's ties to a Trump hotel project in Moscow as well as Cohen's "lying" to Congress about the Russia construction plans. Giuliani responded in a characteristically contradictory and outlandish fashion, lashing out against Cohen's family ties to organized crime while alternately denying knowledge -- and admitting knowledge -- about conversations between Trump and his former personal attorney.
Giuliani offered Tapper and the news media at large a sinister warning to "be careful" and said he believes Buzzfeed should be "investigated" or sued for running a story that accused Trump of telling Cohen to lie.
"Did President Trump or anyone on the Trump team ever have a conversation with Michael Cohen about his congressional testimony?" Tapper asked Giuliani in the CNN interview Sunday, pointing out that Cohen was talking with Russians about a potential deal that the Trump administration is now claiming Cohen did on his own during the 2016 campaign. "Let me correct the premise of the question," Giuliani responded. "The President didn't lie to the American people about it … He wasn't talking to people in Russia about anything. He didn't talk to people in Russia at all."
Giuliani's murky answers wavered between outright denying Trump's Russian business ties while simultaneously acknowleding these same Russian business ties and blaming Cohen.
"As far as I know, President Trump did not have discussions … in which he told (Michael Cohen) or counseled him to lie. If he had any discussions with him, they'd be about the version of events that Michael Cohen gave them, which they all believed was true," Giuliani said. "[Trump] had conversations with Michael Cohen, but it was Michael Cohen driving the project … Do not think that just because he's pleaded guilty to something that Michael Cohen's telling the truth."
Giuliani continued, "He wrote a nonbinding letter of intent and sent it to a general post office. He had a couple of discussions — Michael Cohen did, not the president. It was the last thing on his [Trump's] mind because he was running for president. We're talking about 2016. You're not thinking about some proposal that, at best, it's three years down the line."
But Giuliani switched gears later in the interview, citing "attorney/client privilege" and floating the snippy response of "so what?" after Tapper pressed him on whether Trump ever had a conversation with Cohen about his recent Congressional testimony. Cohen was recently sentenced to three years in federal prison after pleading guilty to charges stemming from the Robert Mueller Russian collusion investigation.
Giuliani accused Tapper and news media outlets of "hysteria" and focusing on any and all stories "against Donald Trump." Tapper calmly denied the charge before Giuliani ominously warned him and the news media, "You all should be careful. What they did yesterday is truly fake news." Giuliani said Buzzfeed should be sued and also placed under investigation.
The two then engaged in a back-and-forth about Cohen's father-in-law, Fima Shusterman, who plead guilty to tax fraud charges in 1993 and was recently targed by Trump himself demanding an investigation into his potential connections to organized crime. Giuliani made a name for himself in the 1980s as a highly successful U.S. federal prosecutor against the American mafia.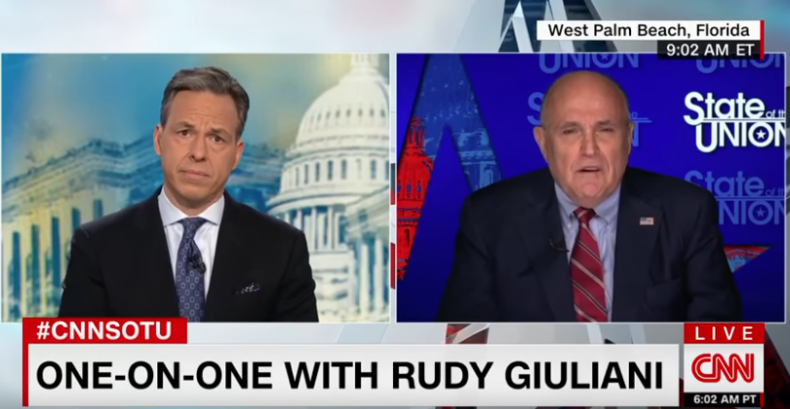 "The president is repeatedly calling publicly on Judge Jeanine show, on Twitter, an investigation into the father-in-law. Isn't that obstruction or –" Giuliani interjected, "No, it's defending yourself."
"So it's okay to go after the father-in-law?" Tapper pressed. "Of course it is if the father-in-law is a criminal in the Southern District of New York," Giuliani responded, before suggesting mafia ties. "His father-in-law was — he may have ties to something called organized crime."