Rudy Giuliani Takes on Congresswoman Ilhan Omar: 'This Represents the Future of the Democrat Party? God Help Us'
Rudy Giuliani has attacked Representative Ilhan Omar, a Minnesota Democrat, by sharing a misleading video—long-peddled by right-wing conspiracy theorists—purporting to show that the congresswoman took classes in terrorism.
President Donald Trump's lawyer shared the video with the text, "What is she laughing at in recalling her terrorism classes? This represents the future of the Democrat Party? God help us."
The former New York City mayor shared an undated video showing Omar discussing her time in college. "When I was in college, I took a short terrorism class," she told the interviewer, who laughed and asked if there were field trips involved. "We learned the ideology," she explained.
Omar then went on to joke about her professor, who she said raised his shoulders suddenly every time he named a specific terrorist group, such as Al Qaeda or Hezbollah.
In sharing the video, Giuliani retweeted a post made by author Oliver McGee, a political analyst who strategized for several presidential candidates, including Hillary Clinton, John McCain, Mitt Romney and Donald Trump.
"Retweet @Ilhan CAUGHT ON TAPE laughing without empathy on taking terrorism classes," McGee wrote. "Did Rep. @IlhanMN forget terrorism killed 2,996 & injured 6,000 Americans on 9-11? Americans don't like lawmakers laughing about Terrorism! It's a Crime, NOT a JOKE!"
According to BuzzFeed News, the video was intentionally misleading and had regularly been used on social media and by right-wing media to attack the freshman representative, one of its favored targets. High-ranking officials at the Immigration and Customs Enforcement agency had previously come under fire for spreading the video and making related xenephobic remarks.
It was not clear whether Giuliani was aware of how old the video was, or why he decided to share it now. The specific clip he retweeted was watermarked by X Strategies, a political consulting firm that described itself as "politically incorrect and unapologetic." The firm's Twitter feed contained many video clips criticizing the Democratic Party—and several targeted Omar specifically.
Since she was elected to Congress in last year's midterm elections, Omar has become one of the most prominent representatives of a new wave of young, diverse and progressive Democratic lawmakers.
She has come under sustained attack for controversial comments about the state of Israel and pro-Israeli lobbying in Washington, D.C., suggesting that groups such as the American Israeli Public Affairs Committee had too much influence over U.S. lawmakers.
Opponents called her stance anti-Semitic, while supporters said that criticizing Israel and U.S. policy toward it was not the same as criticizing Jewish people. Nonetheless, Trump cited Omar and her defenders as evidence that the Democratic Party was inherently anti-Semitic, and called on American Jews to switch their allegiance to the Republicans.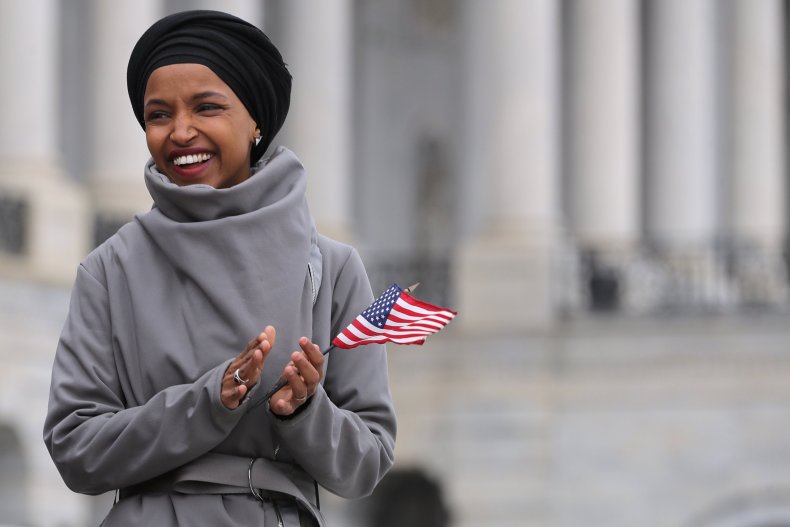 Rudy Giuliani Takes on Congresswoman Ilhan Omar: 'This Represents the Future of the Democrat Party? God Help Us' | U.S.