Rudy Giuliani Loses Honorary Degree From Middlebury College in Capitol Riot's Aftermath
Middlebury, a private liberal arts college in Vermont, revoked President Donald Trump's personal attorney, Rudy Giuliani's honorary degree on Tuesday.
"Middlebury College has made the decision to revoke the honorary degree it presented to the presidential attorney Rudolph Giuliani in 2005, and has communicated this to Mr. Giuliani's office," the college said in a statement on January 12.
The college's decision followed remarks from College President Laurie Patton on Sunday, when she accused Giuliani of "fomenting the violent uprising" and said it was the college's "responsibility for safeguarding and improving our fragile democracy."
Giuliani has faced criticism for a speech he gave at the Stop the Steal rally that took place in Washington, D.C., before the U.S. Capitol riot last Wednesday.
During his speech, Giuliani reiterated baseless claims that widespread election fraud affected the outcome of the presidential race. He also said Trump supporters should resist the election's results.
"Over the next 10 days, we get to see the machines that are crooked, the ballots that are fraudulent. If we're wrong, we will be made fools of, but if we're right a lot of them will go to jail," Giuliani said. "Let's have trial by combat."
"I'm willing to stake my reputation, the president is willing to stake his reputation, on the fact that we're going to find criminality there," he added.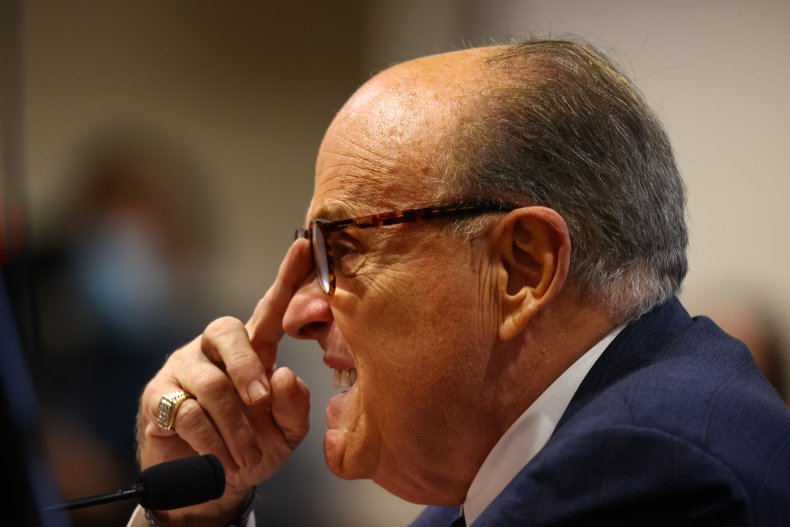 On Monday, the New York State Bar association launched an inquiry into disqualifying Giuliani's membership, in light of the riot that broke out after his speech at the rally.
"We must address the root cause of this abhorrent incident, the blame for which lies first and foremost with President Donald Trump," said the association's chief communications strategist, Susan DeSantis. She added that "the president did not act alone" and that Giuliani was also to blame.
In a January 7 tweet, Giuliani called the violence that unfolded at the Capitol, which resulted in five deaths, "shameful."
Giuliani delivered a commencement address at Middlebury in 2005, the same year he received the honorary doctor of laws degree from the college for his achievements as New York City's mayor from 1994 to 2001.
"Winning is wonderful. Winning in sports. Winning elections. It beats losing them. But the reality is that winning is only fulfilling if you do it through the rules, and you do it by being able to contribute to other people," Giuliani said in the address.
Newsweek reached out to Giuliani for comment but didn't hear back in time for publication. Middlebury told Newsweek it had no further comment at this time.