President Donald Trump's personal attorney denounced former Trump fixer Michael Cohen Thursday as a "liar" who is not to be trusted, but added that Cohen's latest testimony to the special counsel lined up with what the president told Robert Mueller about the pursuit of a real estate deal in Russia well into the 2016 campaign.
Rudy Giuliani, who represents Trump in the special counsel's investigation of Russia's meddling in the 2016 election, ripped Cohen after he reached a plea agreement with the special counsel on Thursday over lying to Congress about when he stopped attempts to build a new Trump Tower in Moscow.
"He has so many different versions of the same stories, so by definition he is a liar and we can't trust him," Giuliani told The New York Times about Cohen. "He has lied, so how can we believe him?"
Giuliani also said: "Cohen has just told us he's a liar. Given the fact that he's a liar, I can't tell you what he's lying about."
Speaking to reporters before heading to the G20 summit in Argentina, Trump said that Cohen was also being less than truthful about the Trump Tower deal.
"What he's trying to do is get a reduced sentence," Trump said. "So he's lying about a project that everybody knew about."
Yet Trump also said there would be nothing wrong if Cohen was telling the truth about the negotiations going on well into 2016.
"When I run for president, that doesn't mean I'm not allowed to do business," Trump said. "I often joked about the fact I was the only person who campaigned and simultaneously ran a business."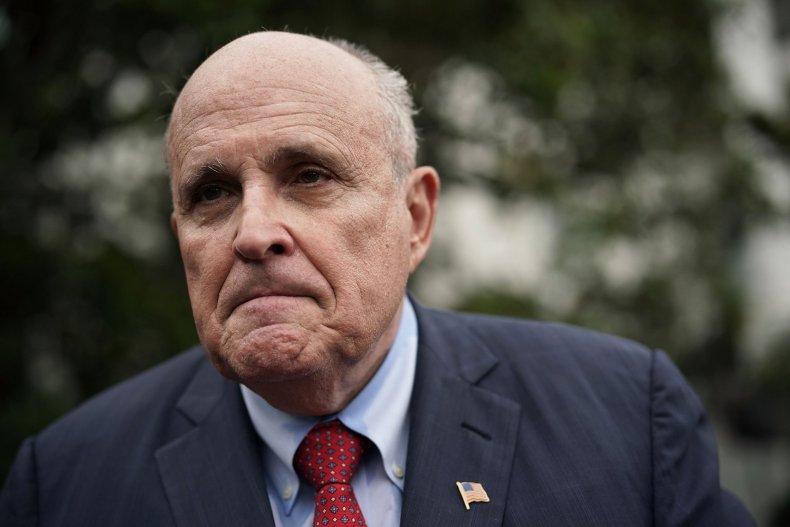 Trump also labeled Cohen as "weak" and "not a smart person." Reporters questioned why Trump had ever hired Cohen in the first place if he thought so lowly of the longtime New York attorney, and the president responded because Cohen "did him a favor."
Cohen originally told congressional investigators last year that his contacts with Russians about the potential deal ended in January 2016. Instead, the overtures continued into June 2016, as Trump became the Republican nominee and his eldest son set up a meeting with Kremlin-tied Russians who promised dirt on Democratic foe Hillary Clinton.
Cohen also admitted he had discussed plans with Trump and his children about a trip to Russia. Cohen said he lied to Congress out of loyalty to Trump and wanted to stick to the president's "political messaging."
Despite calling Cohen a "liar," Giuliani told the Times that the president's written responses to special counsel Robert Mueller's questions echoed what Cohen also told the special counsel.
The president's lawyers submitted the answers to Mueller last week, while Trump continued his blasting of the probe on Twitter.
"When will this illegal Joseph McCarthy style Witch Hunt, one that has shattered so many innocent lives, ever end—or will it just go on forever? After wasting more than $40,000,000 (is that possible?), it has proven only one thing—there was NO Collusion with Russia. So Ridiculous!" the president tweeted hours before Cohen admitted to lying.