George Conway and Others Remind Rudy Giuliani the Actual Plot Twist in His 'Favorite' Movie 'My Cousin Vinny'
Rudy Giuliani's favorite legal film is, apparently, My Cousin Vinny. The former New York City mayor, and President Donald Trump's personal lawyer, said as much during a press conference on Thursday, and even attempted an impersonation of Joe Pesci's character in the 1992 film, Brooklyn attorney Vinny Gambini.
This was after Giuliani rehashed a number of the same old conspiracy theories and accusations of voter fraud by Democrats in the 2020 election and President-Elect Joe Biden's alleged corruption. Giuliani referenced a pivotal scene from the movie to drive home his points about alleged fraudulent mail-in ballots and the counting of votes. The only problem was, he got the whole plot twist of the scene completely wrong.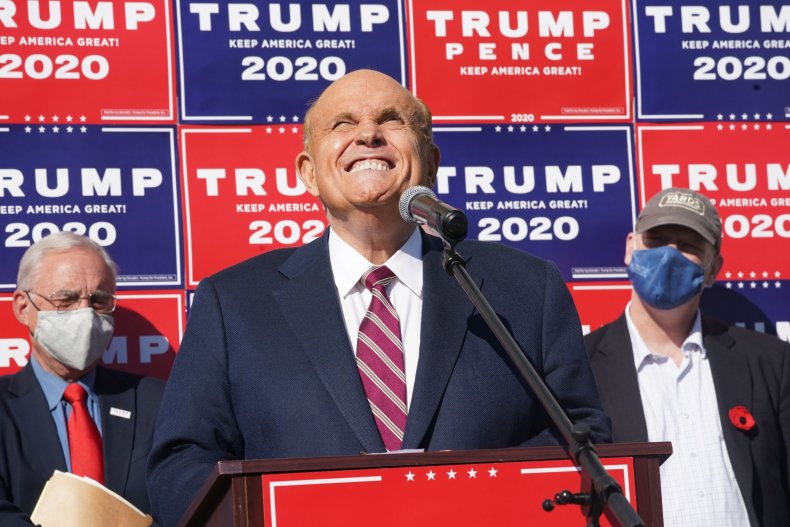 "Did you all watch My Cousin Vinny? You know the movie? It's one of my favorite law movies because he comes from Brooklyn," Giuliani said. "And the nice lady who said she saw... and then he says to her, 'How many fingers do I have up?' And she says, Three.' Well she was too far away to see it was only two. These people were further away than My Cousin Vinny was from the witness. They couldn't see a thing."
While the moment raised a few snickers and smiles from those attending the press conference, on social media people ripped Giuliani for getting the premise of his so-called favorite legal movie wrong.
"Um the old lady witness's problem in My Cousin Vinny was that she needed new glasses," George Conway wrote.
"My Cousin Vinny is a very good legal movie. Every trial ad class shows it as what you SHOULD do as a trial lawyer. But, when Vinny holds up two fingers and she says it is three, what he proves is she was too far away, she wasn't wearing her glasses and the windows were dirty," another tweet read.
In the film, Vinny interrogates a witness named Constance Riley who claims to have seen the defendants at the scene of a crime, although she was some 100 feet away from them. Vinny asks her if she was wearing her glasses that day and then conducts a little experiment. He stands 50 feet away from Constance and asks her how many fingers he's holding up. Despite having worn her prescription eyewear for the last several years, the woman claims she only sees four fingers although Vinny is only holding up two—proving that she not only needs new glasses but couldn't possibly be able to identify people at a scene of a crime 100 feet away.