Rudy Giuliani Says 'We Will Prove it All' Ahead of Pennsylvania Lawsuit over 'Unlawful Votes'
President Donald Trump's personal lawyer Rudy Giuliani said his team would "prove it all" and complained about "unlawful votes" in at least five key swing states as he planned to file a lawsuit in Pennsylvania on Monday.
Posting on social media, the former New York City mayor also tried to frame President-Elect Joe Biden's victory as a "selection" by the media who called the results on election night and the following days.
"The Biden selection by the Crooked Media is based on unlawful votes in PA, Mich, GA, Wisc, Nevada et al," Giuliani tweeted on Sunday night. "We will prove it all."
The president's personal attorney also made similarly vague and unsubstantiated claims about supposedly "illegal" votes at a press conference in Philadelphia over the weekend, where he unveiled plans to file a lawsuit in Pennsylvania after the final tally favored Biden.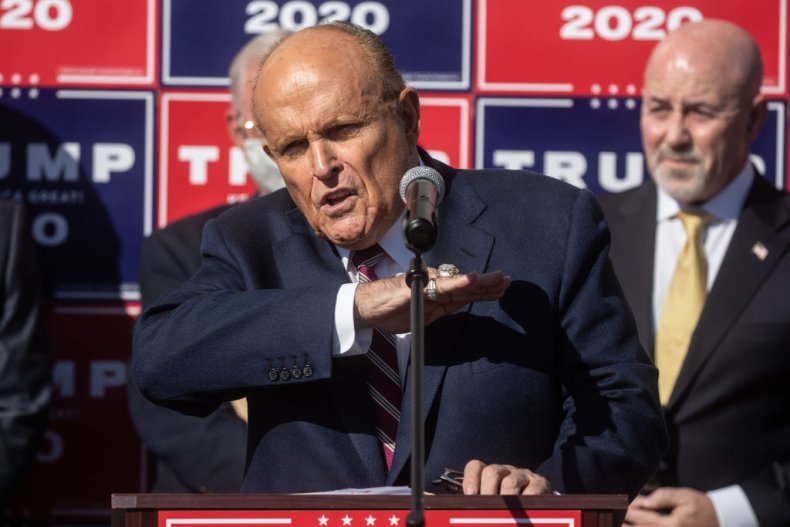 He specifically claimed that Republican poll watchers had been unable to observe the opening and counting of mail-in ballots, which have repeatedly been the target of baseless voter fraud claims from the Trump re-election campaign.
"As a friend of mine says, I don't believe in conspiracies, but I also don't believe in coincidences," Giuliani told reporters on Saturday. "Kind of funny that all Republicans were rejected here, and all Republicans were rejected in Pittsburgh, and it amounts to about, just about the 700,000 votes that President Trump was ahead by two days ago that disappeared."
The former mayor added that his team would bring "an action" challenging the election in Pennsylvania along with other lawsuits in other key battleground states starting on Monday.
Newsweek has contacted Giuliani's communications team for comment and further details on the planned lawsuit. This article will be updated with any response.
President Trump's personal attorney vowed to file a spate of lawsuits contesting the election in Pennsylvania as the state was called for President-Elect Biden on Saturday—securing the Democrats route to the White House by taking him over the 270 electoral college votes needed to win the presidency.
The commander-in-chief had falsely claimed victory in Pennsylvania a few days earlier, when he held a strong lead before mail-in ballots had been tallied by poll workers in the state. As it stands, Biden has won the state by a margin of more than 40,000 votes with an estimated 98 percent of the vote counted.
Even if President Trump were to win the four states that remain to be declared by the New York Times tracker—Arizona, Georgia, North Carolina and Alaska—he would still not have the electoral college votes needed to secure a second term in the Oval Office.