Rudy Giuliani Says Robert Mueller Should 'Investigate Himself' for Obstruction of Justice After Russia Probe
Rudy Giuliani, Donald Trump's personal attorney, said Thursday that special counsel Robert Mueller should be investigated following his probe into Russian election interference and possible collusion with the president's 2016 campaign.
"Mueller should be investigated for destruction of evidence for allowing those text messages from [Peter] Strzok to be erased, messages that would show the state of mind and tactics of his lead anti-Trump FBI agents at the start of the probe," Giuliani said during an interview with The Hill.
The former New York City mayor was referring to missing government text messages between two top FBI agents, Peter Strzok and Lisa Page, in which they expressed distaste for President Trump.
Earlier this month the Department of Justice released a report stating that the text messages were accidentally deleted due to a technical glitch, according to Associated Press. But the agency was able to recover nearly 20,000 messages from the early days of the Russia investigation, even before Mueller was named special counsel.
Giuliani said the erasure should be "investigated fully" and compared the incident to the deleted Watergate tapes of former President Richard Nixon.
Strzok was fired from the FBI earlier this year, while Page resigned, after it was discovered they had sent anti-Trump messages. In one exchange, Page had asked Strzok if Trump would really become president, to which Strzok responded, "No. No he won't. We'll stop it."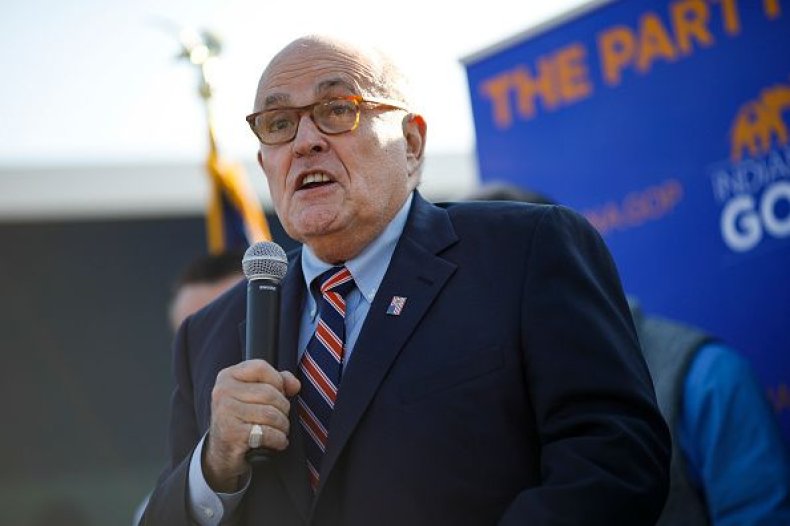 Giuliani also told The Hill that Mueller should "investigate himself" for recommending that former national security adviser Michael Flynn serve no prison time after cooperating with the Russia probe. Giuliani implied that the action was much worse than Trump asking former FBI director James Comey to ease up on investigating Flynn's communication with high-ranking Russian officials during and after the 2016 campaign.
"Maybe Mueller needs to investigate himself for obstruction on Flynn like he did my client," Giuliani said.
With Giuliani's guidance, Trump has submitted written answers to questions posed by the special counsel's team. The attorney said on Thursday morning that Trump would not provide statements for any more questions asked by what he called the "outrageous" probe.
When asked by The Hill if the Justice Department should never hire another special prosecutor after Mueller, Giuliani said he is concerned about the integrity of the investigations going forward.
"I never like to say never but I must say I have great pause after seeing the abuses in this investigation," Giuliani said.