Rudy Giuliani Says Goo Dripping From His Head Were 'Brains,' Used 'Rag' to Stuff It Back
President Donald Trump's personal lawyer Rudy Giuliani jokingly addressed the dark brown goo running from his hairline to his jaw during a recent press conference, saying they were "brains" and he used a "rag" to stuff it back into his skull.
On November 19, Giuliani spoke to reporters from the headquarters of the Republican National Committee in Washington about the Trump campaign's lawsuits alleging widespread voter fraud in the 2020 presidential election. As Giuliani pushed unverified claims of a rigged election, members of the press began to notice that his sweat started to drop in color.
The stream of dark liquid on Giuliani's face became hard to ignore toward the end of his statement, and media outlets quickly began sharing articles on exactly what the substance could have been.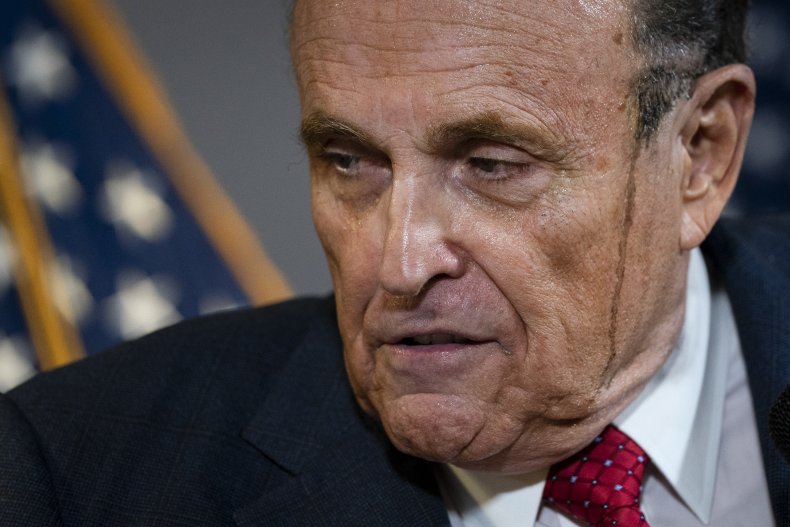 Giuliani addressed the rumors during his radio show this week. When asked by Canadian comedian Chris James to reveal the substance, the Trump attorney said: "Oh my God, it was some of my brains, it was some of my brains."
"I was thinking so hard, God it was like—this was a very rough press conference, gotta get everything across, gotta think really hard," he said in jest.
Giuliani went on to say that he used a "rag" to put his brain back in. His doctor told him that when he did that, it "rejuvenated my brain power."
After photos of Giuliani at the news conference circulated online, a number of commentators took to social media to discuss the drip, with many speculating that the incident was caused by a bad hair dye job. However, several Manhattan hairdressers told The New York Times that the substance on Giuliani's face was probably not caused by a hair dye job gone wrong.
"Hair dye doesn't drip like that, unless it's just been applied," Men's Lounge Barbershop's David Kholdorov said.
Mirko Vergani, the creative color director at the Drawing Room, told the Times that Giuliani's dark face drip appeared to be makeup or a touch-up pen that was used to blend in his side burns. "Sideburns are more gray than the rest of the head," he said. "You can apply mascara to touch the gray side up a bit so it looks more natural."
If that's the case, Vergani advised the Trump lawyer to stay away from hot weather and uncomfortable situations before the makeup dries completely. "In the picture, it looks really heavy," he added. "I'm sure they put too much product and that's why it started to bleed."
Newsweek reached out to Giuliani's representatives for further comment.