Rudy Giuliani on Sunday criticized the Los Angeles Lakers and the NBA's relationship with China, saying that the team should hold its championship parade in "Communist China...where it belongs."
Wow the lakers won the nba championship," Giuliani, the former New York City mayor who is now President Donald Trump's lawyer, wrote in a tweet. "How about a big parade in Communist China, Beijing. That's where it belongs."
On Sunday night, the Lakers defeated the Miami Heat in Game 6 of the NBA finals and were crowned champions.
Giuliani's reference to China mentioned the continuing controversy between the country and the league, which stemmed from comments made by Houston Rockets General Manager Daryl Morey in October 2019.
At the time, Morey posted a tweet expressing his support for the pro-democracy protests in Hong Kong, after a law was proposed that would allow Chinese authorities to extradite individuals from Hong Kong.
"Fight for freedom, stand with Hong Kong," Morey wrote in his tweet, which was deleted shortly afterward but fueled a backlash from China. A number of Chinese companies cut their business ties with the NBA, and Commissioner Adam Silver confirmed that some Chinese government officials had called for his firing.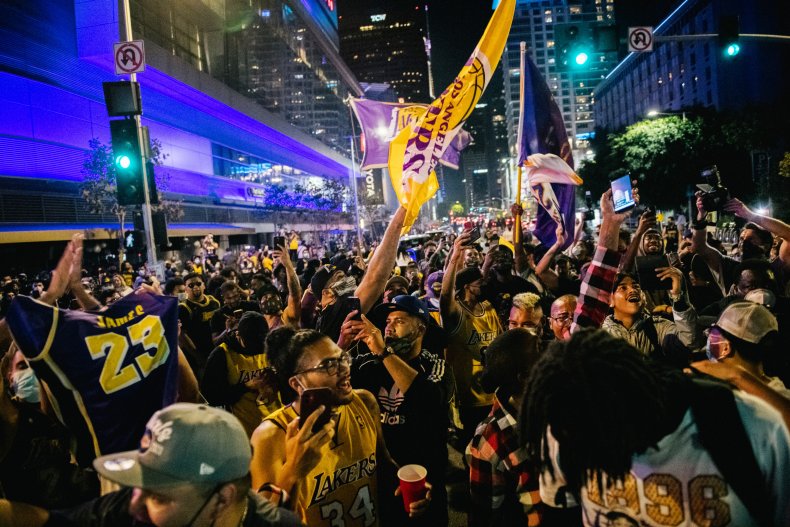 In response to Morey's tweet, the NBA said it was "regrettable" that the Rockets GM had "deeply offended many of our friends and fans in China," which brought criticism of the league from a number of politicians and commentators like Giuliani, who said the league was defending the Chinese government and not showing support for pro-democracy voices.
Missouri Republican Senator Josh Hawley has long been critical of the NBA and its response to Chinese matters. In a letter to Silver in July, Hawley criticized the "league's apparent decision to strictly limit messages players can wear on their jerseys to a few preapproved social justice slogans while censoring support for law enforcement officers or the military and any criticism of the Chinese Communist Party (CCP)."
The China Central Television (CCTV) national station stopped airing NBA games in the country after Morey's October 2019 tweet but recently decided to air the most recent series between the Heat and the Lakers, allowing citizens to watch NBA games for the first time in nearly a year.
In a statement published to social media, CCTV said the resumption of NBA broadcasting was a "normal arrangement," according to the South China Morning Post.
"On the Chinese National Day and Mid-Autumn Festival that just passed [both on October 1], the NBA sent holiday blessings to Chinese fans. We have also noticed the good will continuously expressed by the NBA, especially the active efforts in supporting the Chinese people in fighting against the Covid-19 epidemic since the beginning of this year," the statement said, according to the Post.
Newsweek reached out to the Lakers and Giuliani for comment but did not receive a response in time for publication.