Rudy Giuliani didn't literally mean there should be a "trial by combat" when he spoke before the Capitol riot on January 6, according to a court filing. And even if those who attended the speech took the remark literally, his attorney argued he clearly meant a future event, not an immediate storming of the Capitol.
Giuliani and his fellow co-defendant in a lawsuit, former President Donald Trump, are looking to dismiss a case against them brought by Representative Bennie Thompson, a Mississippi Democrat. The suit alleges Giuliani incited the violent attack on the Capitol as part of a "jointly conceived and executed plan" to prevent Congress from confirming President Joe Biden's election victory.
The lawsuit against Giuliani, filed in a U.S. District Court in the District of Columbia, alleges he helped incite the crowd at the rally by representing Trump in election cases across the country and pushing the baseless claim that the presidential race was stolen. It also cites his speech at the "Stop the Steal" rally on January 6.
"Over the next 10 days, we get to see the machines that are crooked, the ballots that are fraudulent, and if we're wrong, we will be made fools of," Giuliani, a former Trump lawyer, said at the rally. "But if we're right, a lot of them will go to jail. Let's have trial by combat. I'm willing to stake my reputation, the president is willing to stake his reputation, on the fact that we're going to find criminality there."
Thompson and his co-plaintiffs allege that the "trial by combat" comment was an incitement to violent action. In response, Giuliani's attorney Joseph Sibley argued in a motion to dismiss that no "reasonable reader or listener" could have perceived it as an instruction to breach the Capitol and "violently terrorize Congress."
"Nor would anyone perceive the 'trial by combat' reference as a call to arms to invade the Capitol," the court filing said. "The statement is clearly hyperbolic and not literal."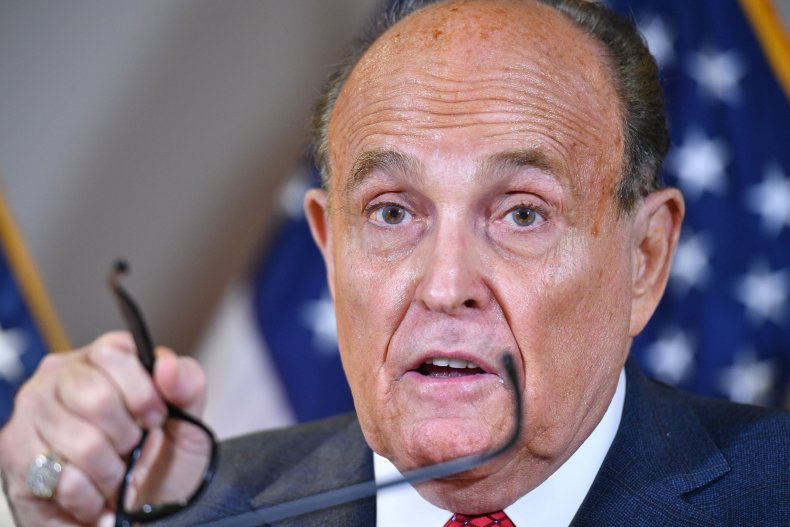 While Giuliani didn't mean to literally engage in "trial by combat," if people did take it that way, Sibley argued, they wouldn't have thought it meant taking immediate action. Those who took it literally, Sibley wrote, would have thought it to be a reference to a future event after evidence of election fraud was collected.
Joe Sellers, Thompson's attorney, and Janette McCarthy Wallace, Interim General Counsel, NAACP, told Newsweek they will continue with the case to hold Giuliani and the other defendants "accountable for their attempts to subvert our constitution."
"While we will respond in due course to these groundless motions it is apparent that these defendants, having fomented and participated in an insurrection to stop Congress from certifying a free and fair election, seek to avoid any and all legal responsibility for their extraordinary attack on our democracy," Sellers and McCarthy Wallace added.
Along with his "trial by combat" comment, the lawsuit took issue with Giuliani's assertion that "we're going to fight to the very end" to ensure that Trump supporters' "free and fair vote" wasn't taken away. The plaintiffs also cited a voicemail Giuliani left for a senator that outlined a "strategy" to object to numerous states' election results so that the congressional vote to certify the election would go into the next day.
The plaintiffs use Giuliani's voicemail and Trump's delayed response to the riot for their case that the two were instigators of the riot. Sibley argued that's not the case and pointed to Giuliani's tweet calling the riot "shameful."
"It was as criminal as the rioting and looting this summer which was not condemned strongly enough by the Left. This violence is condemned in the strongest terms. Our movement values respect for law and order and for the Police," the January 7 tweet said.
Arguing that it's "implausible" that Giuliani's rhetoric incited violence or that he conspired with rioters to "mastermind the attack on the Capitol," Sibley urged the federal court's judge to dismiss the case.
This article has been updated with comment from Joseph Sellers and Jeanette McCarthy Wallace.