Rudy Giuliani Says There Are 'Possible Traps' Among Mueller's Written Questions for Donald Trump
Some of the questions posed to President Donald Trump by special counsel Robert Mueller are "irrelevant" and could be "traps", his legal team has said.
The president's legal advisers are poring over the list of around two dozen questions provided as part of the probe into claims of Russian interference into Trump's 2016 presidential campaign.
The Washington Post reported that Trump had met with his attorneys for more than four hours on Monday and 90 minutes on Wednesday to discuss the questions.
His attorney, the former mayor of New York, Rudolph Giuliani said he doubted the value of some of the questions. He said that there was no deadline but Trump's answers "could be tomorrow."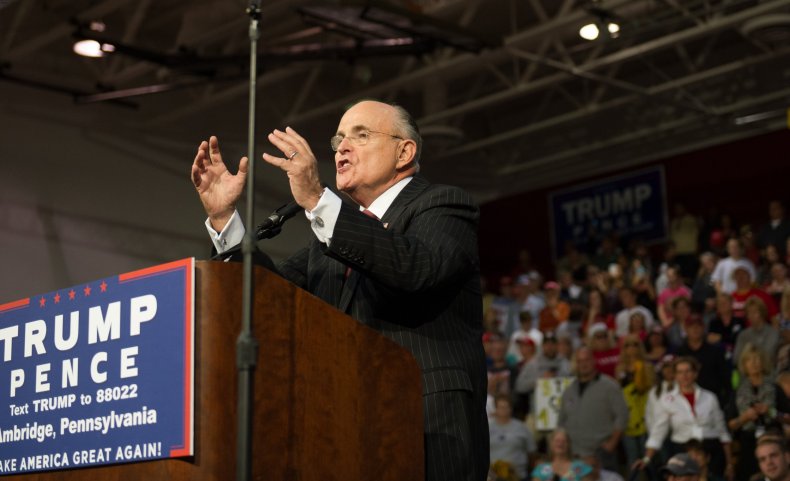 "There are some (questions) that create more issues for us legally than others," adding that some were "unnecessary," others were "possible traps," and several could be "irrelevant," The Post reported, hinting that he fears Trump risks perjuring himself.
His comments come following a ruling by a federal judge to continue with the indictment of a Russian firm accused of a fraudulent social media campaign to influence the 2016 U.S. election.
U.S. District Judge Dabney L. Friedrich rejected the claim by Concord Management and Consulting that the case be dismissed because prosecutors had criminalized election trolling, Politico reported.
Concord is owned by Russian businessman Yevgeniy Prigozhin who is notoriously known as "Putin's chef" because of his ties to the Russian president.
On Thursday, Trump issued a robust tweet criticizing the Mueller probe which he described as a "total mess."
"They are screaming and shouting at people, horribly threatening them to come up with the answers they want. They are a disgrace to our Nation and don't....care how many lives the (sic) ruin.
"These are Angry People, including the highly conflicted Bob Mueller, who worked for Obama for 8 years. They won't even look at all of the bad acts and crimes on the other side. A TOTAL WITCH HUNT LIKE NO OTHER IN AMERICAN HISTORY!"
White House insiders have told Politico that Trump's volatility around the probe shows how his officials are "preparing for the worst" and expect some of the president's allies to be facing charges soon. Among them is Trump's son, Donald Trump Jr, who told friends he could be facing charges.
Some 32 individuals and three Russian businesses are indicted by Mueller and his team on charges ranging from computer hacking to obstruction of justice.