Rudy Giuliani Scoffs at Georgia Probe: 'Desecration of Sixth Amendment'
Rudy Giuliani, ex-lawyer to former President Donald Trump, has dismissed an investigation into an allegedly illegal attempt to overturn the 2020 presidential election result in Georgia as a "desecration of the Sixth Amendment."
A special grand jury in Georgia's Fulton County is investigating allegations that Trump and his allies attempted to illegally overturn President Joe Biden's 2020 victory. Giuliani's attorney Robert Costello told The New York Times on Monday that he had been informed his client is a target of the Georgia probe, which the former GOP mayor of New York City himself later confirmed on WABC radio's The Rudy Giuliani Show.
During an interview on Newsmax's Spicer & Co. on the same day, Giuliani said that his post-election activities in Georgia were being scrutinized as part of the investigation in violation of the U.S. Constitution's Sixth Amendment, which deals with the rights of criminal defendants. Giuliani argued that Trump was being unfairly targeted for attempting to overturn the election outcome and that the prosecutors in the Georgia investigation were "not Americans."
"It's just a further desecration of the Sixth Amendment," said Giuliani. "I was his lawyer of record in that case. The statements that I made are either attorney-client privileged, because they would between me and him, or they were being made on his behalf in order to defend them. When you start when you start turning lawyers into defendants when they're defending their clients, we're starting to live in a fascist state."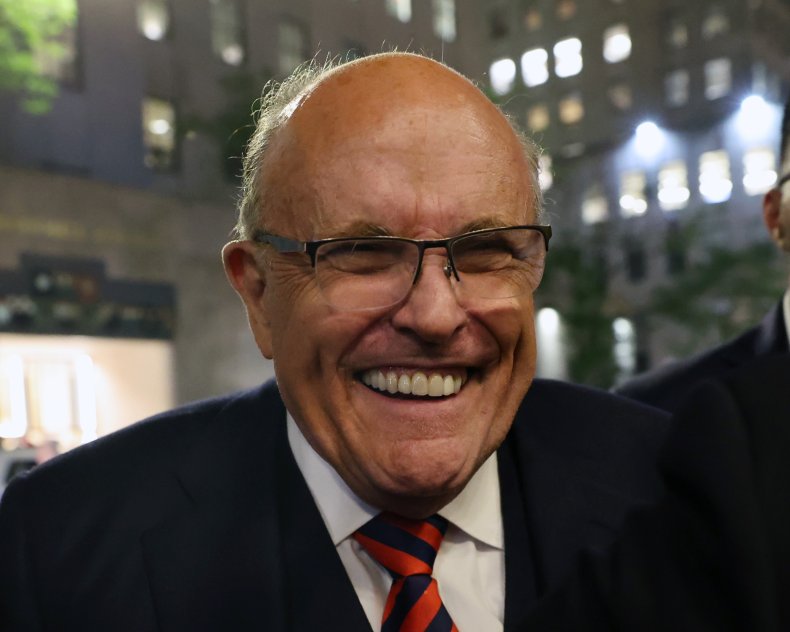 "The only client in America whose lawyer's offices get raided is Donald Trump," he added. "These people aren't lawyers. They're not Americans. They're living by some other rule... Donald Trump has no rights. He has no rights of privacy. He has no rights."
Giuliani is scheduled to testify on Wednesday before the grand jury in Atlanta. A federal judge on Monday ordered Giuliani to testify in person, following an unsuccessful attempt to allow him to instead testify remotely. Costello told Reuters that Giuliani would refuse to answer any questions about Trump that he believes would violate attorney-client privilege.
In a statement to Newsweek, Costello said that Giuliani's reference to the Sixth Amendment "relates to the statement filed in court in New York that they want to talk to Giuliani about his conversations with his client President Trump," adding that "they should have known those communications are protected by the attorney client privilege and that privilege belongs to President Trump and not Giuliani."
However, Giuliani's reference to the Sixth Amendment was seemingly made in clear reference to the Georgia investigation, with the comment being made directly after he was asked about being "a target in the investigation into the 2020 presidential election in Georgia."
Other Trump allies who have been subpoenaed to testify in the Georgia probe include lawyers Jenna Ellis, John Eastman, Cleta Mitchell and Republican Senator Lindsey Graham of South Carolina.
On Monday, a judge also ordered Graham to testify before the grand jury. Graham reportedly said that he would appeal the decision, arguing that election-related phone calls he made to Republican Georgia Secretary of State Brad Raffensperger were conducted as official Senate business and therefore legally protected.
The investigation began following Trump's January 2021 phone call with Raffensperger. In a recording of the call, Trump can be heard urging the state's top election official to "find" him enough votes to overturn Biden's win.
Update 08/15/22, 8:01 p.m. ET: This article was updated with additional information and background.