Rudy Giuliani Slams 'Hate-Filled' Dominion Lawsuit, Says It Seeks to 'Censor' Legal Defenses
Rudy Giuliani, personal attorney of former President Donald Trump, said Monday that he would countersue Dominion Voting Systems after the voting machine manufacturer announced a $1.3 billion defamation lawsuit against Giuliani.
In the aftermath of the November presidential election, Giuliani and other Trump supporters alleged that some Dominion voting machines were programmed to flip votes away from Trump to President Joe Biden. Dominion has repeatedly denied the allegations. In January, Dominion filed a $1.3 billion defamation lawsuit against Trump-supporting attorney Sidney Powell from making similar claims. Giuliani denounced Dominion's lawsuit against him on Monday, claiming that he would file a countersuit.
"Dominion's defamation lawsuit for $1.3B will allow me to investigate their history, finances, and practices fully and completely," Giuliani said in a Monday statement. "The amount being asked for is, quite obviously, intended to frighten people of faint heart. It is another act of intimidation by the hate-filled left-wing to wipe out and censor the exercise of free speech, as well as the ability of lawyers to defend their clients vigorously."
"As such, we will instigate a countersuit against them for violating these Constitutional rights," the statement added.
Newsweek reached out to Dominion Voting Systems for comment.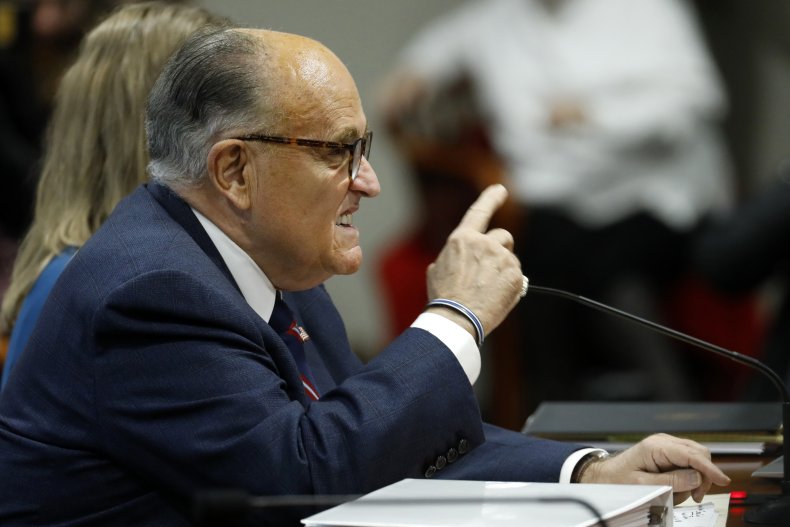 Theories about the veracity of results from Dominion voting machines became a focal point of conspiracy theories pushed by Trump and his allies. Dominion said Monday that the baseless claims of election fraud damaged the company's reputation. One high-ranking Dominion employee was forced to go into hiding after receiving threats from individuals that believed the company facilitated voter fraud.
In a Monday statement, Dominion CEO John Paulos said that the allegations "undermined trust in American democratic institutions" and that Giuliani "continues to make demonstrably false claims, and we intend to hold him, and others who spread disinformation, to account."
Dominion's lawsuit against Giuliani asks for relief in the form of compensatory damages of "not less than $651,735,000" and the same amount in punitive damages.
Powell also publicly alleged that Dominion engaged in voter fraud, claiming that the company was started in Venezuela to ensure the election of Hugo Chavez, the country's late president. In its complaint against Powell, Dominion described Powell's allegations as "demonstrably false."
In December 2020, Dominion's director of product strategy and security Dr. Eric Coomer said that voting fraud theory adherents had threatened him with violence. Coomer sued Giuliani, Powell and Trump's reelection campaign and others for defamation.
"Without concern for the truth or the consequences of their reckless conduct," Coomer's lawsuit read, "Defendants branded Dr. Coomer a traitor to the United States, a terrorist, and a criminal of the highest order."
More lawsuits may be forthcoming from Dominion in connection to the election fraud theories. On Monday, Dominion attorney Tom Clare said during a press conference that the company has not "ruled anyone out" in regards to future litigation.