Rudy Giuliani Tells Chris Cuomo He Never Asked Ukraine to Investigate Joe Biden for Trump—Then Says 'Of Course I Did!'
In an intense interview with CNN reporter Chris Cuomo Thursday evening, Rudy Giuliani had several strong responses to questions about his alleged attempt at having Joe Biden and his son, Hunter Biden, investigated by Ukrainian sources.
When Cuomo directly asked Giuliani if he asked Ukraine to look into Joe Biden, Giuliani responded, "No, actually I didn't. I asked the Ukraine to investigate the allegation that there was interference in the election of 2016 by the Ukrainians for the benefit of Hillary Clinton, which there is already a defining—"
"You never asked anything about Hunter Biden? You never asked anything about Joe Biden?" Cuomo asked, cutting off Giuliani.
"The only thing I asked about Joe Biden is to get to the bottom of how it was that [Ukrainian Prosecutor General Yuriy] Lutsenko, who was appointed, missed the case against—" Giuliani replied.
"So you did ask the Ukraine to look into Joe Biden?" interrupted Cuomo.
"Of course I did!" Giuliani said.
"You just said you didn't!" said Cuomo.
"No, I didn't ask him to look into Joe Biden, I asked them to look into the allegations that were related to my client which were tangentially involved Joe Biden in a massive bribery scam," Giuliani said.
"Rudy..." Cuomo interjected.
"Not unlike what he did in China," continued Giuliani. "You explain to me how the kid got $1.5 billion from China when Joe Biden was selling—"
"I have no problem with you using allegations, but just be careful about what you say," Cuomo cautioned. "I asked you—"
"I'm very careful about what I say," Giuliani said.
"When I asked you if you had Joe Biden investigated, you said no. Then you went on to say that you did," said Cuomo.
"No I didn't say that," Giuliani said.
"It's all supported," said Cuomo.
"What I said was this," Giuliani said. "I asked them to investigate the allegations that relate to the false charges against the President of the United States. Those allegations tangentially involve Biden getting—"
"So your answer is, 'yes,'" Cuomo interrupted once more.
"Let me finish, Chris!" Giuliani replied. "Let me finish!"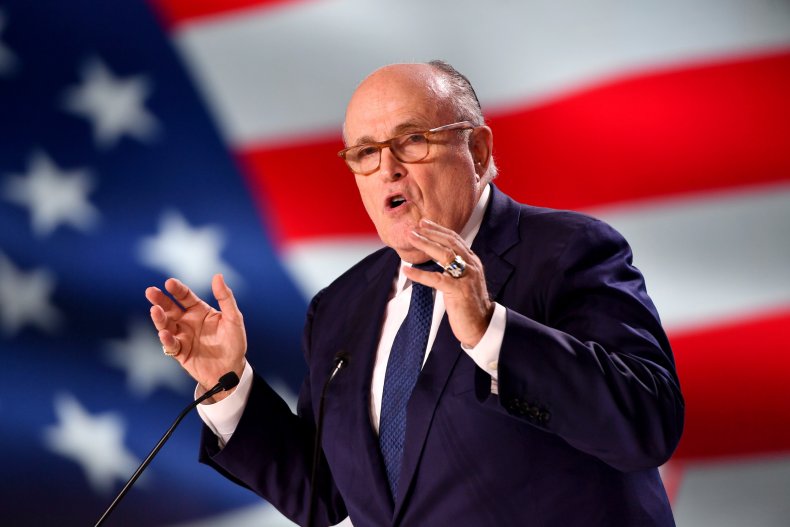 Later in the interview, Giuliani called Cuomo a "sellout" and then linked Biden with former Boston mobster Whitey Bulger's nephew. He then said that "corrupt media" like CNN wouldn't investigate the supposed link.
Giuliani also asked if Cuomo believed in the "deep state," a popular conspiracy theory that a shadow government secretly controls the United States.
"You don't think there's a deep state?" Giuliani asked.
"I think there's a little deep state going on now," Cuomo replied.
"I'm a deep state? I go on television and answer questions!" Giuliani yelled.
"Not so great tonight, I've got to be honest," Cuomo said. "You've been very insulting, very circumspect."
"I'm very insulting directly to your face, not behind your back," Giuliani replied, before again accusing Biden of corruption.
The interview ended when Cuomo wished Giuliani a good night.
"Well, you shouldn't have a good night because what you're doing is very bad for the country," Giuliani replied.
Giuliani and Cuomo often bump heads when Giuliani appears as a guest on Cuomo's CNN talk show. In April, the two squared off over Cuomo's claim that Giuliani once said that there was no evidence of collusion between Trump and Russia in the Muller report. Giuliani denied ever saying such a thing.