Rudy Giuliani Tells Fox News Host His Mission Is to 'Disrupt the World'
During a Fox News interview on The Story with Martha MacCallum, Rudy Giuliani said his mission was to disrupt the world.
That was his answer to MacCallum's question, "Why are you the president's personal attorney—what's your mission?" Giuliani appeared to be surprised, exclaiming both "Wow" and "Whoa" before answering.
Throughout the interview, Giuliani interrupted MacCallum on a near-constant basis. He began by accusing Joe Biden of wrongdoing as the Vice President from 2014 to 2016.
"Let's just say it's true," he said.
Giuliani then responded to American diplomat Kurt Volker's transcripts that Joe Biden was innocent and Volker's take on Giuliani's role in the Ukraine.
"He's a great diplomat. He doesn't know anything about investigating," Giuliani said.
Giuliani was recently described by a whistleblower as "a central figure" in an effort by President Donald Trump to "solicit interference from a foreign country in the 2020 U.S. election." He maintains that he has done nothing wrong.
As President Trump's personal lawyer, Giuliani was one of the first individuals House Democrats subpoenaed for documents as the impeachment inquiry began. He joined Trump's legal team in August 2018, after which he began making regular appearances on the cable news circuit.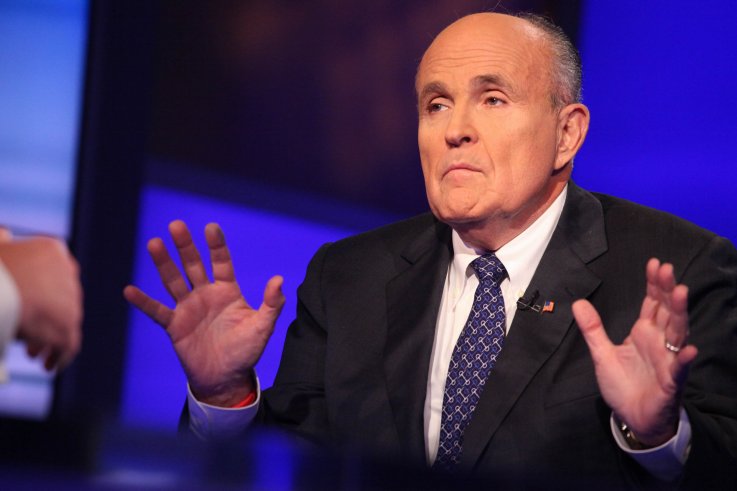 His TV appearances often make headlines because of how quotable he is in interviews. Prone to outbursts in defense of the president, Giuliani often seems like less of an attorney and more like an aggressive cheerleader.
"It is impossible that the whistleblower is a hero and I'm not," Giuliani told the Atlantic. "And I will be the hero! These morons—when this is over, I will be the hero."
During an August 2019 interview with Meet the Press host, Chuck Todd, Giuliani questioned the existence of truth completely when he said "truth isn't truth." Todd responded with "This is going to be a bad meme."
Even though he's supposed to be giving legal advice to the president, Giuliani has occasionally spoken out of turn on White House matters, as well, forcing the State Department to declare that the president's lawyer does not speak for the U.S. government.
This kind of on-screen blunder makes him an easy target for parody, laying the groundwork for shows like Saturday Night Live.
Saturday Night Live's Kate McKinnon plays "Rudy Giuliani" to Alec Baldwin's "President Trump." The most recent episode featured a cold open between the two, with the joke being on Giuliani's interview savvy or lack thereof.
"Nobody's gonna find out about our illegal side dealings with the Ukraine... or how we tried to cover up those side dealings... or how we plan to cover up the cover up," McKinnon says.
"Rudy, where are you right now?" asks Baldwin.
"I'm on CNN right now," McKinnon says to big laughs.
Perhaps Giuliani is disrupting the world from inside The White House, or just distracting America via their televisions—maybe both. Either way, he will continue to make headlines with his ever-changing narratives and the most quotable quotes.
"But men are, you know, disposable," he told CNN.
Rudy Giuliani Tells Fox News Host His Mission Is to 'Disrupt the World' | Politics