Before Trump, Rudy Giuliani Tried to End DOJ Investigation Into OxyContin Maker, But Its Legal Troubles Only Grew
Rudy Giuliani announced Thursday that he was joining President Donald Trump's legal team in order to "negotiate an end" to special counsel Robert Mueller's probe. It's not the first time the former U.S. attorney has tried to bring a conclusion to a Justice Department investigation: More than a decade ago, the former New York City mayor intervened in a federal investigation into the illegal marketing of opioids on behalf of OxyContin maker Purdue Pharma.
It's unclear how successful Giuliani's efforts were. No one at Purdue went to jail, and the company continues to sell OxyContin, a powerful and addictive opioid painkiller. But the company and its top executives eventually pleaded guilty to criminal and civil charges related to allegations the company knowingly misrepresented OxyContin's addictiveness, ultimately agreeing in 2007 to pay more than $630 million in fines. That agreement didn't end the company's legal troubles, however: Dozens of states, counties and cities are currently suing the company and others like it for its role in the opioid crisis.
Giuliani, who spoke at the 2016 Republican National Convention and served as a Trump surrogate during the 2016 presidential campaign, formed a consulting firm called Giuliani Partners in 2002, shortly after his tenure as New York City mayor came to an end. According to a 2007 New York Times investigation into the firm's connections to Purdue, the drugmaker was Giuliani Partners' "first and longest-running client" and hired Giuliani to convince "public officials that they could trust Purdue because they could trust him." The Times reported that Giuliani participated in two meetings between Purdue executives and the head of the Drug Enforcement Administration, which was investigating the company.
"As a celebrity, Mr. Giuliani helped the company win several public relations battles, playing a role in an effort by Purdue to persuade an influential Pennsylvania congressman, Curt Weldon, not to blame it for OxyContin abuse," the Times reported. A consultant to Purdue told the Times the company had paid Guiliani's firm "several million dollars" over the years.
"Everything I did with Giuliani Partners has been totally legal, totally ethical," Giuliani recently told Associated Press in 2007. "There's nothing for me to explain about it. We've acted honorably, decently."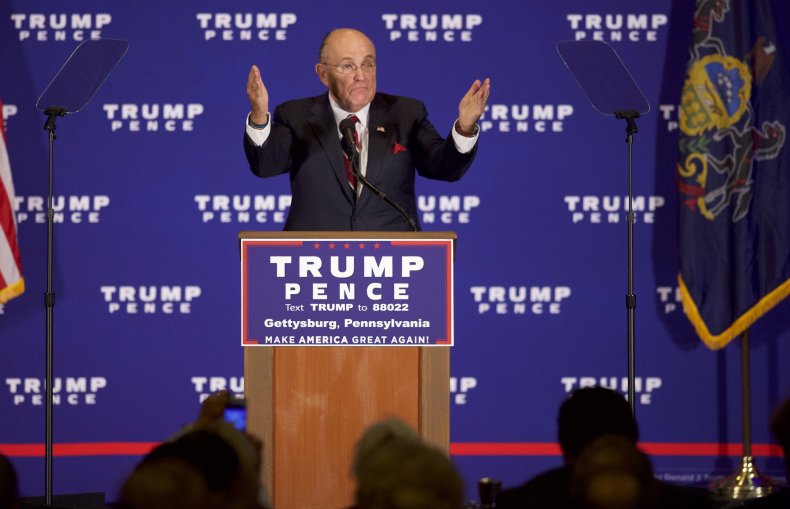 On Friday, a Purdue Pharma spokesperson told Newsweek that Giuliani Partners has not provided consulting services to the pharmaceutical company since 2008. The Giuliani Partners website appeared to be down on Friday, and a call to its offices went unanswered.
In 2016, Giuliani joined law firm Greenberg Traurig to run its cybersecurity and crisis management practice. At the time, Greenberg said Giuliani Partners would remain an "independent consulting firm" but would "enjoy a strategic alliance with Greenberg Traurig." On Thursday, Giuliani announced he would take a leave of absence from Greenberg as part of his move to join the Trump legal team.
This year, more than a decade after Purdue and its executives pleaded guilty to criminal charges, the company announced it would cease sales calls and visits to doctors' offices to promote OxyContin.
Between the time Giuliani started working on behalf of Purdue Pharma in 2002 and the end of 2016, the last year data is available, more than 300,000 Americans died from opioid overdoses, according to numbers compiled from the National Center for Health Statistics and the Centers for Disease Control.