Rudy Giuliani Says Trump Staff Quoted in Woodward Book Should 'Get Another Job'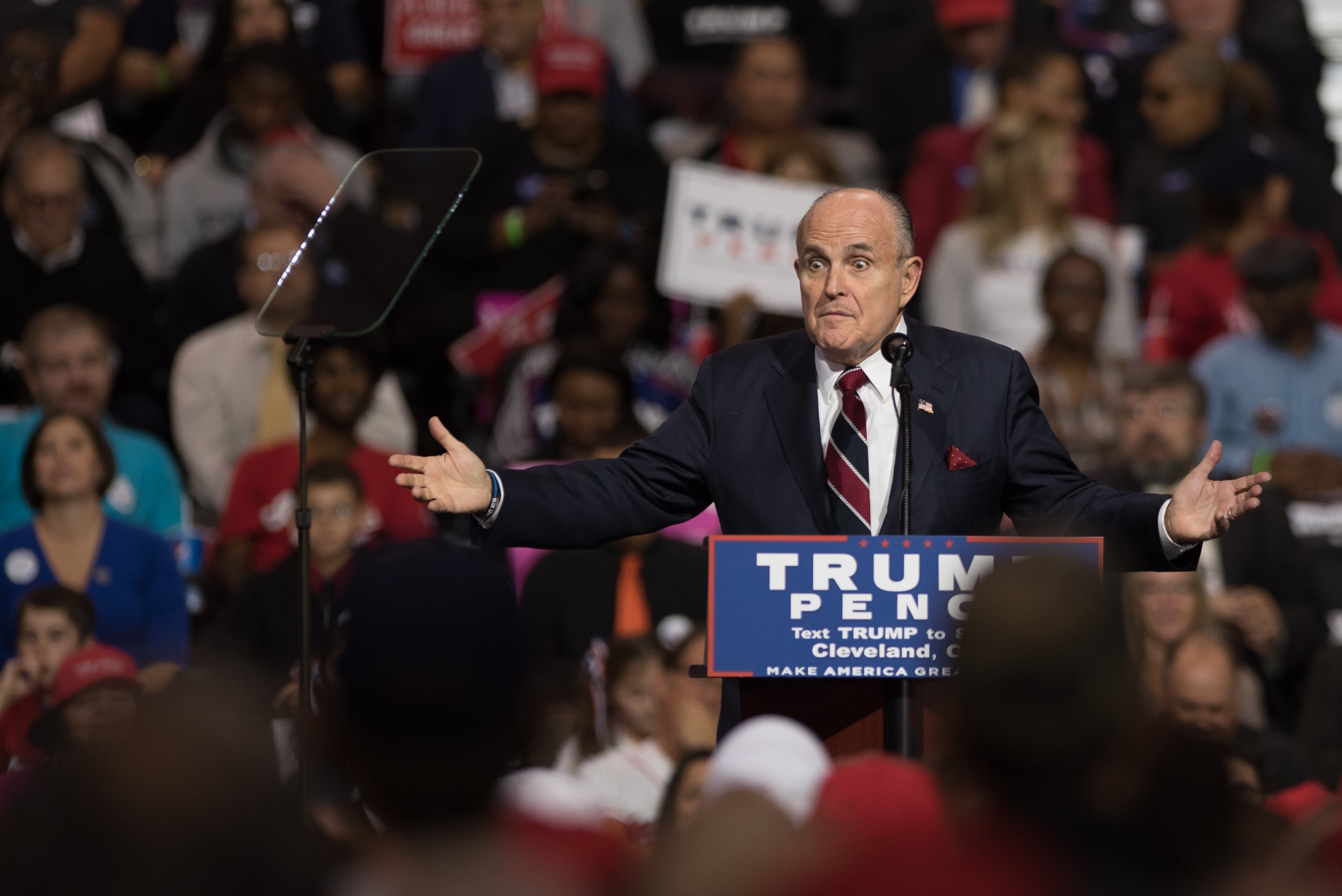 Following a report of an upcoming book about the inner workings of the Trump presidency by Washington Post associate editor Bob Woodward, White House staff and Trump loyalists were quick to fire back and call much of the book's released excerpts as untrue.
But the president's personal attorney, Rudy Giuliani, took a different approach. He told CNBC that any administration officials who are quoted as making damaging comments about Donald Trump should "go get another job."
"If they said it, they should be questioning why they are there. Why don't they go get another job?" Giuliani said. "That's the kind of disloyalty that leads to you leaving, not staying and undermining the president."
Giuliani also reportedly noted that the events Woodward describes happened prior to Giuliani joining Trump's personal legal team.
The 448-page book titled Fear: Trump in the White House cites numerous current and former White House staff members as making damaging comments about their boss, some of which question the president's intelligence by calling him an "idiot."
Defense Secretary Jim Mattis reportedly said Trump "acted like — and had the understanding of — 'a fifth- or sixth-grader.'" White House Chief of Staff John Kelly told former Chief Economic Adviser Gary Cohn that he would have taken Cohn's resignation letter and "shoved it up [Trump's] ass six different times." Kelly is also quoted as calling the president "an idiot" who has "gone off the rails."
In a statement released by the White House Tuesday, Mattis called Woodward's book "fiction" and the idea he would "show contempt" for Trump or "tolerate disrepect" toward the president was "a product of someone's rich imagination."
Also denying what Woodward wrote, Kelly said "the idea I ever called the president an idiot is not true. As I stated back in May … he always knows where I stand, and he and I both know this story is total BS," Kelly added.
Trump's former lawyer John Dowd reportedly told special counsel Robert Mueller that he would not let Trump testify to Mueller for fear of him appearing as a "goddamn dumbbell" to the rest of the world.
Dowd denied the quotes in emails sent to the Washington Examiner.
Former chief strategist Steve Bannon reportedly told Ivanka Trump, the president's daughter and official White House adviser, during a verbal argument that she's a "goddamn staffer" who walks around the White House and acts like she's in charge.
Woodward's book also alleged the president told White House aides that his condemnation of white nationalists after the 2017 Charlottesville rally was "the biggest fucking mistake I've made" and the "worst speech I've ever given." Trump also reportedly told Mattis the U.S. should go into Syria and "fucking kill" Syrian leader Bashar al-Assad after he killed dozens of civilians in a chemical attack in April 2017.
White House press secretary Sarah Huckabee Sanders released a statement Tuesday afternoon calling Woodward's book "nothing more than fabricated stories, many by former disgruntled employees, told to make the President look bad."
"While it is not always pretty, and rare that the press actually covers it, President Trump has broken through the bureaucratic process to deliver unprecedented successes for the American people," Sanders said. "Sometimes it is unconventional, but he always gets results. Democrats and their allies in the media understand the president's policies are working and with success like this, no one can beat him in 2020–not even close."
Update: This story has been updated to include comments from Defense Secretary James Mattis's statement.