Giuliani Ties Hunter Biden Conspiracy to Obama, Soros, Vows to Release Details Day-By-Day
Rudy Giuliani continued launching allegations of impropriety between Hunter Biden and the Ukrainian government Monday morning, even adding former President Barack Obama and liberal billionaire philanthropist George Soros into the conspiratorial claims.
On Monday, Giuliani tweeted out several accusations that Kiev laundered $3 million to the son of former Vice President Joe Biden, and that the Obama administration turned a blind eye to the dealings. Speaking on Fox Business Network, Giuliani referred to Biden's son as "the guy who is drug challenged" and vowed to continue unveiling new details about the money laundering and corruption allegations each day. The former mayor of New York City repeatedly tied Obama to his ever-widening net of claims against the son of the 2020 Democratic presidential candidate.
"NEW FACT: One $3million [sic] payment to Biden's son from Ukraine to Latvia to Cyprus to US. When Prosecutor asked Cyprus for amount going to son, he was told US embassy (Obama's) instructed them not to provide the amount. Prosecutor getting too close to son and Biden had him fired," Giuliani tweeted early Monday morning.
"Did Obama know that his VP, the one he put in charge of giving billions to Ukraine, had a son who was making millions on the board of one of the most corrupt companies in Ukraine. Biden's boss had stolen $5b from Ukraine and was a fugitive. Did Obama know? Did he approve?" President Donald Trump's personal attorney continued.
Giuliani made clear that his allegations against the Bidens and Obama are political as he challenged the Democratic Party to "own" the alleged misdeeds of the former administration and Hunter Biden. Giuliani's allegations included a who's who of left-leaning figures frequently targeted by U.S. conservatives.
"If Dem party doesn't call for investigation of Bidens' millions from Ukraine and billions from China, they will own it. Bidens' made big money selling public office. How could Obama have allowed this to happen? Will Dems continue to condone and enable this kind pay-for-play?" Giuliani tweeted Monday morning.
Giuliani has been conducting a sweeping press tour to spread his Ukraine story, telling Fox News Sunday that the Clintons and George Soros are connected to the bizarre conspiracy.
"What I'm talking about, this, it's Ukrainian collusion, which was large, significant, and proven with Hillary Clinton, with the DNC, a woman named Chalupa, with the ambassador, with an FBI agent who's now been hired by George Soros who was funding a lot of it," he said Sunday.
Speaking with Fox Business Network's Maria Bartiromo, Giuliani vowed to continue releasing information he'd allegedly uncovered on a daily basis. "There's a lot more evidence I'm going to put out. I put one out for today, money laundering. I've got a bigger one for tomorrow and the day after," he said.
Former federal prosecutors and legal experts have claimed Giuliani could be disbarred or Trump could face impeachment over reports the president pressured Ukrainian President Volodymyr Zelensky to cooperate with his apparently ongoing international investigation. The Washington Post reported Trump put a hold on $250 million in military assistance to Ukraine, although that move was no directly tied to Giuliani's claims.
"Now no mention of money or quid pro quo. So appropriate conduct. Now we must look at Biden Family pattern of corruption of selling his public offices for 5 decades. Pattern of corruption enabled by Swamp," Giuliani tweeted over the weekend.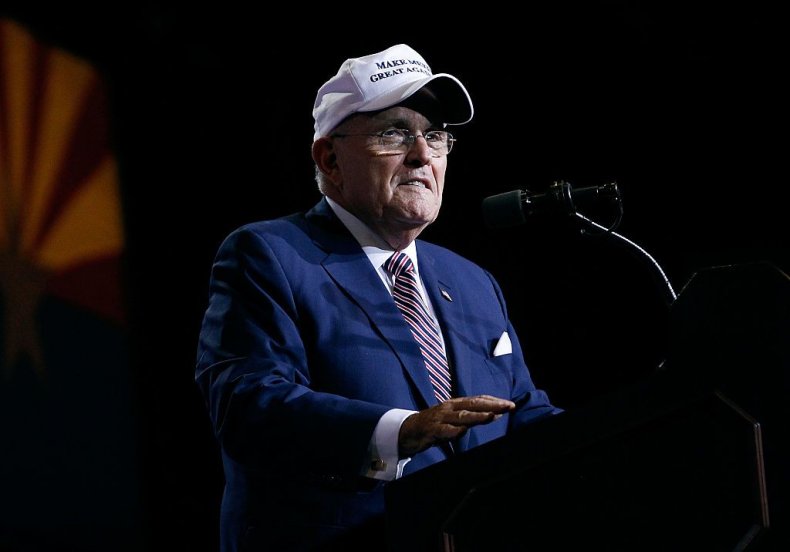 Several journalists and media analysts have called on news outlets to "ignore" Giuliani's claims because he has offered no real evidence or credibility for his allegations.