Rudy Giuliani Unknowingly Featured In Compromising Footage of Borat Sequel After Previously Saying Sacha Baron Cohen 'Didn't Get Me'
After tipping off tabloids to Hunter Biden's emails, the president's personal attorney Rudy Giuliani is now in the subject of his own media controversy for being unknowingly featured in the new Borat sequel.
As embargo for the film, titled Borat Subsequent Moviefilm: Delivery of Prodigious Bribe to American Regime for Make Benefit Once Glorious Nation of Kazakhstan, lifted ahead of the movie's premiere on Friday, reviews and reactions revealed Giuliani's unwitting role in the film.
The clip in question shows Giuliani lying on a bed and reaching into his trousers to seemingly touch his genitals while in the presence of the actor playing Borat's daughter, who is posing as a TV journalist.
The character of Borat's daughter is seen conducting an interview with the former New York City mayor, before the two move into the bedroom of a hotel suite for a drink. Once in the room, which is rigged with secret cameras, the woman removes 76-year-old Giuliani's microphone while he fiddles with his shirt before reaching into his pants.
The encounter is cut short when Borat runs in and says, "She's 15. She's too old for you."
Maria Bakalova, the actress playing Borat's daughter who is supposed to be a child posing as a far-right journalist, is 24-years-old.
Giuliani, who told The New York Post he thought he was partaking in an interview about the Trump administration's response to COVID-19, is also seen drinking alcohol and not following social distancing guidelines related to the pandemic.
At the time of the incident, before it was official that filming of the Borat sequel was underway, Giuliani reportedly called the cops on Cohen after realizing the filmmaker had staged the interview.
"This guy comes running in, wearing a crazy, what I would say was a pink transgender outfit," Giuliani told The Post on July 8.
"This person comes in yelling and screaming, and I thought this must be a scam or a shake-down, so I reported it to the police. He then ran away," he said.
After learning Cohen had been attempting to spoof him, Giuliani said he "felt good" that Cohen didn't fool him.
He said, "I only later realized it must have been Sacha Baron Cohen. I thought about all the people he previously fooled and I felt good about myself because he didn't get me."
However, the new footage seems to prove Cohen was successful in fooling Giuliani.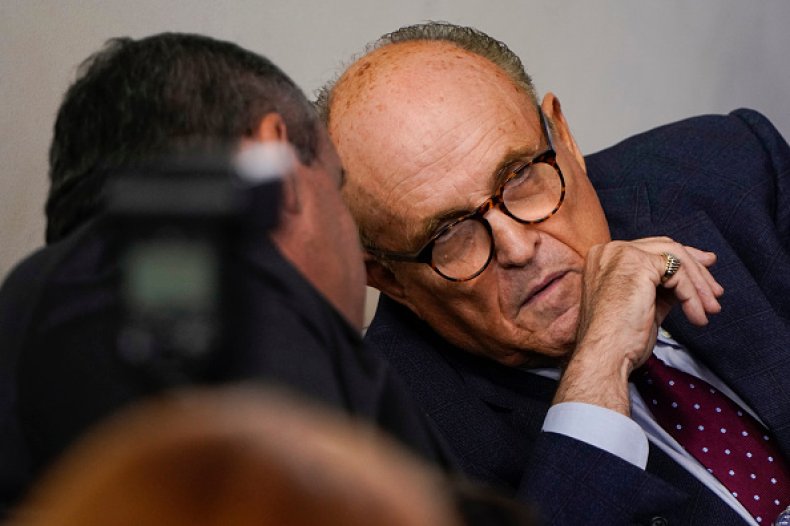 A number of those who have seen the film have confirmed Giuliani's role in the scene.
New York Times columnist Maureen Dowd said the footage was "beyond cringe" and Complex writer Trace William Cohen wrote that "the footage is just as vile and shocking as it sounds."
"Watching it, your brain turns into an exclamation point," Vanity Fair's Sonia Saraiya wrote in her review of the film.
Newsweek reached out to Giuliani for comment but did not hear back before publication.
When asked about the footage, White House spokesperson Brian Morgenstern told reporters, "I have not seen it. So we'll have to get back to you on that." He went on to call Giuliani a "Patriot" and "zealous representative" of the president.