Rudy Giuliani Voicemail Hints at Cause of Federal Search Warrant
A voicemail transcript made public late last year may have relevance to federal search warrants executed Wednesday morning at Rudy Giuliani's Manhattan home and office.
Joseph Bondy, the attorney for former Giuliani associate Lev Parnas, submitted a motion in court in December that included the transcript of a voicemail Giuliani left him in November 2019.
According to the transcript, Giuliani encouraged Bondy to call him at a redacted number, which Giuliani then described as "the soon to be gotten rid of number."
Bondy confirmed that Giuliani's phrasing in the transcript was accurate.
"I can confirm the veracity of the statements that I made in that reply motion," Bondy told Newsweek. Bondy declined to comment further on matters related to Giuliani.
A source familiar with Giuliani's previous legal efforts, who requested anonymity because they were not authorized to speak on the record, suggested federal prosecutors may be pursuing evidence of Foreign Corrupt Practices Act violations or Foreign Agents Registration Act violations, though the source told Newsweek they do not have specific information regarding the warrants served on Wednesday.
"FARA violations would be one," the source told Newsweek. "There could also be Foreign Corrupt Practices Act violations or federal campaigns offenses."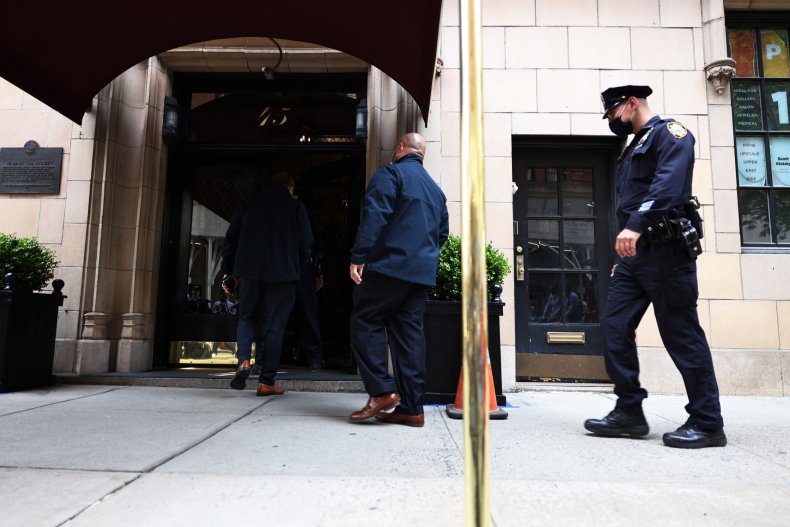 The source suggested the investigation could also be related to the allegations Giuliani made last fall about the ties between President Joe Biden's son, Hunter Biden, and Burisma, the Ukrainian energy and production company where the younger Biden served as a board member.
Regardless of what evidence investigators in pursuit of a search warrant expect to find, a judge would require them to show probable cause that suggests a subpoena would not be sufficient for retrieving that evidence.
"The magistrate is supposed to look at the totality of circumstances," the source said.
Taking into account Giuliani's role as an attorney and the risks involved in stumbling across information relevant to unrelated cases, the judge would assess the warrant request and make a determination about whether a subpoena would or would not be sufficient.
"You need to also show that you believe that it exists now," the source told Newsweek. "Serving a subpoena would not be sufficient, meaning you have reason to believe that you wouldn't be able to get it otherwise. They have reason to believe it'll be destroyed, or the evidence will be lost in some sort of way."
The New York Times was first to report the Wednesday morning searches, which took place at Giuliani's Madison Avenue apartment and his Park Avenue office. The paper later reported that Victoria Toensing, an attorney linked to Giuliani, was also served a search warrant by FBI agents on Wednesday.
According to the Times, officials took electronic devices belonging to Giuliani during the searches in Manhattan.
Though federal investigators looking into Giuliani encountered obstacles while Trump was in office, the recent transition of power in the DOJ, which is now led by Attorney General Merrick Garland, enabled prosecutors to move forward with their investigation, according to the Times.
Sources told Newsweek that the threshold investigators must reach in order to secure a warrant to search the premises of an attorney is significantly higher than that for an ordinary warrant request, a fact confirmed by a U.S. Department of Justice (DOJ) handbook detailing methods for obtaining evidence.
The stricter requirements are in place to protect clients whom the attorney in question is representing in unrelated cases. Federal prosecutors are typically instructed to retrieve evidence from attorneys through subpoenas, but prosecutors are allowed to request warrants to search the home or workplace of an attorney if they have reason to believe the evidence they seek is at risk of being obstructed or destroyed.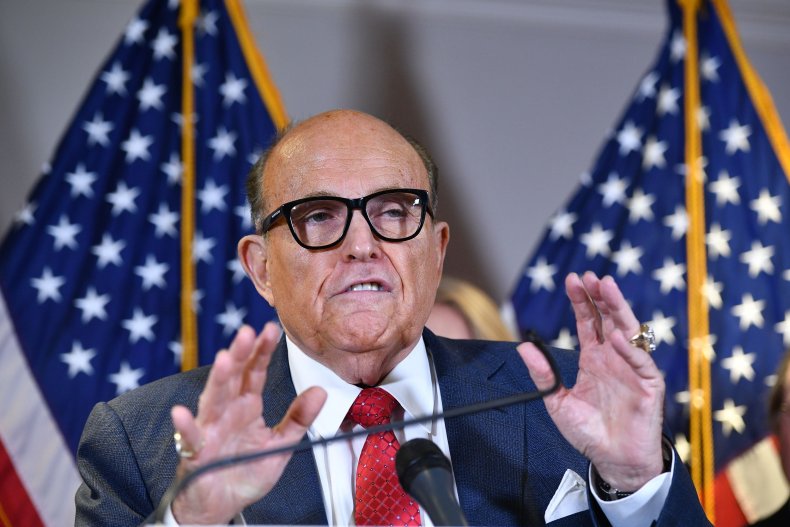 A publicly available transcript could explain why investigators might have this concern about evidence they are seeking in connection to the former New York City mayor, who also served as former President Donald Trump's personal attorney. Giuliani has been under investigation for allegedly breaking lobbying laws while working in Ukraine on behalf of Trump.
Giuliani's lawyer, Robert Costello, told the Times he questioned the federal prosecutors' methods, because Giuliani was willing to respond to their queries, suggesting search warrants were unnecessary.
But according to the DOJ handbook, granting search warrants at an attorney's home or place of business is done carefully and with the requirement that several boxes are checked before the requested warrants can be signed and executed.
"Because of the potential effects of this type of search on legitimate attorney-client relationships and because of the possibility that, during such a search, the government may encounter material protected by a legitimate claim of privilege, it is important that close control be exercised over this type of search," the DOJ instructions read.
Before pursuing a search warrant for an attorney, federal prosecutors are encouraged to consider issuing a subpoena "unless such efforts could compromise the criminal investigation or prosecution, or could result in the obstruction or destruction of evidence, or would otherwise be ineffective," the DOJ handbook states.