Rudy Giuliani, Who Said 'Truth Isn't Truth,' Now Blasts Democrats by Asking, 'Do They Care About the Truth?'
President Donald Trump's lawyer Rudy Giuliani, who infamously defended his client by declaring on national TV that "truth isn't truth," on Thursday asked if House Democrats "care about the truth" while arguing that Trump's former legal fixer Michael Cohen should be prosecuted for perjury.
"I'm still waiting for the House Dems to demand a perjury prosecution for the man who made fools out of them by lying under oath," Guiliani tweeted in a series of posts on Cohen. "Do they care about the truth? Or is it get Trump at any cost, even to their own integrity?"
Cohen's lawyer Lanny Davis on Thursday confirmed that Cohen directed his former attorney to ask Trump for a pardon. But Davis said that does not conflict with Cohen's testimony under oath that "I have never asked for, nor would I accept, a pardon from President Trump," because Cohen was no longer interested in a pardon once he withdrew from a joint defense agreement with Trump's legal team.
But former U.S. Attorney Giuliani saw the matter differently.
"Dems star Cohen testified: 'I have NEVER asked for...a pardon from Mr. Trump.' His lawyer Lanny Davis has said '...he (Cohen) directed his attorney to explore ... a pardon.' Never means never ever not after July 2, 2018 which is the latest deception," Giuliani tweeted. "Another perjury and more prison."
Giuliani argued that Cohen should now be prosecuted for at least three perjuries: "never asked for pardon, never sought a government job and represented foreign entities." Giuliani added in another tweet that Cohen had committed three perjuries "for sure but growing."
"For any ethical prosecutor, or Congressional investigators one perjury would be enough to cease any cooperation," Giuliani tweeted.
Trump's lawyer also suggested that Cohen is a "serial perjurer" and a serial liar.
"The defense now to Cohen saying under oath he NEVER asked for a pardon is a familiar one; What's The Meaning of Never," Giuliani tweeted. "Serial liars often try the same deception too often. Let's hope Congress and DOJ are outraged at Cohen's disrespecting them by perjuring himself repeatedly."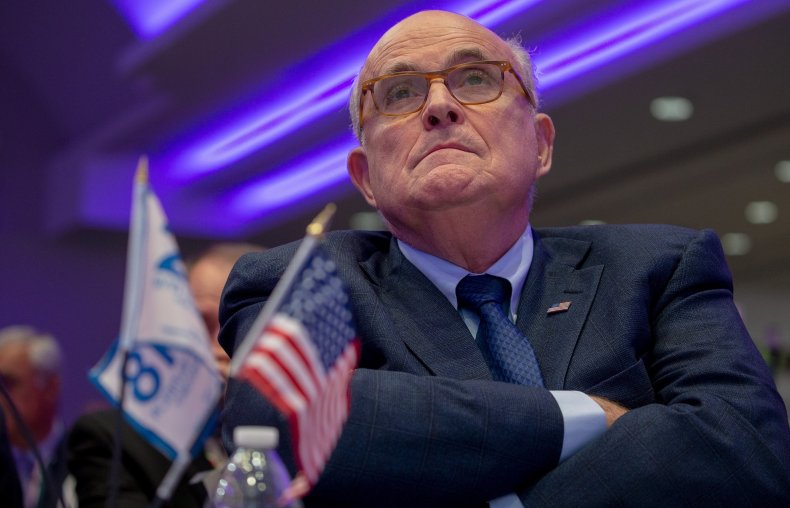 Giuliani efforts to represent Trump have repeatedly come under fire due to the former New York City mayor's inconsistencies and contradictions. He uttered one of his most outrageous statements, "truth isn't truth," in Aug. 2018 while arguing that Russia probe special counsel Robert Mueller could be attempting to get Trump to commit perjury.
"When you tell me that [Trump] should testify because he's going to tell the truth and he shouldn't worry, that's so silly, because it's somebody's version of the truth. Not the truth," Giuliani said on NBC's Meet the Press at the time.
"Truth is truth," host Chuck Todd responded.
"No, it isn't truth," Giuliani replied. "Truth isn't truth."
Rudy Giuliani, Who Said 'Truth Isn't Truth,' Now Blasts Democrats by Asking, 'Do They Care About the Truth?' | U.S.