Andrew Giuliani, the son of Donald Trump's friend and former attorney Rudy Giuliani, took aim at the U.S. Justice Department and the American media during a Thursday interview on Russian state-controlled television.
The FBI raided Rudy Giuliani's apartment in late April after securing a search warrant in relation to an investigation into whether he violated federal laws by lobbying on behalf of foreign officials without registering with the government. Rudy Giuliani, who served as New York City's mayor, denies any wrongdoing and has argued that he's been targeted because of his political connection to Trump.
During the interview on Russia's RT channel on Thursday, Andrew Giuliani discussed the U.S. media's coverage of the investigation into his father. He was asked about high-profile corrections issued by The Washington Post, The New York Times and other prominent media outlets after they initially incorrectly reported that Rudy Giuliani had been warned by the FBI that he could be the target of a Russian disinformation campaign.
"I think because they're on one particular side of the aisle with the narrative," Andrew Giuliani said. "That's what we're seeing here."
He added that "they used to have a good reputation of reporting the news," calling out the Post, the Times and others. "Over the past decade and certainly over the past five years—they pushed narratives." He said the media "needed to back off" because they were concerned about a potential libel lawsuit.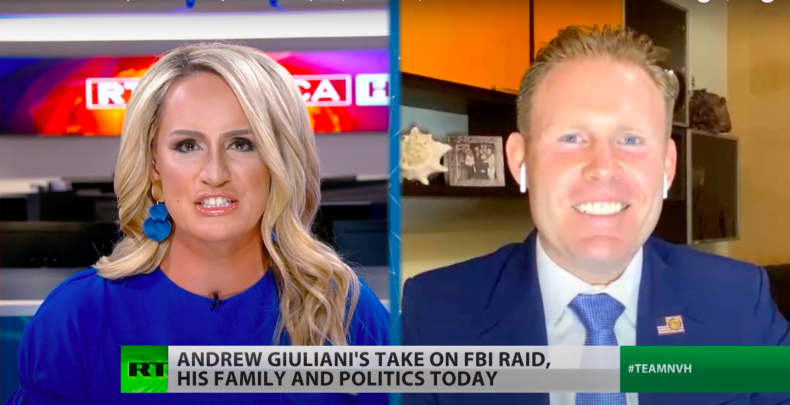 "Why do they go down this route? Well, look, it's a game that ends up going on between the Justice Department and the media," Andrew Giuliani said.
Earlier in the interview, he said that many people are reaching out to his father to say they no longer want to live in the U.S. because of the Justice Department's actions toward him.
"The thing that's been amazing is over the last couple of weeks, how many people—and some of these people are people who haven't talked to my father in five or 10 years—have come out and said, 'We may not have always agreed with your politics, but we completely agree this is absolutely the wrong thing to see our Justice Department politicize something as badly as they have,'" Andrew Giuliani said.
He went on, "So it's been people who have been very strong Trump supporters and some who have not been Trump supporters. They don't want to live in a country where you're going to have a Justice Department that is going to politicize something to the point where a former president's personal counsel is going to actually be spied on by the Justice Department."
Andrew Giuliani served as a junior staffer in Trump's White House. His father drew substantial controversy throughout Trump's tenure as president. Rudy Giuliani was a key figure in Trump's first impeachment by the Democratic-controlled House of Representatives in late 2019, after he traveled to Ukraine to dig up dirt on Hunter Biden, the son of then Democratic presidential candidate Joe Biden.
Rudy Giuliani has also been a key promoter of Trump's baseless claims of widespread voter fraud in the 2020 election. The attorney led the charge in filing a number of unsuccessful election challenge lawsuits in state and federal courts, often promoting bizarre allegations. Even some of the former president's associates, such as former New Jersey Governor Chris Christie, described Giuliani's legal team as a "national embarrassment."
RT is a state-controlled Russian channel launched in 2005 that operates in multiple languages. It has regularly been flagged for promoting misinformation. Russian media has repeatedly pushed content favorable to Trump, according to multiple analyses. Russia interfered in the 2016 presidential election, using social media and traditional media to disparage the candidacy of Hillary Clinton while promoting Trump.
Newsweek reached out to Rudy Giuliani for comment but did not hear back before publication.