Rudy Giuliani's 'Very Favorable' Rating Among Republicans 3 Times Higher than McConnell's: Poll
Rudy Giuliani's "very favorable" rating among GOP voters was three times higher than Senate Minority Leader Mitch McConnell's rating in a new poll.
In the latest Economist/YouGov poll, 32 percent of Republican respondents rated Giuliani "very favorable" and a further 34 percent rated the ex-Trump attorney "somewhat favorable." Just 9 percent gave Giuliani a "very unfavorable" rating and 12 percent "somewhat unfavorable."
Among Republicans, the former mayor of New York City's "very favorable" rating tripled Senate Minority Leader Mitch McConnell's rating and nearly doubled House Minority Leader Kevin McCarthy's figure.
McConnell's "very favorable" rating sat at 10 percent, with a further 37 percent rating the GOP leader "somewhat favorable." Just 15 percent rated McConnell "very unfavorable" and 25 percent rated him "somewhat unfavorable."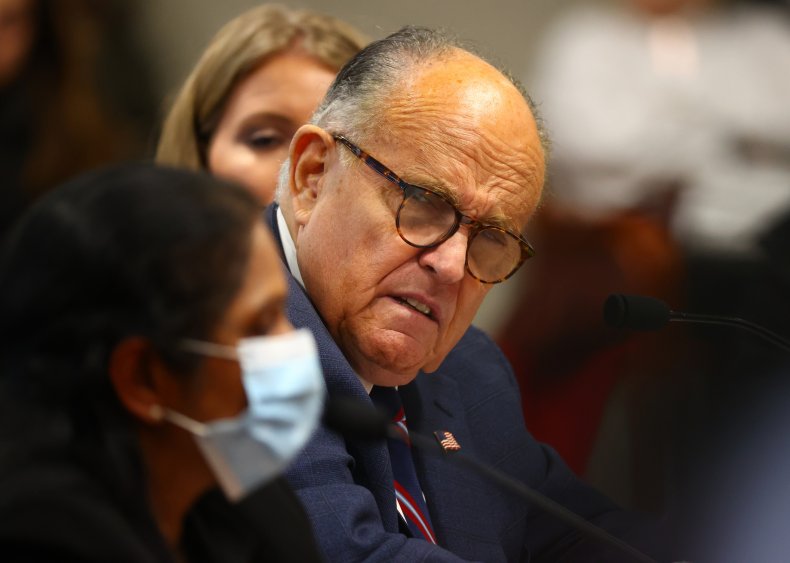 Eighteen percent of Republicans gave McCarthy a "very favorable" rating and 30 percent a "somewhat favorable rating." Additionally, 12 percent said McCarthy was "very unfavorable" and 13 percent "somewhat unfavorable."
Former President Donald Trump received the highest favorability ratings out of the group of Republican politicians and public figures, with 57 percent of GOP voters viewing him as "very favorable" and 24 percent "somewhat favorable. Just 4 percent rated Trump as "very unfavorable" and 11 percent "somewhat unfavorable."
The findings show that Trump and his allies have continued to enjoy a strong grip on the Republican Party despite the ex-president leaving office more than four months ago.
The poll, which surveyed 1,500 U.S. adult citizens between May 22 and 25, has a margin of error of plus or minus 2.9 percentage points.
Newsweek reached out to McConnell's office for comment. This story will be updated with any response.
Since President Joe Biden took office, a GOP rift has broken out between the Trump wing and an establishment impatient to end his influence on the party.
House Republicans ousted Cheney from the No. 3 leadership position earlier this month after she repeatedly battled with Trump over his false election fraud claims, and voted with Democrats for his second impeachment.
Giuliani, one of Trump's closest allies, played a key role in his effort to challenge the 2020 election results and has faced continued fallout over his public statements on overturning Biden's win.
Dominion Voting Systems filed a $1.3 billion defamation lawsuit against Giuliani over false election claims in January. The suit accuses the lawyer of executing a "viral disinformation campaign about Dominion" filled with "demonstrably false" claims, and includes more than 50 statements made by Giuliani on Twitter, at legislative hearings and to conservative media.
McConnell delivered a searing rebuke of Trump over the Capitol riot in February after he voted to acquit him. From the Senate Floor, the lawmaker said Trump was "practically and morally responsible" for the events that unfolded on January 6.
"The people who stormed this building believed they were acting on the wishes and instructions of their president," he said. "The leader of the free world cannot spend weeks thundering that shadowy forces are stealing our country and then feign surprise when people believe him and do reckless things."