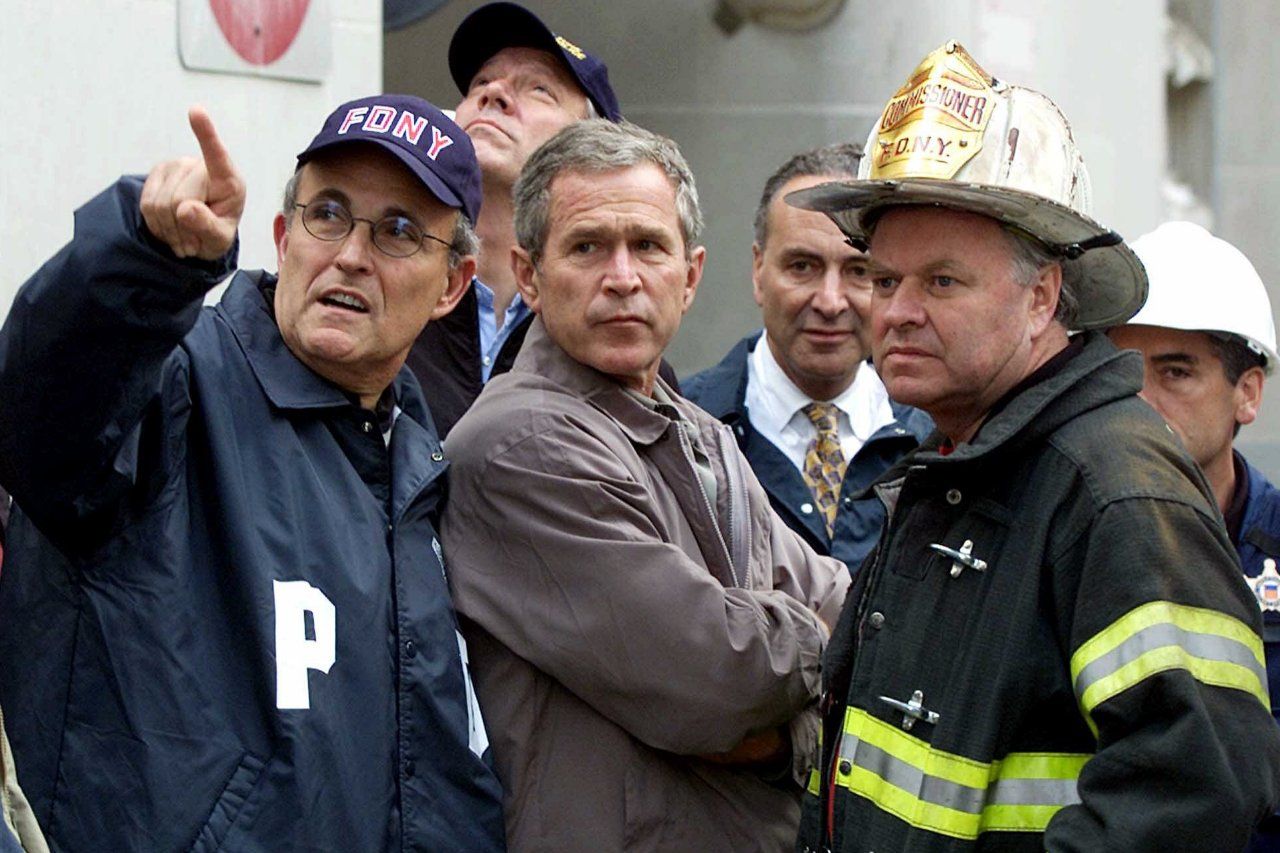 Every day he pulls on the same boots--a pair of ash-caked black galoshes for the walk down to Ground Zero. But the hats change. When he showed President Bush the wreckage, he wore an FDNY cap, in recognition of his ravaged fire department. The day Attorney General John Ashcroft came through, the mayor went with a cap from the cops. He sometimes carries a purple gas mask for when the soot or stench becomes unbearable. But just about the only time he used it was on Sept. 11, when the mountain of smoke turned day to night on Church Street in lower Manhattan.
No matter what happens now, Rudy Giuliani's legend is in place. He's our Winston Churchill, walking the rubble, calming and inspiring his heartbroken but defiant people. His performance in the weeks After Tuesday is setting a new global standard for crisis leadership: strong, sensitive, straightforward and seriously well informed about every meaningful detail of the calamity. The mayor is unmistakably in command, and every New Yorker--even those who still dislike him--is gratefully in his debt.
Before the cameras, he counsels against fear; behind closed doors, he still inspires it, laying down the law like the Rudy of old. "It's perform--or else," says one official. The mayoral staff, coordinating the efforts of 100 agencies at a semisecret location on Manhattan's West Side, is a highly functional dysfunctional family, with aides screaming at each other before tearfully embracing, then screaming again.
"They fight with each other, and I probably provoke that a little," Giuliani says, chuckling. Probably? Here the mayor opens the window a crack on his style: "At a meeting they said it would take 10 days to clean up one of the buildings. I said, 'It took God seven days to create the Earth, so we can do better than that, don't you think?' " It opened in five.
At least once a day the mayor sets out for hell on earth. Going in, the mood is often strangely upbeat. Emergency workers smile and shout "Hey, Rudy!" or "President Giuliani's here!" as we enter the restricted "red zone." "God bless you," he tells the workers softly, often hugging acquaintances with a real warmth that many have never seen in him before.
He points to St. Paul's Church, where George Washington went to pray after being sworn in nearby as the first president in 1789. The church is closed but still in one piece. Giuliani wants to make sure that visitors learn some of the good news from the day of infamy.
"The thing I don't think people have focused on is that they saved 25,000 people in there," he tells Ashcroft and FBI Director Robert Mueller, both looking a little shellshocked. "There were people on the 104th floor who walked all the way down, if they were lucky enough to find the stairs."
Many weren't: "When I was looking up, I could see a man just dive out of a window like he was diving into a pool. He came down the full hundred [stories] and then his fall was broken by the plaza. I think that was the first time that I realized that this was beyond anything we had ever faced before," Giuliani remembers. "I try to tell people, 'The only thing you can do is talk about it. You can't keep it inside. You gotta get it out'."
Giuliani gestures up at the nonexistent towers and describes how they fell, which other buildings the half-million tons of steel hit on the way down and where the wind blew the plumes of debris. He explains how two or three large fires are still burning below, reignited each time the workers remove more wreckage and let oxygen in.
"Every time you take someone here, they walk around with their mouths open," Giuliani tells me as we pick our way out of the damaged American Express building and enter Ground Zero. "And the impact is even greater from the air. When you get out over the city, it looks like the remnants of a nuclear war." The mayor estimates it will take six months to clear the area, and he plans to continue to take foreign heads of state on this gruesome walking tour. "You can't come here and be neutral," he says.
As soon as he heard the news at 8:45 a.m. on Sept. 11, Giuliani rushed to the scene. After visiting a fire command post later crushed in the collapse, he and his top lieutenants formed a makeshift communications center in an office at 75 Barclay Street. Giuliani got through to the White House and confirmed that the Pentagon had been hit. He worried that the United Nations or the Empire State Building could be next and, to his own amazement, requested air cover for New York City.
Then the first tower collapsed, destroying the building across a narrow street. "If the building had fallen in a slightly different way, you can't escape the thought that there would be no mayor, no police commissioner, fire commissioner, three of the four deputy mayors, two or three deputy police commissioners..." His voice trails off.
Giuliani knows dozens of people under the rubble, including many of the 343 firefighters who perished and the husband of his executive assistant. "You gotta cry," the mayor says. "That Friday when the president was here and we met with the families. People coming up with the photographs. There's no way you could stand in that room and not cry." As the recovery of remains proceeds, hegoes to funerals and wakes every day.
And the occasional wedding. The mayor had promised to give away the sister of a firefighter who was killed in a blaze earlier this year. After the attack he kept the commitment, driving home the need for some normalcy. This is his big message now. Fresh from a brief appearance at a sold-out Metropolitan Opera benefit for the families of the fallen, Giuliani exults over the unified spirit of New Yorkers, conquering their fear and returning to crowded places: "The most beautiful and inspirational thing is that there are 3,000 people listening outside."
His prostate cancer in remission, Giuliani pursues a punishing schedule, from early-morning briefings from his commissioners to late-night visits to the wreckage. He is supposed to follow a strict diet of fruits and vegetables but slips occasionally. "I caught him eating a really disgusting sandwich," says Sunny Mindel, his director of communications. "One of those with oily cheese and meats that sweat." Giuliani admits he sleeps only three or four hours a night and is jumpy. "This morning I woke up very early and was going to go down there at, like, 4 o'clock in the morning [before] I realized that was not a good idea."
Like Churchill, Giuliani thrives in crisis and suffers in tranquillity. After helping to slash the crime rate in New York City (homicide is down 68 percent since he was elected in 1993), Giuliani lacked a clear mission. Prevented from seeking re-election by term limits, he hoped to run against Hillary Clinton for the Senate. But personal problems interfered. A surpassingly messy divorce played out day after day on the front page. Then cancer forced him from the Senate race.
Now that's all ancient history. But even as he ponders the resurrection of his political career, Giuliani knows that his future will always be bound up in the events of Sept. 11. He wants broad discussion of what to do with the site, but has his own ideas. "I think we should not be setting up a challenge that you have to put up the two buildings exactly as they were. It's not realistic," he says. The new World Trade Center, Rudy Giuliani concludes, should contain some combination of office space and "an uplifting, inspiring memorial for the benefit of the families and the country." Until then, the families and the country will continue to benefit from something else--a mayor who has met the moment.
Rudy's Moment | News