All of the Clues Rue Won't Die in 'Euphoria'
Zendaya has once again given an Emmy-worthy winning performance as Rue Bennett in Euphoria. In Season 2, Episode 5, audiences watched Rue suffer from withdrawal and spiral out of control in a desperate attempt to do anything to get her fix. If Laurie (played by Martha Kelly) giving her morphine was not enough to make you fear Rue's life was in danger, when she woke up locked inside Laurie's home, audiences wondered if she would even make it out alive.
Thankfully, Rue managed to escape from whatever horrible ordeal Laurie had planned. However, for many fans, Rue's life is still hanging in the balance. After all, she is no stranger to overdosing. Some Euphoria fans even think Rue is already dead and she is simply reflecting on her life from the grave.
On the other hand, there are plenty of other reasons to suggest Rue is alive and will stay living as long as Euphoria is on our screens. Newsweek has everything you need to know.
All Of The Clues Rue Won't Die in Euphoria
1. Season 3 Has Been Given the Greenlight
The most obvious clue of all is the news Euphoria Season 3 has been given the green light by HBO Max and it looks like Zendaya is set to reprise her role as Rue.
Announcing the news, Francesca Orsi, EVP of HBO Programming, said: "Sam [Levinson], Zendaya, and the entire cast and crew of Euphoria have taken Season 2 to extraordinary heights, challenging narrative convention and form, while maintaining its heart. We couldn't be more honored to work with this gifted, wildly talented team or more excited to continue our journey with them into Season 3."
The renewal does not come as a huge surprise considering the show's success.
The Season 2 premiere currently boasts 14 million total viewers across all HBO platforms, according to Deadline, and Season 1 won three awards at the 2020 Emmy's, including Zendaya for Outstanding Lead Actress in a Drama Series.
Surely, Euphoria Season 3 wouldn't continue without its biggest star?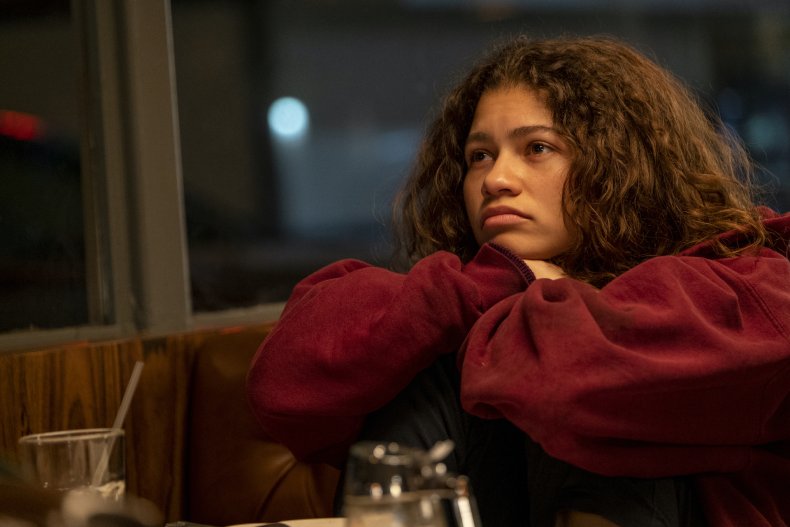 2. Rue Is Loosely Based On Euphoria Director, Sam Levinson
From the very beginning of Euphoria, creator, director, and showrunner Sam Levinson has been open and honest about the show's origins.
Yes, Euphoria is inspired by the Israeli miniseries of the same name by Ron Leshem and Daphna Levin but Levinson also has a special connection to the show.
The character Rue Bennett is loosely based on his experience of drug addiction in his late teens and early 20s.
Speaking to Entertainment Weekly about adapting Euphoria for HBO Max, Levinson revealed: "I had gone in to sit down with [HBO's Head of Drama] Francesca Orsi. I asked her what she liked about the Israeli series and she said just sort of what a raw and honest portrait it is of drugs and being young and everything. So, I started talking about my own personal history with drugs. I was a drug addict for many years and I've been clean for many years now. But we just kinda just talked about life for about two hours, and then she said, 'Okay, go write that.'"
In a separate conversation with The Hollywood Reporter, Levinson shared: "Somewhere around the age of 16, I resigned myself to the idea that drugs could kill me, and there was no reason to fight it; I would just let it take me over and I'd made peace with that.
"By the time I was 19, I was in rehab, I'd checked in and was trying to get off of opiates and onto a more productive drug like crystal meth [so he could write]," he said. There, he realized: "I'm a liar, I'm a thief, I'm an addict, I've been s*** to almost every person in my life that I love, and I had a moment where I thought, 'I don't feel that way inside, I think I'm a better person than that.'"
His own experiences would go on to shape the character, Rue. Like Levinson, Zendaya believes there is a "light at the end of the tunnel" for Rue.
Responding to criticisms that Euphoria scenes "misguidedly glorify and erroneously depict high school student drug use, addiction, anonymous sex, violence and other destructive behaviors as common and widespread in today's world" by D.A.R.E (Drug Abuse Resistance Education), Zendaya said, in an interview with Entertainment Weekly: "Our show is in no way a moral tale to teach people how to live their life or what they should be doing. If anything, the feeling behind Euphoria, or whatever we have always been trying to do with it, is to hopefully help people feel a little bit less alone in their experience and their pain. And maybe feel like they're not the only one going through or dealing with what they're dealing with."
Zendaya, who is an executive producer on the show, added: "We can't leave her [Rue] here. It's really important that there's light at the end of the tunnel for her because I think she has a lot of beauty inside of her. Whether or not she quite sees that yet, is her own thing," suggesting Rue might turn a corner towards recovery.
3. Zendaya's Vision For Rue
Since day one of Euphoria, Zendaya has been Rue's biggest supporter and following Euphoria Season 2, Episode 5, she once again vouched for Rue and her chance at redemption.
In a lengthy Instagram post, she referenced an interview where she was asked about "Rue's Journey" in Season 2.
Before sharing her answer, Zendaya wrote alongside the post: "guess this is what I hope we hold onto and are left within the end..."
In her answer, Zendaya admits Rue "hits rock bottom" in Season 2 but is hopeful audiences will "still see her as a person worthy of their love. And worthy of their time, and that she has a redemptive quality still, and that we still see the good in her even if she can't see it herself."
She continued: "If you can love her, then you can love someone that is struggling with the same thing, and maybe have a greater understanding of the pain they're facing, that is often out of their control. So for me, that is the most important thing."
Zendaya concluded the post, writing: "I think it's important we have flawed characters. And remember that we are not the worst mistake we've ever made. And that redemption is possible."
Zendaya's hopes for Rue's future during her "sobriety journey and her addiction," hopefully, mean Rue will be sticking around for a lot longer. With just three episodes left in the season and so many questions left to be answered for not only Rue but the majority of the characters, Rue's journey seems far from over.
After all, after hitting rock bottom, the only way is up.
Euphoria continues Sundays at 9 p.m. ET on HBO and HBO Max.