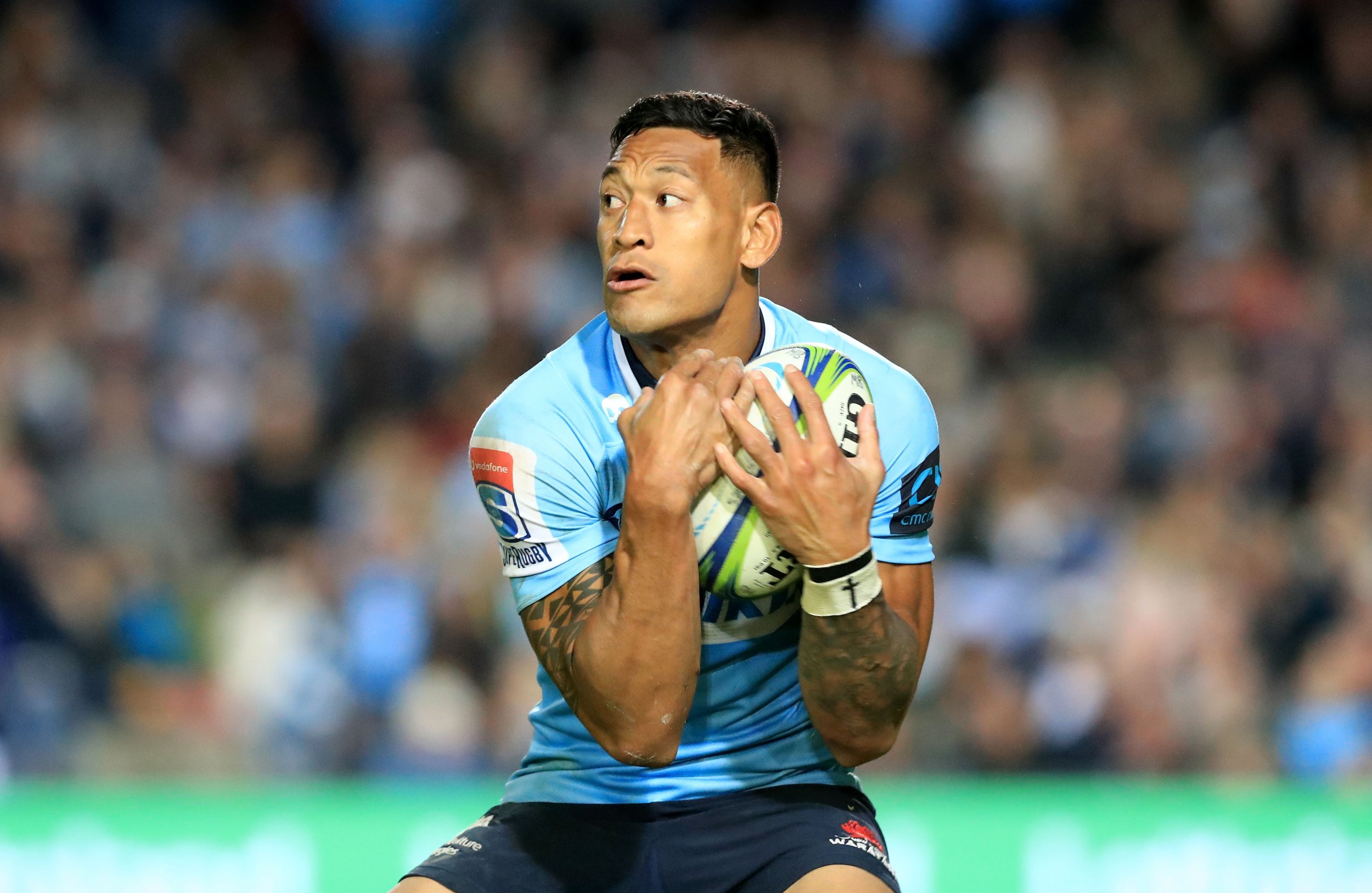 One of Australian rugby's most famous star has again sparked controversy after posting a link on social media to a video that opposes tolerance of same-sex marriage.
Israel Folau posted the video on his Twitter account on Tuesday, insisting his actions had to be taken as thought-provoking, rather than insulting or offensive.
"With great love, I wanted to share this video in the hope that people watch it and think about it," he wrote in the post that accompanied the video.
"Jesus is coming back soon and he wants us to turn to him through repentance and baptism in the name of Jesus Christ (Acts 2:38) please don't harden your heart."
The video features an 11-minute sermon by the late American evangelist David Wilkerson, who warns against "sexual perversions beyond description".
Wilkerson, who died in a car crash in 2011, became known worldwide for preaching homosexuality was an abomination.
In the clip, the Indiana-born evangelist preaches "we need to get right with God" and his words form the soundtrack to pictures of people holding rainbow flags, rats getting caught in traps and clocks ticking.
The post was not as well received as the 29-year-old would have hoped, with a Twitter user demanded an apology to both the Christian and LGBT communities.
However, Folau, who plays for the New South Wales Warathas and is one of the linchpin of Australia's national team, ignored the request and claimed his post was motivated by love, rather than by a desire to judge people.
"Warning people of eternal punishment if they continue to live in their sin isn't judgmental. It's called love," he said. "I won't apologise for believing and following the word of God. May God open your eyes to what a true believer is. God bless!"
Folau, who represented Australia in rugby league alongside former San Francisco 49ers running back Jarryd Hayne, is renowned for his religious views. Raised as a Mormon, the former Brisbane Broncos star is a devout Christian and joined the Assemblies of God fellowship in 2011.
It is not the first time Folau's stance on gay people has made the headlines. In April, he used an Instagram post to suggest gay people "will go to hell" unless they repented their sins, while in September last year, ahead of Australia's referendum on same-sex marriage, he used Twitter to voice his opposition to the issue.
Following the incident in April, Rugby Australia opted against sanctioning the 29-year-old but the governing body is yet to comment on the latest outburst.
Folau's contract with the Warathas expires at the end of the current season and he has repeatedly been linked with a return to Queensland—his native state—amid suggestions he could sign with the Reds.
Uncommon Knowledge
Newsweek is committed to challenging conventional wisdom and finding connections in the search for common ground.
Newsweek is committed to challenging conventional wisdom and finding connections in the search for common ground.
About the writer
Dan Cancian is currently a reporter for Newsweek based in London, England. Prior to joining Newsweek in January 2018, he was a news and business reporter at International Business Times UK. Dan has also written for The Guardian and The Observer.