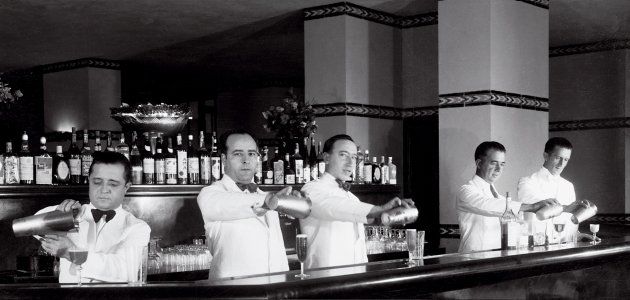 Several years ago, when Quentin Tarantino made Elmore Leonard's Rum Punch into a film called Jackie Brown, it captured almost none of the book's genius. Leonard's work is deceptively multilayered, full of mood and pitch-perfect rhythm and action that seems entirely unforced. Most important, there's never been an Elmore Leonard novel that contains a single thing it shouldn't.
The latter, especially, could not be said of the appalling mixtures that lately constitute an actual rum punch, which, when crafted as meticulously as the work of my hero, can offer the same restorative—if slightly off-kilter—faith in the generally entertaining reliability of even the darkest sides of human nature, especially in these hot summer months. Too often, people make like Tarantino and show off by trying out not-quite-successful retro references (think ceramic pineapples or paper umbrellas) or adding such heavy-handed ingredients as limeade and cranberry-juice cocktail.
Now food historian Jessica Harris has stepped in with Rum Drinks, a book that reminds us that rum punch is as old as rum itself, a strong quaff perfect "for a world that required a little muting around the edges," specifically the brutal culture of the sugar-cane-growing islands of the Caribbean in the 16th and 17th centuries. By the 1600s, the per capita intake of Barbados was 10 gallons, much of it (by the ruling classes, at least) in the form of planter's punch, in which individual planters would offset rum's original oiliness by mixing it with cane syrup, citrus juice, and a touch of island spice.
After Facundo Bacardi figured out how to refine rum, the newly smooth beverage could be made into elegant daiquiris, including Hemingway's favorite, the Papa Doble (a double shot of white rum with grapefruit juice as well as lime), but also blended with a variety of canned and bottled ingredients, which is where the trouble began. Thankfully, Harris's 50 recipes are for proper cocktails and punches, including those with at least two different rums. "What sets rum apart from other spirits is that it likes to be mixed with itself," says mixologist Dale DeGroff, whose planter's punch includes light and dark rums and is "rosied up" with grenadine. Like Harris's book, it's a reminder of days past—which weren't always exactly rosy. Rum fueled the transatlantic slave trade for more than 300 years, a pirate gave Captain Morgan Rum its name, and Churchill once dismissed British naval traditions as "rum, sodomy, and the lash." But therein lies another of rum's twisted pleasures—it has the kind of history to which a Leonard character could easily relate.