Of a Runaway American Dream and Worshipping at the NFL Altar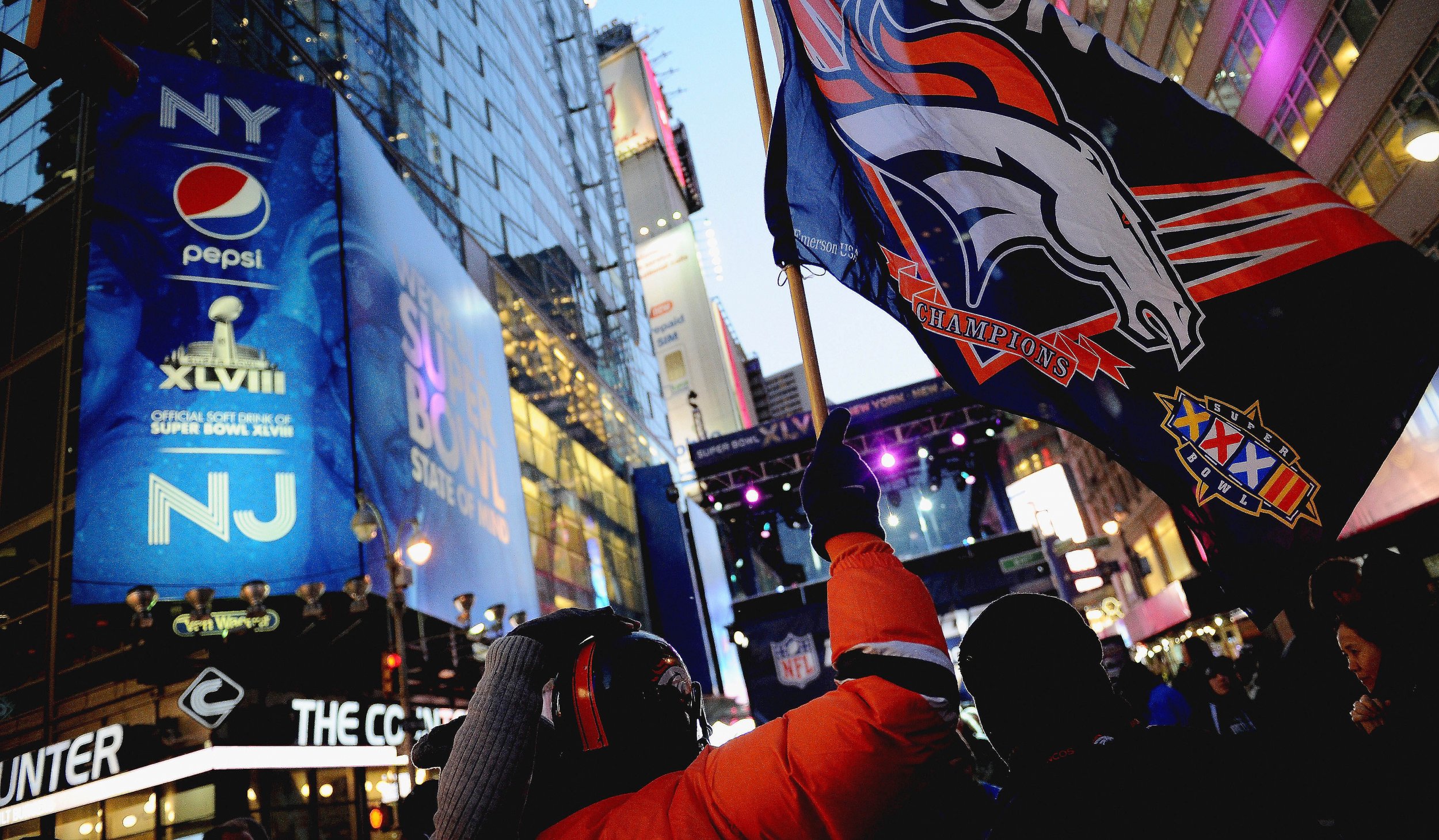 Cameras, cocktails, confetti and cornerbacks. The Super Bowl is now as much about a football game as Christmas is about a virgin birth in Bethlehem.
Super Bowl XLVIII will be staged Sunday at Met-Life Stadium in East Rutherford, N.J. The game between the Denver Broncos and Seattle Seahawks will kick off at 6:30 p.m., thus rudely interrupting ESPN's 115 hours of Super Bowl-themed TV and radio coverage (ESPN is not televising the game). The contest's two 30-minute halves will bookend a concert by Bruno Mars and the Red Hot Chili Peppers, two distinctly different musical acts from different centuries whose appearance together on Sunday was orchestrated to maximize the number of demographically diverse eyeballs that could potentially be fixed to television screens worldwide.
The Super Bowl is the answer. The question is, Why is too much never enough?
To understand how we arrived here, go 30 miles south of East Rutherford, and 145 years back.
The first football game took place at 3 p.m. on the first Saturday of November, 1869, pitting Rutgers against Princeton. The hosts, Rutgers, won, 6-4 and the event was covered by one publication, The Targum, the student newspaper that also launched that year. The game drew roughly 100 spectators and the anonymous reporter noted that afterward the 25 players from each side convened and enjoyed "an amicable feed."
This Sunday's game will be seen by an estimated 111 million viewers domestically, not including the 82,000 who will witness it in person. Advertisers will spend $4 million for a 30-second spot on FOX, which will broadcast the game. Instead of one reporter for The Targum, there are 5,300 credentialed media. And instead of an amicable feed, each player is guaranteed $46,000—double that amount if he plays on the winning side—and one of them is "going to Disney World!"
The National Football League has 35 game-related events planned in the New York metropolitan area, including a Super Bowl XLVIII Environmental Program, "a series of initiatives to minimize the impact of Super Bowl activities on the local and global environment." This is a little like serving spicy tuna rolls at a screening of The Cove.
New York Governor Andrew Cuomo has earmarked $5 million for events this week promoting the city and state as a tourist attraction, a shrewd allocation of funds since New York City currently only ranks first among the most popular U.S. cities to visit. A reported $500,000 of that fund was used to host a media bash on Tuesday evening.
That bash followed Media Day, in which the Fourth Estate was herded to the Garden State, specifically a National Hockey League arena in Newark, to shout mostly inane questions at Sunday's combatants. The National Football League, which operates as a tax-exempt non-profit organization, charged fans $28.50 to attend the event and watch from seats that were located far outside of earshot. Approximately 7,000 fans took the bait.
How much more could anybody want from the NFL? Could anybody need?
Full disclosure: I love football. My first Pop Warner game took place on a New Jersey football field that is even closer to the site of that Princeton-Rutgers game than Super Bowl XLVIII will be. I loved playing football, I'd be all for my son playing football—I'm sure he wouldn't be very good, so I wouldn't have to worry about him playing in college or the NFL—and I love watching football.
I just don't love worshipping football.
The NFL has commandeered both Times Square and Herald Square in Manhattan this week, placing a 60-foot toboggan run in the former, because why not place a downhill slide that is longer (60 yards) than Peyton Manning can throw a football in the heart of the busiest pedestrian space on the continent? It has renamed the 13 blocks that run between the two plazas "Super Bowl Boulevard," as if the NFL were any less a private enterprise than Quizno's Subs or Juicy Couture.
The NFL is a private enterprise, no matter how many Peyton Manning jerseys we don. The playing of the Star-Spangled Banner before every contest—to be fair, a maneuver that every major sporting event copies—is not mandated by the U.S. Constitution. While the national anthem duly pays tribute to the sacrifices endured by generations who preceded us, it is also a shrewd way to plant the idea that patriotism and fandom are intertwined. That the NFL is part of the public domain, like… Times Square.
In last Sunday's episode of True Detective, HBO's brilliant new, deep-thinking crime drama, Detective Rust Cohle (Matthew McConaughey) delivered a withering review of religious zealotry.
"What do you think the IQ of this group is?" Cohle asks his partner, Marty Hart (Woody Harrelson). "I see a propensity for obesity, poverty, a yen for fairy tales. Folks putting what little few bucks they do have in a wicker basket that's being passed around. I think it is safe to say that no one here is going to be splitting the atom."
It's a cynical view, sure, but too many pro football fans fit that description.
Programming note: Despite universal critical acclaim, True Detective will not air this Sunday evening. HBO has no desire to put its most popular new show up against the Super Bowl. They're not stupid.
Of a Runaway American Dream and Worshipping at the NFL Altar | Sports