Watch: Runaway Indian Train Speeds Backward for Seven Miles After Carriages Detach From Engine
Up to 1,000 helpless Indian travelers were taken on a perilous journey as 22 train carriages detached from their engine and rolled backwards out of control, somehow avoiding a catastrophic accident.
Passengers sped backwards for seven miles in the eastern state of Odisha before being brought to a stop by railway staff who wedged rocks on the tracks as the runaway carriages approached, the Guardian reported.
No passengers were injured in Saturday night's accident, which has been blamed on seven railway employees who failed to follow proper procedure. J.P. Mishra, a spokesman for the eastern division of India's railways, said the employees had been suspended and an investigation had been opened into how the carriages became detached.
"Something ghastly could have happened and it was averted by alert staff. Safety cannot be compromised," Mishra said. "Everybody in the railways [ministry] is aghast and shocked," he continued, adding that more suspensions and sackings could follow. Railway authorities believe brakes that are usually applied when carriages detach from or are attached to an engine were either used incorrectly or not used at all.
Video footage shows the train speeding through a station as onlookers shout to passengers to pull the emergency breaks.
A tweet from India's Ministry of Railways said the accident was an "isolated incident of staff negligence that is sincerely regretted."
Mishra also suggested that hundreds of passengers may have left the train before the carriages detached, and that the true number of those stuck in the runaway carriages may be closer to 500.
Despite all this, the train managed to reach its destination just two hours later, according to Jaideep Gupta, a divisional railway manager in the Indian Railway's eastern branch.
In light of the incident, Indian Railways has ordered a one-month safety drive across the network, as "Passenger safety followed by passenger comfort remain the highest priority of Indian railways," a tweet explained.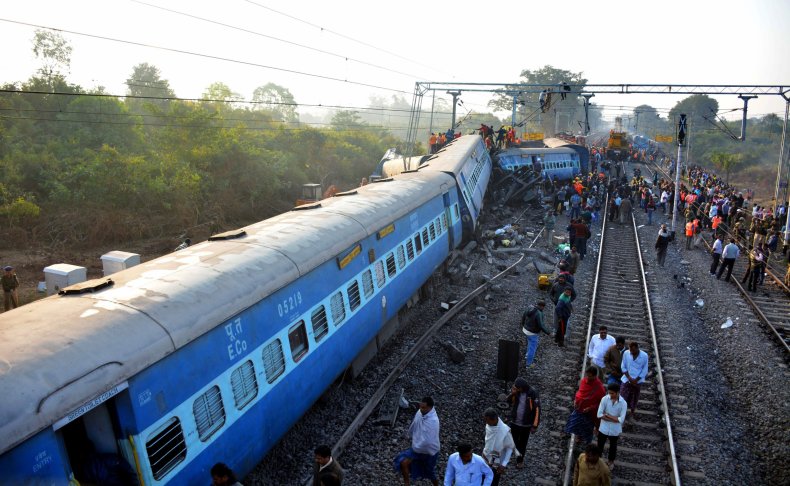 India's aging railway network is dangerous but offers the country's 1.3 billion people an affordable and relatively convenient way to travel. More than 22 million passengers commute on 9,000 Indian trains every day.
Work on India's 40,000-mile railway network began under British colonial rule in the 1830s. It has since grown to be the fourth largest in the world. However, decades of underinvestment and failure to implement updated safety measures and barriers result in thousands of deaths each year. According to a 2012 government report, around 15,000 people die on the network every year in what the report called an annual "massacre."
Though the number of accidents has been falling over recent years, they are still common and can have enormous death tolls. In August 2017, a train derailed in Uttar Pradesh state, killing at least 23 people, and in January another derailment in Andhra Pradesh state killed at least 39. More than 120 people were killed in November 2016 when a train derailed in Uttar Pradesh.
The worst disaster in the history of India's railways occured in June 1981, when a train derailed and plunged into a river in the state of Bihar. Between 500 and 800 people are believed to have died, though estimates vary as hundreds of bodies were washed away and never found.