'runaways' Season 3 Release Date: When Is the Marvel Show on Hulu?
Marvel's Runaways is coming back for Season 3, though the trailer revealed that Season 3 will be the last season of the Hulu show. However, the show is sure to go out with a bang when the final 10 episodes of the show are released.
"Season 3 will be a magical time on Runaways, as we deepen our connection to the Marvel universe," executive producers Josh Schwartz and Stephanie Savage said in a statement. The showrunners also confirmed that in its final season Runaways will crossover with Cloak & Dagger.
First, though, the team will have to come together again after being split up in the previous season finale. Rhenzy Feliz, who plays Alex Wilder in the series, said of the start of Season 3: "We need our team back but we're going up against what we've found out at the end of the season, an entire family of aliens, [some of] which are still missing, so it's a lot of inner chaos going on.
"A lot of things, so much uncertainty we don't know what we're running into, we don't know how strong this force can really be," he added. For fans who want to find out how this pans out, the release date for Marvel's Runaways is the morning of December 13 on Hulu.
As for what fans can expect on the release date, the official Hulu synopsis reads, "In an action-packed Season 3, the Runaways frantically search for their captured friends Chase Stein, Gert Yorkes, and Karolina Dean. The kids go head to head with an unstoppable enemy who has targeted Leslie—or more accurately, the child she's carrying. Nico Minoru draws them all into a dark realm where its ruler Morgan le Fay, played by Elizabeth Hurley, is much more nefarious than anyone the kids have yet to face."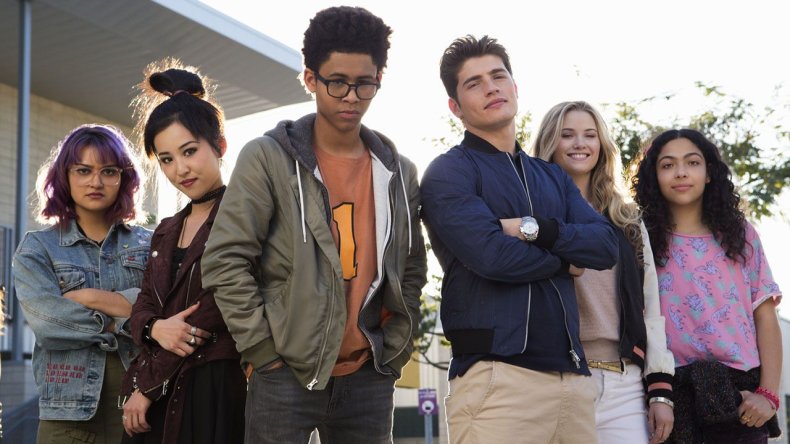 Unlike other Hulu shows that are released weekly, all 10 of the final episodes of Runaways are expected to be dropped at once.
Countries that do not have Hulu can watch Season 3 of the show on other streaming services, though they may not be able to see the new episodes until 2020. In the U.K., for example, the show will premiere on Syfy on January 8, and is expected to be released on NOW TV (where the first two seasons are currently streaming) on a weekly basis after that date.
The first two seasons of Marvel's Runaways, meanwhile, are streaming on Hulu now. Season 1 is also streaming on Disney+, who many fans are hoping will continue the show after it has been canceled by Hulu. However, the service has not announced any plans to continue the show yet, and may have too many Marvel projects on their slate what with the upcoming shows like Loki, Falcon and the Winter Soldier and WandaVision.
Marvel's Runaways Season 3 is released on Friday, December 12 on Hulu.