Man Gored Taking Selfie During Running of the Bulls in Spain
A California man was brutally gored during the running of the bulls in Pamplona after he disobeyed rules prohibiting filming or taking pictures during the annual event.
Jaime Alvarez, a public defender in San Francisco, remains in serious condition after more than two hours of surgery.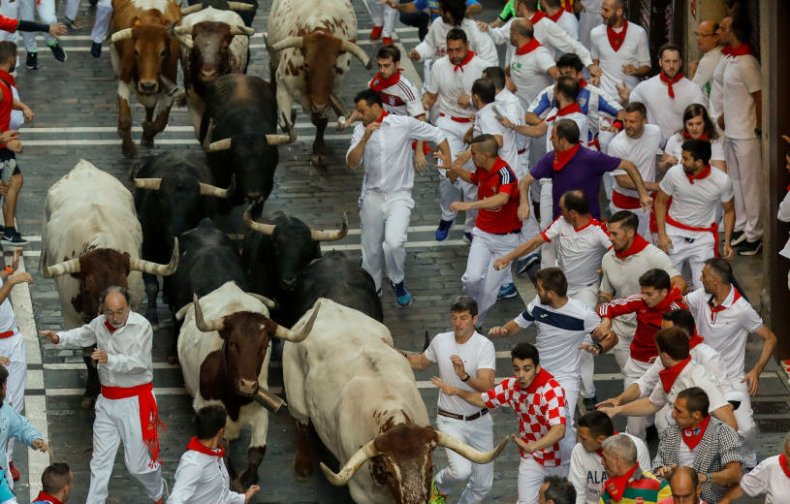 After completing the 850-meter run through Pamplona on Sunday, Alvarez, 46, believed it was safe to take a selfie video. But a bull unexpectedly charged at him, stabbing its horn into the right side of his neck.
"The joy and excitement of being in the bullring quickly turned into a scare, into real fear for my life," Alvarez told the AP. "In the course of a few seconds, a million thoughts came to my mind, and that of dying was definitely one of them."
Alvarez admits his wife and daughter tried to talk him out of participating in the iconic event, which draws nearly a million people every year. They were watching Alvarez's son play soccer elsewhere in Spain when the incident occurred.
Alvarez climbed onto a fence for safety, and returned to the arena after he thought the bulls had already passed. He says he was just trying to record "a 5-second video scene to say 'Here I am, I did it' " when a stray bull came right for him.
"The impact was unlike anything I've ever felt. It was like being hit by a car or a truck," Alvarez said. "I was really out of it, really stunned, I didn't know what direction to go."
He was quickly whisked away to paramedics, who brought him to the local hospital. The horn penetrated deep into his neck and fractured his cheekbone—doctors say that it was "beyond miraculous" it missed his jugular.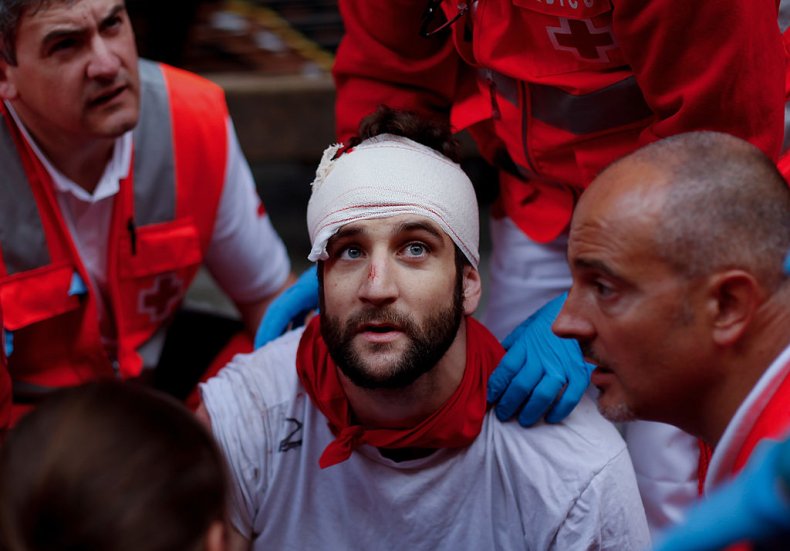 Sunday's run had other victims, as well: Two men were both gored in the thigh, while three other participants required hospitalization. In Monday and Tuesday's run, six other men were seriously injured.
Since 1910, at least 15 people have died as a result of injuries sustained in the run.
With the rise of camera phones and selfies, Pamplona has passed ordinances making it illegal to take video or photographs of the course—or even holding a device—as it may distract the runner or others from looking for a safe spot during the run. Violators can be subject to fines of up to $4,100 (3,000 euros).
In 2014, shortly after the law was passed, a man who took a selfie during the became the subject of a police manhunt. Spanish state television aired footage of the culprit seen holding a phone high in his right hand near the end of the course, with the bulls just a few feet behind him.
In the festival six bulls chase hundreds of runners through the city from their pen to the bullring, starting at 8am each morning between July 6 to 14.
The event, which according to tradition dates back to the 14th century, has met with increased opposition in recent years. Animal-rights advocacy groups argue the bulls suffer extreme stress, some even fatally. In 2002, PETA launched "the Running of the Nudes," with naked demonstrators taking to the streets of Pamplona two days before the start of San Fermín.
In 2006 San Miguel de Allende, Mexico, ended its running of the bulls, citing