Running Face Masks and Coverings From Adidas, Nike, NBA and More: Where to Buy and Price Details
As people return to the streets as coronavirus restrictions are lifted, numerous sports brands are releasing face masks and coverings.
Nike, Adidas, the National Basketball Association (NBA) and others offer reusable masks for running enthusiasts and sports fans. While the coverings and cloth masks are not comparable to the Food and Drug Administration (FDA) approved N95 face masks, the below products can help ensure that people are protecting themselves from the coronavirus while still enjoying their serotonin-releasing activities and following guidelines.
Adidas Face Cover
This face covering comes as a three-pack. With sizes small to large, the product is made with Primegreen, using a minimum of 40 percent of recycled content. As these masks are reusable, they can be washed and dried for daily use. The material itself is flexible and the stretch bands allow the wearer to comfortably wear the mask around the ears.
Size small would fit a child aged 12 and over—this product is not recommended for children under 12 years of age—and a large would comfortably fit an adult.
These masks are priced at $16 for a three-pack and are available from the Adidas website.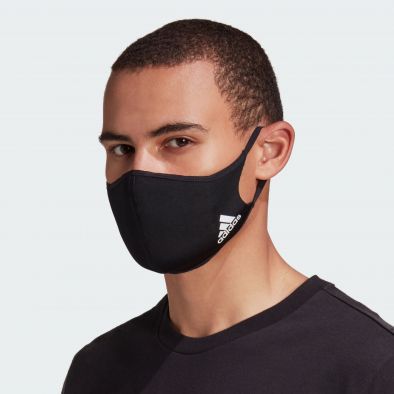 Nike Pro Hyperwarm
This hood covering provides protection for those early mornings or late evening jogs. Specifically made for colder temperatures, the Nike Pro Hyperwarm Hood features warm, lightweight fabric that covers the face below the neck.
The flat seams on the covering feel smooth against the skin with the form-fitting design offering snug comfort. It can also be worn under a helmet if needed. For those times where you don't need a face covering, the Pro Hyperwarm can also convert into a neck gaiter.
The product is machine washable and made from Dri-FIT—Nike's well-known absorbing material used on many of its sports products. It retails at $30 and is available from the Nike website.
NBA Face Coverings
Want to protect yourself while sporting your favorite NBA team? The association is selling face coverings on its NBA Store, with shipping starting from the beginning of May 2020.
Proceeds from the masks are going towards two organizations; Feeding America and Second Harvest Canada. All 30 franchises are available on the NBA Store for $14.99 each, with 3-packs on sale for $24.99.
NFL Masks
The National Football League (NFL) is also selling fabric face masks for its fans. Available as a three pack for $24.99, all the league's teams are available to purchase. Single masks for adults are $14.99.
Mask Club cloth masks
The subscription face mask service has a variety of designs for its members, including WWE, Woman Woman, Hello Kitty and more. For $9.99 a month, you can get a different design every month—face masks can also be bought separately for $13.99.
Recommendations for Cloth Face Covers from the Centers for Disease Control and Prevention (CDC)
CDC recommends wearing cloth face coverings in public settings where other social distancing measures are difficult to maintain (e.g., grocery stores and pharmacies) especially in areas of significant community-based transmission.
Maintaining 6-feet social distancing remains important to slowing the spread of the virus.
CDC is additionally advising the use of simple cloth face coverings to slow the spread of the virus and help people who may have the virus and do not know it from transmitting it to others.
Cloth face coverings fashioned from household items or made at home from common materials at low cost can be used as an additional, voluntary public health measure.
The cloth face coverings recommended are not surgical masks or N-95 respirators. Those are critical supplies that must continue to be reserved for healthcare workers and other medical first responders, as recommended by current CDC guidance.