There's no denying men and women have different fitness goals. One woman recently racked up million of views on TikTok by sharing her glute-focused routine.
Allegra Paris, 28, has shared how she grows her glutes without growing the muscles at the front of her thighs. The runway model can be seen strutting her stuff down the catwalk wearing a bikini in the first clip. Then the video cuts to the work she puts in to achieve her slender physique. She can be seen doing various weighted squats and lunges.
"I don't mind training my quads! However, the goal of this circuit was just to focus on increasing the size of my glutes instead of the quads—particularly because I prefer this look for myself and before I walk the runway," she told Newsweek.
The video shared to @allegraparis has racked up 3.7 million views since it was posted on September 11.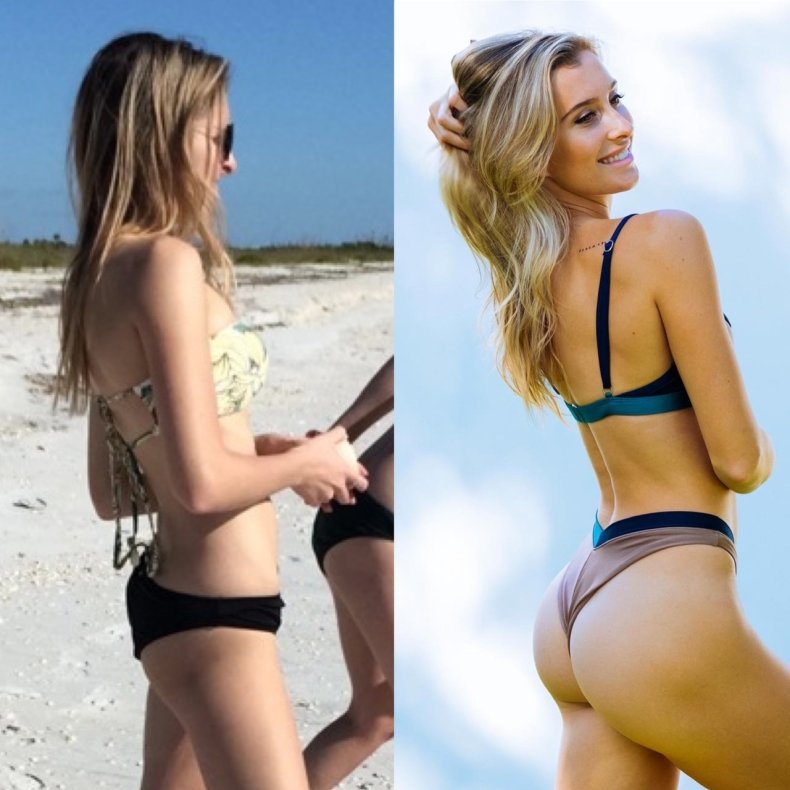 But the routine has been criticized by users, with one saying: "I'm pretty sure all of these works your quads too."
Paris responded by saying: "Not if you can keep your weight in your heels."
She told Newsweek: "I didn't say that the exercises don't work the quads, obviously they do, but what I was saying is I've found a way to grow my glutes without seeing my legs get equally as big. And everyone is saying they disagree but I'm literally the one doing the workouts and all of my clients do as well and have seen the same results!
"I focus my circuits on lateral movements that help target the glutes rather than placing the emphasis on the quads! I also really focus on keeping my weight in my heels to keep the weight load in my posterior chain [back side of my body].
"Specifically, lateral split squats place most emphasis on the glutes, and if you are truly able to keep your weight in your heels, you will see glute growth without major quad growth. You also need to be taking in enough protein for muscle gain."
Tara Salay, a doctor of physical therapy, wrote a blog post explaining how elevated exercises like squats with raised heels will focus more on training the quadriceps.
The post shared to drtarasalay.com says: "Your entire foot will be in contact with the ground but what you want to think about is shifting the weight to be more in your heels. With squats, you'll especially want to do this as you lift back up to a standing position.
"With lunges, I'm talking about the front foot because obviously the back foot will be up on the toes."
Paris told Newsweek she trains her glutes by doing 10 Romanian dead lifts, 10 curtsy lunges, 15 low squat pulses, 10 sumo low squats, 10 lateral split squats—all while holding a 35- and 75-pound weight, and repeats the circuit four times.
She does this three times per week to ensure she looks and feels her best when modeling thong bikinis.
While some users aren't convinced by her routine, others cannot wait to try it out.
One user said: "Omg you look incredible. thank u for the tips, keep the hard work up!!!"
"I love seeing your workouts and while you look glamorous on the runway, you show yourself like everyone else in your videos!" praised another person.
"Y'all coming at her but she looks good so obviously it's working," said one user who was responding to the backlash.
"Sumo squats mainly target quads," stated one user, and another said: "I do some of these workouts on my quad day."
If you have a personal dilemma, let us know via life@newsweek.com. We can ask experts for advice on relationships, family, friends, money and work and your story could be featured on Newsweek's "What Should I Do? section.
Uncommon Knowledge
Newsweek is committed to challenging conventional wisdom and finding connections in the search for common ground.
Newsweek is committed to challenging conventional wisdom and finding connections in the search for common ground.
About the writer
Lucy Notarantonio is Newsweek's Senior Lifestyle and Trends Reporter, based in Birmingham, UK. Her focus is trending stories and human interest features ranging from health, pets and travel. Lucy joined Newsweek in August 2022 and previously worked at Mercury Press and Media and other UK national newspapers, the Australian Women Magazines and The New York Post. Languages: English
She is a Derby University graduate You can get in touch with l.notarantonio@newsweek.com.