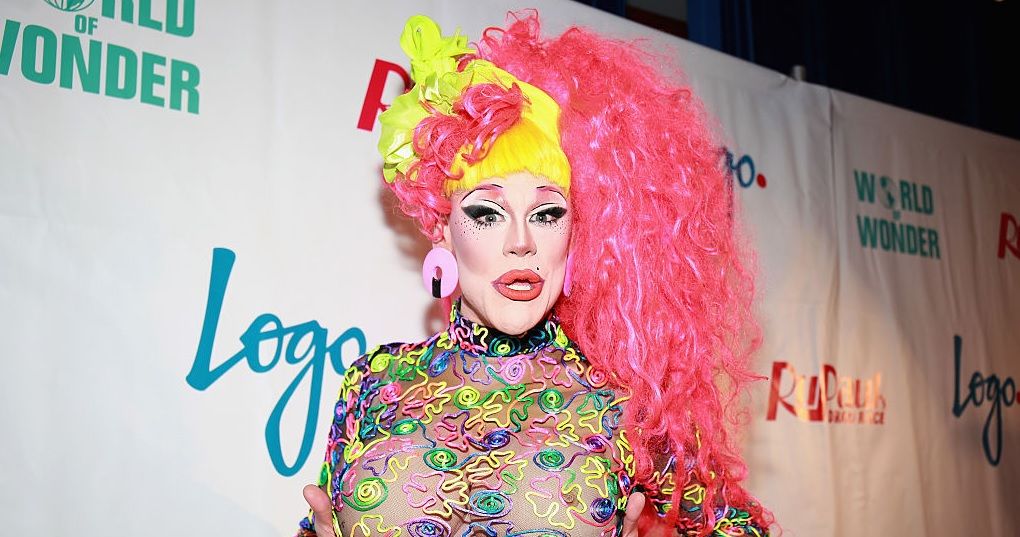 Most of the queens featured on RuPaul's Drag Race All-Stars Season 3 can be easily sorted into the show's sub-categories. There are the hyper-flexible dancing queens (Kennedy Davenport), comedy queens (BenDelaCreme) and fashion queens (Milk).
And then there's Thorgy Thor.
One of two Brooklyn queens on the current season, Thorgy Thor is a boundary-pushing chameleon. A self-professed "fashion clown," the 31-year-old performer is just as likely to lean on her comedy chops as she is demonstrate her skill on one of the many instruments she's mastered. "I can play the violin, viola and cello," Thorgy told Newsweek. (That won't be news to anyone who has caught her performances at Le Poisson Rouge, Lincoln Center, and Carnegie Hall.)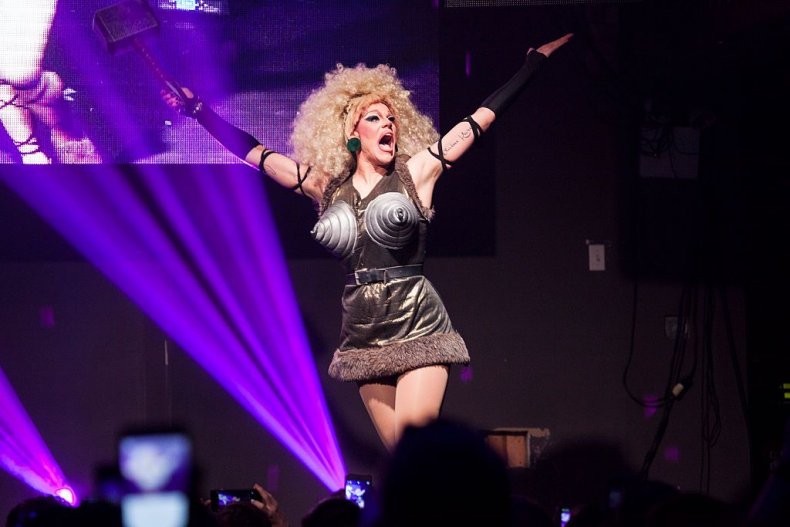 But Thorgy is not just a musician-queen, a category she shares this year with folk musician Trixie Mattel. When Thorgy competed on Drag Race Season 8—one of the series' strongest line-ups to date—she demonstrated an artist's eye for silhouette and color. Design, she said, is one of her favorite parts of drag.
"The Drag Race girls get new followers every day who think drag queens are simply men who want to be women, that we're all transgender people," Thorgy explained. "That's completely the opposite of who I am. I like being a man! It's just that I also dressing up and changing my body shape and face shape. For me, it's about tremendous fashion. I'm not cooking eggs in the morning fully painted with a wig on."
Some fans new to Drag Race may misconstrue the root of the performers' gender play, but longtime devotees of the show tend to get sucked in by the off-camera drama that erupts between queens. Thorgy is no stranger to this phenomenon; in 2017, she was sued by another Season 8 queen over some off-color comments. And to the thrill of her fans, she won in court.
There's more to that drama, though, than simple reality TV pyrotechnics. It often reflects the tribalism among Drag Race contestants that can cause issues, based on where performers learn the ropes and who they claim as their adopted "drag mothers."
Thorgy is famous for hailing from Brooklyn, which has a very specific aesthetic. "When I started doing drag in Brooklyn, there weren't, like, jobs to book," Thorgy said. "It was like one big art space. We would paint the whole room blue and walk in slow motion for six hours, you know? That's Brooklyn."
Though Drag Race queens will occasionally build alliances across the East River, calling themselves "New York queens," Thorgy says there's a noticeable difference between Manhattan girls and Brooklyn girls. Manhattanite Acid Betty called Brooklyn style "hairy" in Season 8, but Thorgy says her sisterhood is simply more experimental.
"You know, many queens come out with the gowns, singing long ballads with their nails done," she said. "Brooklyn's a little edgier. We're not afraid to be a little weirder. In Manhattan, you sometimes get girls who aren't as ballsy. No pun intended."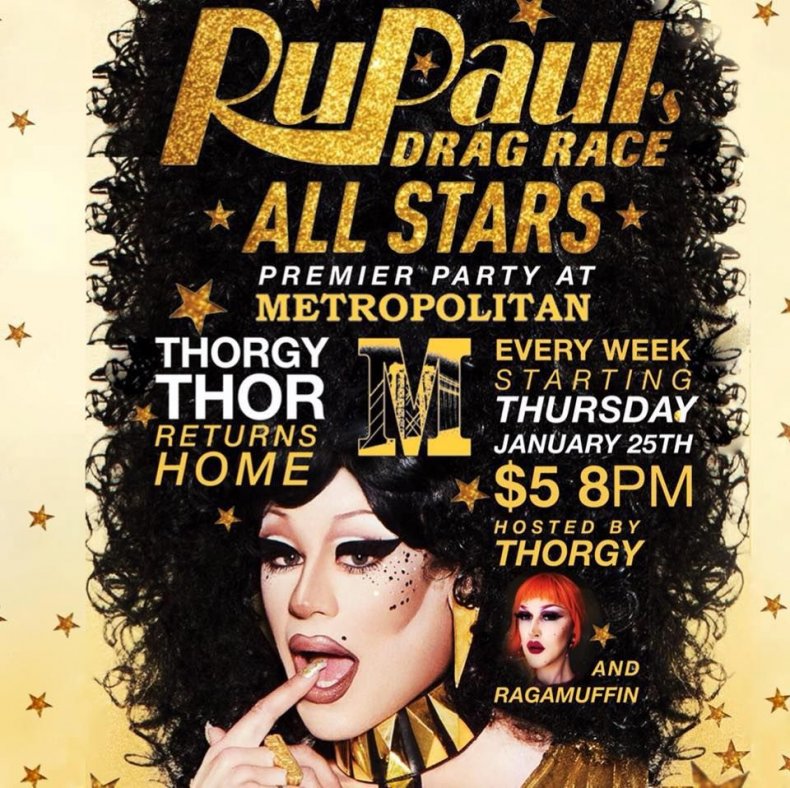 Despite her popularity, it's important to Thorgy that the world still knows her as a Brooklyn queen. She helps her cause by hosting a Drag Race viewing party every week at Williamsburg's Metropolitan bar. But staying true to your roots is a message that she also carries with her wherever she performs.
"I try to emphasize a focus on local queens everywhere I go on tour. Because I do Drag Race, I'll get booked around the world to close a line-up of locals girls," she said. "I always try to tell them backstage, 'This is your city and your gig.' I do a 13-minute little number that changes songs and material, and I usually invite the local girls to do that with me. I also let them keep the tips, and at the end, I tell the crowd, 'These are your girls, come out and see them again.'
"We're all sisters," she adds, "but sometimes it takes a Drag Race girl to get that spotlight on a local scene."
RuPaul's Drag Race All-Stars Season 3 airs Thursday nights at 8 on Vh1.