'RuPaul's Drag Race All Stars 6: Untucked': Who Got Emotional and What Tea Was Spilled?
RuPaul's Drag Race All Stars season 6 aired its seventh episode on Thursday, with the queens taking part in the "Show Up Queen" challenge.
Jan and Pandora Boxx were named the bottom two queens of the week by RuPaul, with Trinity K. Bonet named the top All Star, and once again the group had to decide which of them would sashay away.
But before that happened, the queens headed backstage to decompress and chat about what had gone down on the main stage in the latest episode of Untucked.
The queens started off by discussing their workroom chat with RuPaul while they were preparing for their challenge of the week.
And Newsweek can reveal four essential moments from the episode.
Kylie Sonique Love Reveals how RuPaul Influenced Her As a Child
Kylie Sonique Love got emotional as she expressed how much it meant for her to be able to talk to RuPaul on a regular basis, given how much the judge was a role model to her in her youth.
The star detailed how when she was young she saw RuPaul on TV dressed in full drag as the "Supermodel of the World," at a time when she was being picked on for wearing dresses, and said it helped her realize she would "be okay."
She explained: "When I'm around her I feel calm, I feel like I can look at her in her eyes and we see each other.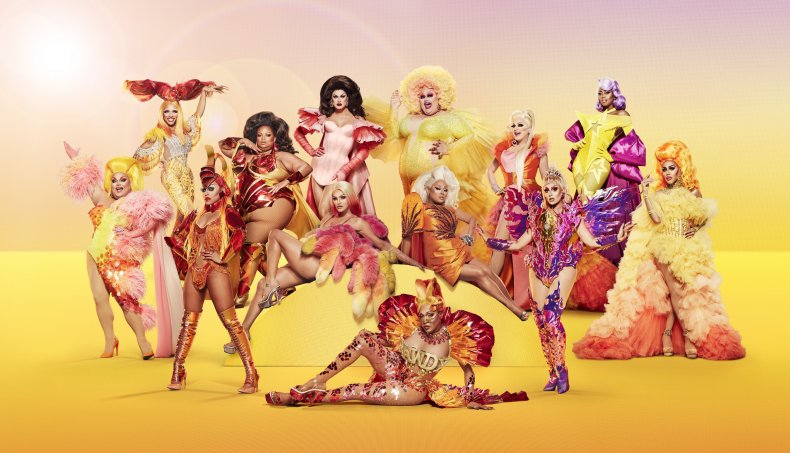 "Sometimes when I talking her I think this is a person who is just like me and we relate on so many things, and her words are responsible for a lot of motivation that got me to who I am today."
Kylie added: "I remember when I was putting on dresses and stuff like that people would pick on me, tell me I was wrong, and then I just see RuPaul, this beautiful person getting their f***ing life, Supermodel of the World.
"And I remember looking at that and thinking I'm going to be okay, and b***h I'm right here, right now, and she knows my f***ing name."
Eureka O'Hara Shares Her Concerns About Not Having a Win Yet
During a chat with Ginger Minj, Eureka O'Hara admitted that she had some concerns about not having a win yet on the show.
So far, Trinity has two wins, while Kylie, Ginger, Ra'Jah O'Hara, Jan, and Yara Sofia have won challenges.
And Eureka revealed that she felt she needed a "better track record" or risk losing her place in the competition.
She said: "I feel like I need the win at this point, luckily I'm not in the bottom this week, I got great critiques in front of all of the girls.
"But, next week I better turn it out because it's eventually going to get to the point where there's one person who wins and everyone else is in the bottom, and I need a better track record."
Eureka and Ra'Jah O'Hara Still Get Nervous Around RuPaul
As they discussed this week's challenge, Ra'Jah O'Hara admitted that while she enjoyed RuPaul's walkthrough she found it "nerve-wracking."
She explained: "I find it sickening to be that close [to RuPaul] but I also find it super nerve-wracking, I clench up every time I talk to her because I've looked up to her so much and I've always wanted to hear and really [connect]."
Eureka felt the same, claiming RuPaul "still makes [her] nervous" despite appearing on multiple editions of the show, joking that it's when the judge is around that she is at her most "quiet."
She revealed to the other queens: "Well she can be intimidating, her presence, she's regal, tall, she always looks good.
"We're literally in her house at a table, her table. I used to also get super nervous around her, it's a fan thing.
"Now, it's not that I'm super comfortable with her but I'm going to be real, she still makes me nervous. I don't get nervous with very many people, so I just decide to just chill."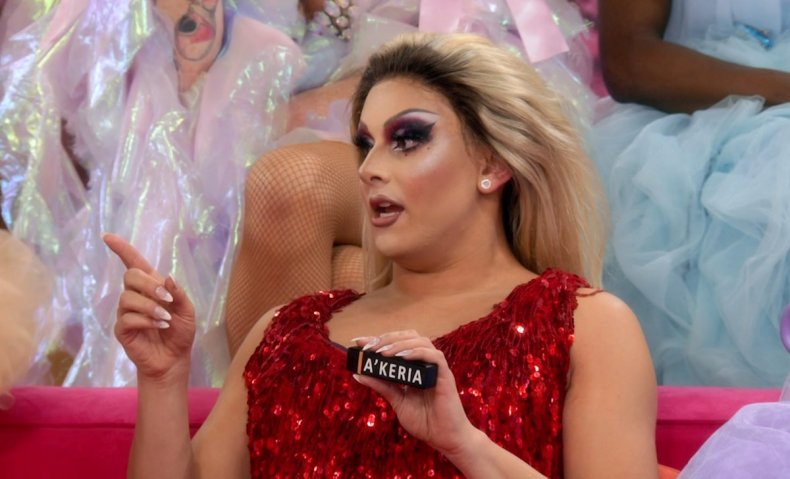 Jan Reacts to the Game Within A Game
After the safe queens' votes were tied between Jan and Pandora, it was up to Trinity to be the deciding factor on who went home, and she revealed she had picked Jan.
Despite being told to sashay away on the mainstage, Jan soon learned about the Game Within A Game and was told to wait to compete alongside the other eliminated queens.
In response, Jan gushed: "I am gagged! I cannot believe it, this is a twist like no other. I have no idea how this is going to work but I am going to give it my all.
"I know I have something to prove and I am going to fight to stay in this competition, I don't feel like my time is done, I feel like I have more to prove and more to show.
"The fact that I get to do that is so exciting and I don't have to worry about anything else except getting back in the ring. So I am just going to focus on that."
RuPaul's Drag Race All Stars 6 and Untucked air every Thursday on Paramount+.