'RuPaul's Drag Race': Has Sherry Pie Been Edited Out Of Episodes?
RuPaul's Drag Race Season 12 was hit with controversy before it even aired. Earlier this year, a number of men came forward with catfishing allegations against contestant Sherry Pie (real name Joey Gugliemelli), which the drag queen confessed to in a Facebook post. The VH1 show was already filmed when the accusations came to light, so she could not be removed from the show entirely.
However, the series reacted by disqualifying the contestant and barring her from being present at the live finale. However, in order to prevent the current season from being mired in further scandal, it seems like Sherry Pie has been edited out of much of the VH1 version of the show.
Evidence of this first came to light on the Drag Race Reddit in March, where an eagle-eyed fan posted a comparison video between the international Netflix/iTunes version and American versions of Season 12, Episode 3, "World's Worst." In the U.S. version, nearly all single-person shots of Sherry Pie had been removed, as had a talking head confessional of her.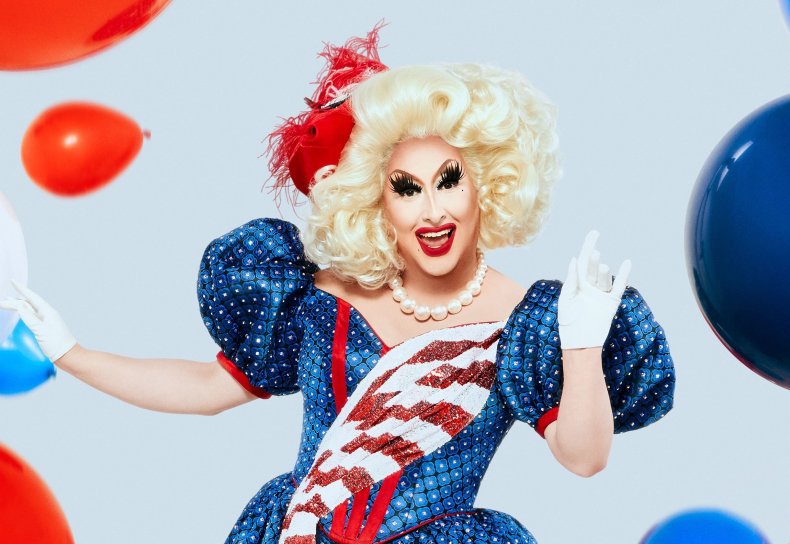 Further proof came when another fan tallied the amount of confessionals each contestant has had in the five episodes of the U.S. edit of RuPaul's Drag Race Season 12 that have aired so far. In Episode 2, when Sherry Pie was introduced into the show, she had 15 confessionals in the main show and two talking head segments in behind the scenes spin-off Untucked. With 17 confessionals, Sherry Pie had the most of any contestant featured in that episode.
In Episodes 3, 4 and 5, however, the contestant has not had a single talking head section, making her the only contestant not to have one in any of these instalments. With two wins under her belt, Sherry Pie is the front runner at the point in this competition. As such, her lack of confessionals are even more notable.
Though VH1 has not commented on whether they are editing Sherry Pie out of Drag Race Season 12, she has been removed from other affiliated shows. Her Meet the Queens YouTube video is no longer publicly accessible, and she also no longer features in the online recap series Fashion Photo Ruview and The Pit Stop.
VH1 has also taken a number of other actions as a result of Sherry Pie's appearance on the show. Episode 5, which Sherry Pie won, ended with a caption reading: "This episode of RuPaul's Drag Race was filmed in 2019. In light of recent developments, VH1 and World of Wonder have donated $5,000 to The Trevor Project."
Each episode of Drag Race Season 12 also begins with the caption: "In light of recent developments and Sherry Pie's statement, Sherry Pie has been disqualified from RuPaul's Drag Race. Out of respect for the hard work of the other queens, VH1 will air the season as planned. Sherry Pie will not appear in the grand finale scheduled to be filmed later this spring."
Newsweek has contacted VH1 for comment.
RuPaul's Drag Race Season 12 airs Fridays on VH1 and Saturdays on Netflix.