RuPaul Drag Race's Michelle Visage Has a New Reality Show That's Refreshingly Real
If RuPaul is the drag superstar of the world, then Michelle Visage—his best friend and judge on his wildly popular RuPaul's Drag Race—is the superstar drag mother of the world. For the better part of the past ten years, Visage has sat next to RuPaul offering her wit, wisdom, and—sometimes harsh, let's be real—criticisms of the countless queens that have competed on the show. Now Visage is giving fans a glimpse behind the bedazzled curtain with her new reality show, How's Your Head, Hun?, debuting on BBC Three in the United Kingdom and WOW Presents Plus in the United States on Tuesday.
With everything on hold due to the coronavirus pandemic, the show will follow Visage, her husband David her teenage daughter Lola as they quarantine at home in sometimes hilarious ways. From dealing with Lola's newish boyfriend to a menagerie of pets, How's Your Head, Hun? will show Visage in a surprisingly new light, one you might not expect from her time judging Drag Race or performing on U.K.'s Come Strictly Dancing or Celebrity Big Brother.
Newsweek spoke with the Drag Race judge about the show, the state of drag amid the pandemic and why women are so fascinated by drag.
Newsweek: You're one of the few people in entertainment right now who is busy during the coronavirus pandemic.
Michelle Visage: It is wonderful to be able to wake up and be like, "Oh, I have something to do besides eat."
Definitely. Based on your work on shows like RuPaul's Drag Race and Strictly Come Dancing, it's fair to assume people probably think your home life is all sparkles and glitter. What do you think people will be surprised to see?
I think people will be surprised by the fact that I don't walk around and rule my home with an iron fist. When I judge on any show, not just Drag Race, but also Ireland's Got Talent or any show I'm a judge on, I take it really seriously. I love my job. I'm good at my job and I don't ever want to let people down. I don't want to let the queens down or the performers down because I've been there and I know what it's like. When I do that, that's my job.
When I'm home, I'm a bit of a tough-love mother. I am, I'm not going to act like I'm not. I'm from New Jersey, my mother's from Brooklyn, I was raised that way. In my house I'm just a different person and I'm excited for people to see there is another side to me. They're going to see that I keep a not-so-tidy home. I'm the anti-Kardashians. We actually rent our house, I don't even own. I've got a daughter in college that I have to pay for. So there are all these things that I don't mind showing and talking about.
You mean, it's like authentic reality. What reality was always meant to be?
It's authentic reality. You're going to see my Amazon boxes all over the place. You're going to see the dirty dishes that shouldn't be there. There are all these things that maybe if we had a crew and all these other people that could go, "Hmm, you shouldn't have that there," or "It doesn't look good this way." It's going to be there because I don't have those people doing it for me.
Besides your very relatable home life, people might also be surprised that your husband, David, is a bit of man's man, a regular guy. Even though he's usually outnumbered between you and your two daughters, how does he manage to hold his own?
Having grown up in New York and New Jersey, what I realized is those type of guys that you would expect to be my husband, we don't necessarily see eye to eye. There's a lot of arguing. It was always a power struggle. When I met my husband, he was going to Julliard, he was an actor and he was confident with who he was. What I loved most about him was he didn't stand for my bullshit. So when I met David, it was a connection, but it was also like a partnership. I just knew immediately that he was definitely the one. On June 20th, we'll be married 23 years. That's a long time in Hollywood.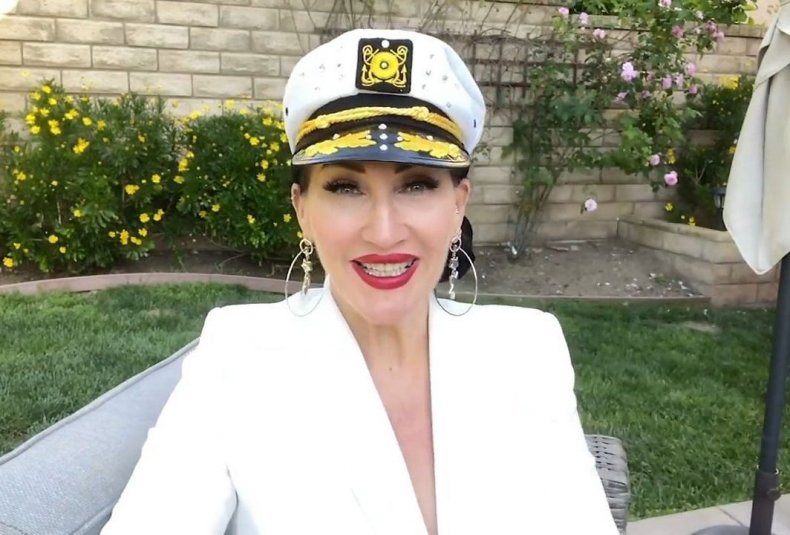 Did you have any reservations about doing a reality show now?
Because it's kind of part reality and part talk, I think that kind of calmed me down a little bit. The funny thing is because I don't have a huge house in Calabasas or in Bel Air, you'll see the only quiet space I can get is in my closet, which is a walk-in closet, but when I say a walk-in, I mean only one person can walk in it. People are going to see my shit all over the place. I don't have a maid. I do everything myself. I know this is really weird in Hollywood but I don't even have an assistant. I never did. So for me, I thought, I'm going to be judged, and that's okay. I don't care. Because maybe people expect something, but they're going to be surprised when I'm not what they think that my life is or I am.
I hope it makes them see we are kind of the same people, we're all in this together. If I was going to do this, I wanted it to be as transparent and honest as can be, and that is not faking shots, not making people think that I'm something that they want me to be or something that I'm not. I just want it to be unabashedly me.
How are you holding up during quarantine?
I think the same as everybody else. I think there are really good days and there are really bad days and a whole bunch of gray area ones in between. I think that's kind of how everybody's doing it. I have two daughters that deal with mental health issues, so some days are worse than others.
I'm a creative type, and I'm realizing creative-minded people are the ones that are kind of stuck in this. Business people can go about their business more or less, but for creative people, we don't really have schedules. Like we'd go to the bar at night, some of us are gig performers, we'd tour, we're performing in a show or we have to be on a set. We don't have any of that. So a lot of us don't know what to do for an outlet, and that's where it can get kind of sticky and dangerous for many of us. So that's kind of where I am.
My husband's obsessed with the news and every day he gets up and I just hear what's going on in the world and it's just, you can't take it. There's a sense of, "Oh my God," I can't breathe because it becomes overwhelming. So we have to find a way to unplug until we know we're going to be okay. It's a very real thing. But if you can tune out for just 30 minutes a week and laugh, then my job is done.
You have a crazy fan base in the United Kingdom. Why do you think that is?
I wish I could tell you. It is my favorite place in the world—apart from home. It's just there's a sense of "f*ck it" with their attitudes over there. They're in on, as they say, taking the piss out of life. I've always had that kind of sensibility to me. My sense of humor has always been very dry and British and sarcastic. I'll get off the plane and I feel like I'm home.
Why do you think women, in particular, are so fascinated by drag?
I mean, obviously I can't speak for everybody, but I can tell you what I think it is for me. I think a lot of women aren't what they hoped they would be, and I'm not talking just cynically—I'm not talking about their lives or whether they're not happy or whatever. That's a whole different topic.
When I first saw a drag queen, they embodied everything I wished I could be. The persona, glitter, fabulous big hair, nails, big boobs, big personality. Even though I was always a big personality, I was maybe afraid to put it all together. And then after seeing drag queens, I realized of course I can put it all together. Why wouldn't I put it all together?
And I think there's a freedom in seeing drag queens that lets women know it's okay. It's alright to be all of that, to be larger than life. They just embody everything that we all would love to be: fun, loving, beautiful, big, bold, all that stuff. That's why when some people call drag misogynistic, I'm literally baffled because in all my years of being involved in the drag scene, I've never met a woman-hating drag queen. I'm being honest, I'm not even being naive or dumb. It has been celebratory. It's always like, "This is in honor of my mother, my sister, my, my great aunt, my auntie." Again, this is my experience, I can't speak for everyone, but that always kind of blew my mind.
For me, drag is celebratory of all things hyper-feminine. I love hyper-femininity. I love caricature femininity. I just think women are obsessed with it because it's something they would want to do. They would want to have big hair, they would want to have long press on nails, big eyelashes and all that makeup. They don't have to do it, but there's a sense of freedom with drag.
The drag community was hit hard by the coronavirus pandemic. How do you think the community will make it through post-quarantine?
I wish I had the answer to that. Drag Race, God-willing, we'll survive because we'll do what we have to do to get back on the set and keep it going. These drag shows online are very helpful. Nobody's getting rich off of them, but we are able to go around the world and watch. The tipping online thing is a wonderful, wonderful thing. But who really knows where it's going to go because we all don't know what's going to happen. But I have high hopes that everything will be contained and we'll get past it.
I feel like if we had just friggin listened and did the right thing, it would have been a lot easier, but nonetheless, it'll happen. It's the same thing with theater, with concerts, it's all the same. Who knows where any of it is going to land. But the new normal is going to be different. I have faith that we're going to be back to doing what we have to do. I'll do drag with a mask on, I have no problem with that. Valentina started a trend, who knew?
If you had to choose a drag name, what would it be?
My answer is always "Michelle Visage." It's my stock answer because it's such a drag name as it is. I consider myself a drag queen of sorts. I have it emblazoned in a tattoo on my thigh, it just says "drag queen." The name chooses you and I kind of chose that name years ago because it's obviously not my real last name, it's my stage name. It's totally drag.
This interview has been edited and condensed for clarity.