'RuPaul's Drag Race All Stars 5': How the New Rules and 'Lip-Sync Assassins' Will Work
RuPaul's Drag Race All Stars has changed rules as many times as RuPaul has changed wigs, and All Stars 5 will be no exception. "All Stars rules have been suspended—forever," Ru says in a promo for the series, and VH1 has now explained what the new rules mean for the winners, lip-syncers and eliminated queens on the new season⁠—which starts on June 5.
Since the start of Season 2 of All Stars, when the show abandoned its unpopular teams format, each maxi challenge has had two winners. These then "lip-sync for their legacy," a $10,000 cash prize and the chance to eliminate one of their fellow competitors–or, if they're BenDeLaCreme in All Stars 3, themselves.
This will change in All Stars 5. This time, only one of the queens, who include Shea Coulee, Ongina and Alexis Mateo, will win each challenge. This winner will still "lip-sync for their legacy," but not against a fellow contestant. Instead, they will battle a "lip-sync assassin," a former contestant from Drag Race known to deliver killer performances.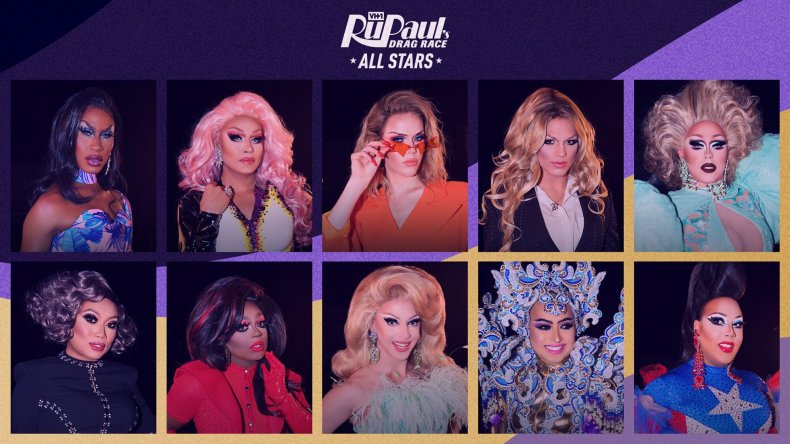 These "lip-sync assassins" have not been confirmed by VH1, but fans have predicted that queens like Yvie Oddly, Alyssa Edwards and Manila Luzon are to return to slay on the runway.
What happens next will depend on who wins that lip-sync. If the challenge winner can beat the "assassin," they win the $10,000 and eliminate a competitor. If they lose, however, who goes home is decided by all the remaining All Stars 5 contestants, who do a group vote to decide. The money, meanwhile, rolls over until a challenge winner can defeat an "assassin."
Ru herself has called this new spanner in the works, "so twisted it's guaranteed to twist your twisted minds."
The queens will first face these new rules in the All Stars 5 premiere episode, coming to VH1 on Friday, June 5 at 8 p.m. ET / 7 p.m. CT. International viewers, meanwhile, will get to watch the following morning on Netflix.
As has become All Stars tradition, the first episode will be the "All Star Variety Extravaganza," with queens Alexis Mateo, Blair St. Clair, Derrick Barry, India Ferrah, Jujubee, Mariah, Mayhem Miller, Miz Cracker, Ongina and Shea Coulee showing their best talents. "Livin' La Vida Loca" singer Ricky Martin, meanwhile, will be joining as a guest judge for the episode.