'RuPaul's Drag Race All Stars 6:' 6 Dramatic Moments You Missed If You Didn't Watch Episode 8 of 'Untucked'
The queens played the Snatch Game of Love in the eighth episode of RuPaul's Drag Race All Stars 6, which aired on Thursday.
Trinity K. Bonet failed to impress with her impersonation of Whitney Houston, while vying for the attention of actor Cheyenne Jackson against Ginger Minj and Kylie Sonique Love.
Pandora Boxx also didn't do well as Kim Cattrall, when competing with Eureka O'Hara and Ra'Jah O'Hara to snatch the heart of Fortune Feimster.
So, Trinity and Pandora found themselves in the bottom two, while Ginger was named the top All Star of the week. Newsweek can now reveal the top six dramatic moments that happened behind-the-scenes on Untucked.
Pandora's Fear of Cancel Culture
Reflecting on the challenge, Pandora admitted that she feels uncomfortable doing comedy because she isn't sure which jokes might now be seen as offensive.
Kylie brought up the topic, telling the other queens: "This generation is super-sensitive and a lot of stuff we grew up on that we find funny, girl, we'd be crucified now."
Pandora added: "I think that's the problem for me lately, doing comedy. I'm just afraid to say or tell a joke because it could be offensive.
"I get in my head a little, wondering, 'Is that still funny? Is that going to offend someone?'—and that's the worst thing you can do in comedy.
"That's what I worry a lot about, what I can say and will I get in trouble for it… it's why I haven't wanted to do a lot of comedy lately."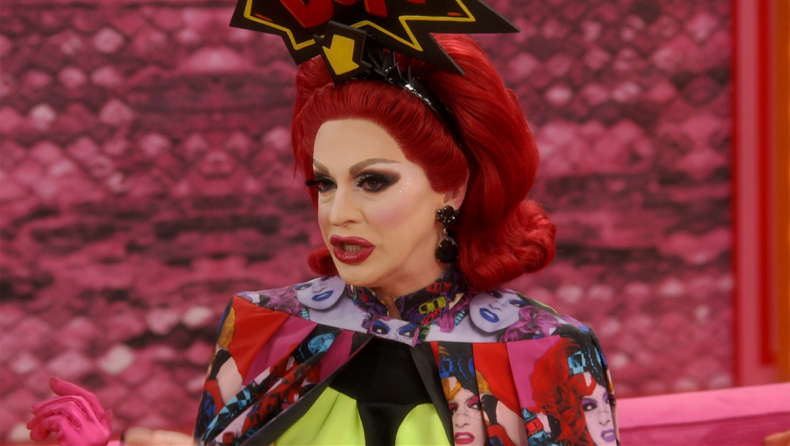 Kylie Thanks Trinity for Her Runway Tribute to Trans People
In a sweet moment, Kylie expressed her gratitude to Trinity for using her runway outfit to make a statement. Trinity's ensemble showed her support for the Black Lives Matter movement—and for Trans Lives Matter too.
Kylie said: "I think it's so cool that you took this moment to not only represent Black people but also trans people too and that means a lot to me."
Trinity explained that she "had to" take the chance to show her support for transgender people, adding that she felt it was "the perfect time to make a statement."
Kylie added: "People get to see people like us thrive and they respect more and they see us more as people.
"I'm saying it's such an amazing thing for you to take those opportunities and to show that we do hurt but we are strong and we thrive, and we will get through this together."
Ra'Jah, Eureka and Kylie Look at Trinity and Pandora's Track Records
Ra'Jah, Eureka and Kylie took a moment to discuss the bottom two queens, before casting their votes for which of them should sashay away.
Ra'Jah said she loved both Trinity and Pandora, and was happy that Pandora had "really given it her all" even if she was in the bottom two weeks in a row.
Eureka said Trinity had impressed her every week, adding: "What I really like about Trinity is she's always working on her drag to the very last second, and that's something."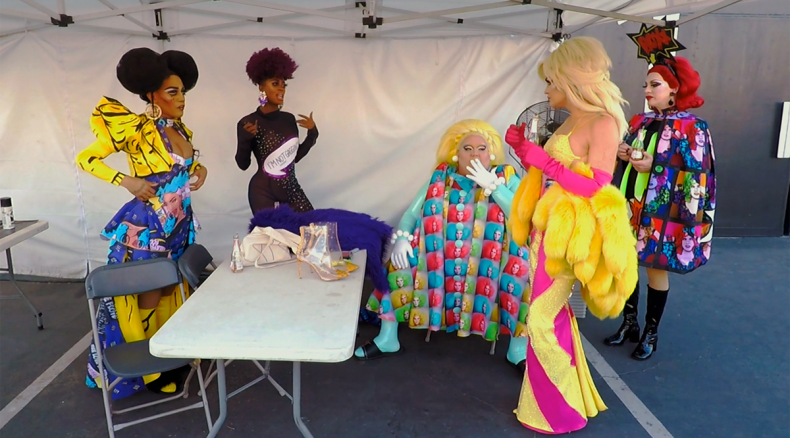 The Queens Discuss the Importance of Not Being Catty on 'Untucked'
Untucked has provided some scenes of high drama across the seasons of RuPaul's Drag Race and All Stars, but Season 6 hasn't had as many of these moments.
Discussing why this might be the case, Ra'Jah told Eureka, Trinity, Kylie and Pandora that they did not "have anything to prove to people."
Ra'Jah added: "It's important for people to see we queens don't need to be catty with each other.
"We have our own bags, we have our own insecurities and sometimes they come out the bag, but I think in this situation we came with the feeling that we don't have anything to prove to people.
"I don't have to prove anything about why I'm in the room because I'm in the room."
Trinity, too, said she "didn't come here for that."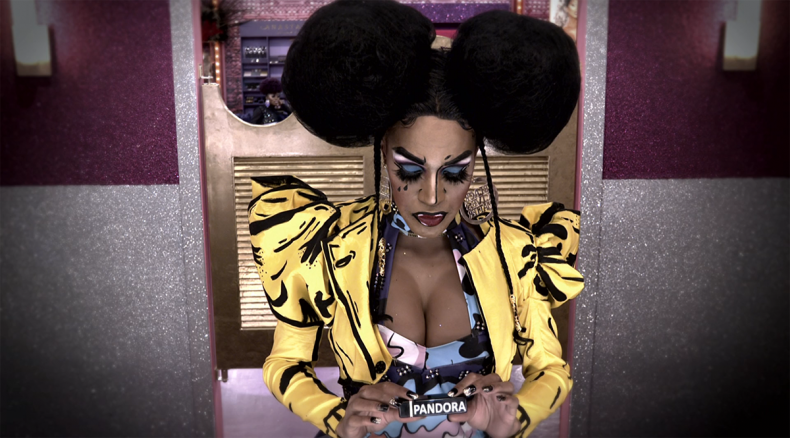 Everyone Voted for Pandora to Leave
Ginger won the lip sync against Heidi n' Closet and revealed she had chosen Pandora to go home—and she was not the only one.
During Untucked, it was revealed that all the other queens in the group had voted for Pandora to leave the competition too.
When the result was revealed, Pandora admitted that she "knew the cards were against me."
Pandora's Disappointment
As Pandora packed her bags to leave the Werk Room, she admitted she was disappointed and wished she could have won a challenge on All Stars.
Pandora added: "I didn't fully accomplish everything I wanted to, but I'm happy with what I brought and what I showed.
"I'm proud of what I've done here because I feel like I gave what I could give, but I'm in my feelings so right now I'm upset."
After RuPaul revealed the "game within a game", she said: "I was not feeling great about leaving, but I feel super-excited to have a chance to come back. What do I have to lose?"
RuPaul's Drag Race All Stars 6 and RuPaul's Drag Race All Stars 6: Untucked airs every Thursday on Paramount+.