'RuPaul's Drag Race All Stars 6' Episode 11 Recap: A Triumphant Comeback and a Sad Goodbye
All Stars 6 Episode 11 shows us the power of RuPaul's Drag Race. The challenge is so-so, the runway is fairly uninspired, and yet the episode pulls off a fairly perfect reality TV arc that makes it a good episode nonetheless.
With few exceptions, every time a queen has come back into the competition after being eliminated, it has been a huge waste of time. Either they go home straight away, or they quickly demonstrate why it was they went home in the first place.
Not this time, however. This time Eureka comes back with a strong win, a strong runway look, and a very strong lip-sync—though we'll get to the issues around that lip-sync later.
In this episode, streaming now on Paramount+, Eureka makes a convincing case for why she should be in the top four. Sadly, that means another deserving queen goes home—a queen that I picked as my winner throughout these recaps.
"The Charisma, Uniqueness, Nerve and Talent Monologues" begins with the reveal that in last week's final lip-sync, Eureka was able to triumph over Silky and her amazing six-episode run.
Some may find it an anti-climax that Silky did so amazingly only to fall at the last hurdle, but as I argued last week it is a win-win for her—she does not have to compete in the main competition against girls that have outclassed her, she is bound to finally get the bookings she deserves, and she has perfectly set herself up for another run on All Stars that this time she will be better prepared for.
Eureka's win means that she is back in the competition, but she is still the underdog, not having won a challenge yet.
Luckily, this week's maxi-challenge is perfectly suited to her (almost too perfectly, but we will leave that particular drag conspiracy theory at the door). The queens are challenged with preparing a piece for the titular "Charisma, Uniqueness, Nerve and Talent Monologues"—a series of speeches that are totally legally distinct from The Vagina Monologues.
We are glossing straight over the mini-challenge as it is just an extended ad for Levi's Pride range, and not even a particularly good one.
"The Charisma, Uniqueness, Nerve and Talent Monologues"—it spells out the c-word as Ginger points out if you had not worked that out across the nearly 15 years Drag Race has been on TV—is a strange choice for a challenge.
An odd combination of comedy, personal storytelling and being forced to be vulnerable on television, it is basically the "Pink Table Talk" again, but this time the queens are solo. It is basically another excuse for RuPaul to prise emotional moments out of these poor contestants. With these two challenges, we are coming closer to Ru's dream of a sort of emotional Hunger Games challenge in which queens just have to admit their darkest insecurities on screen or go home.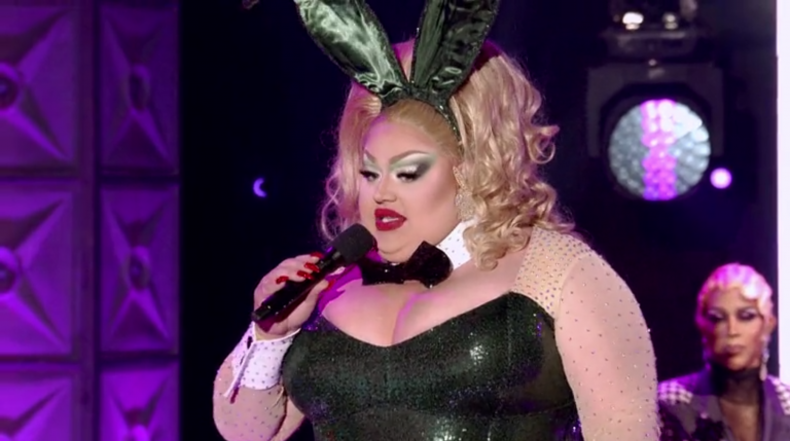 We see the rehearsals, and they all seem to be okay. This is probably because the show has given them mentors (Alec Mapa and Jermaine Fowler) who offer useful critiques rather than just having Michelle and Ross sit there making queens repeat the same thing endlessly to make them look bad.
From these sessions, it seems that Ginger and Eureka are the most in trouble. Ginger seems over-rehearsed, while Eureka's story of soiling herself in drag may be a little too dirty, even for the Wild West that is Paramount+.
Most worried, however, is Trinity. Trinity spent much of the last episode furious that her spot in the top four may about to be taken by an eliminated queen,and by this episode that anger has turned to sadness as she sees her chances of a final spot slipping away.
Her grief is understandable. As the final challenge is always a performance one, she knows that if she can get into the final she has a good chance of winning. However, she makes the mistake of looking defeated—and reality TV loves nothing more than giving someone who feels defeated a defeat.
Compare Trinity here to Kylie, who seems calm and collected. It is this calm and self-belief that has been Kylie's great strength this whole competition, and it is what will push her into the top four here.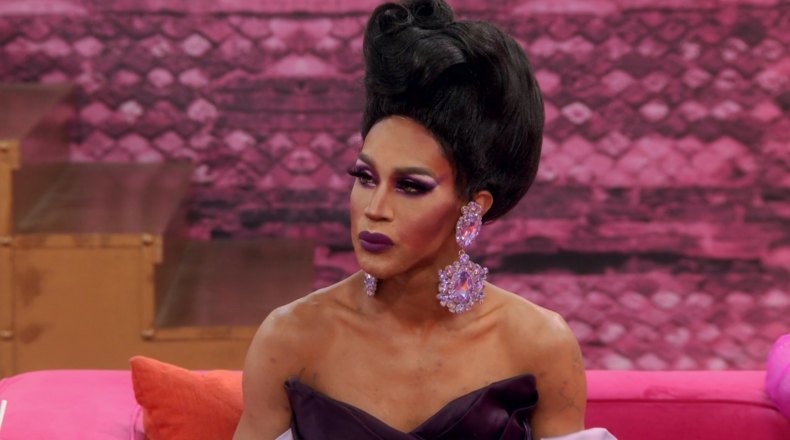 For those who are interested in how reality TV is put together, notice here how the show cuts to Eureka's heart-to-heart with Trinity, where she thanks her for flirting with her. This will be a key moment later.
The challenge itself is somewhat underwhelming. The show never really explains to us what makes a good monologue performance, so it not entirely clear who does well and who does badly. But here are some notes for every performance:
Trinity's monologue starts as a fairly dull catfishing story, but then moves into more touching territory as she recounts meeting a man who was persuaded against suicide after he saw Trinity come out as HIV positive. Plus, it ends with a little buttering up and a moral of how drag can save your life—basic RuPaul catnip.
Kylie's monologue about her first time in drag probably needs a few jokes to be really successful, but her decision to sit down and lean in to the mic is a good choice that creates an intimacy between her and the audience.
Ginger's monologue commits a cardinal sin for talking to RuPaul—it dares to be rude about Dorothy from the Wizard of Oz, a character Ru has spoken numerous times about feeling an affinity for. You can actually see Ru flinch a little when it seems like Ginger is going to slag off the movie. However, Ginger probably delivers the best of the heartfelt monologues, telling a story of acceptance that will move any queer person, and tying it up nicely with a ruby slippers reveal.
Ra'Jah is the only one who makes an obvious error when she goes blank over her words early on. Her story of an embarrassing tucking incident is fine, but quickly gets blown out of the water by Eureka's far more terrifying story. Ra'Jah looks great though, and she does not do the strange serious monologue voice that the previous contestants did which is a relief.
Eureka goes last, and knocks it out of the park. She is totally natural on stage (she doesn't do the monologue voice after) and seems totally at ease telling a story of pooping on stage that would be the darkest secret of a lesser queen. Sure, it lacks the emotional poignancy of Ginger's story, but it was certainly the most entertaining of the night—you could happily watch Eureka do an hour of stories, which you cannot say about the others.
This week's runway is "fashion failures," and Eureka wins this category too with her sweat-stained dress caught in her underwear. Anyone who has been in a gay bar at 4 a.m. has met this queen, and many Drag Race viewers have likely been this queen. Ra'Jah's half-dressed look is fun and Trinity's safety-pinned dress is a nice idea. Ginger and Kylie fared less well. Ginger's idea of a prom night gone wrong should have been taken way further, while Kylie's look is costumey for a queen for has given us effortless cool so many times on the runway.
Unsurprisingly, Eureka is the winner, giving her the perfect arc of going from being eliminated to getting the win she has been waiting for. She makes the final four, and still has a chance of winning—after all, as she came back as soon as she was eliminated, so did not miss any challenges.
Everyone else is in the bottom this week, and were this any other reality show it would be clear from the jump that Trinity was on her way home. Except remember that scene earlier of Eureka and Trinity's heart-to-heart? That is there to heavily suggest that Eureka may save Trinity as her friend. Again, a production masterclass.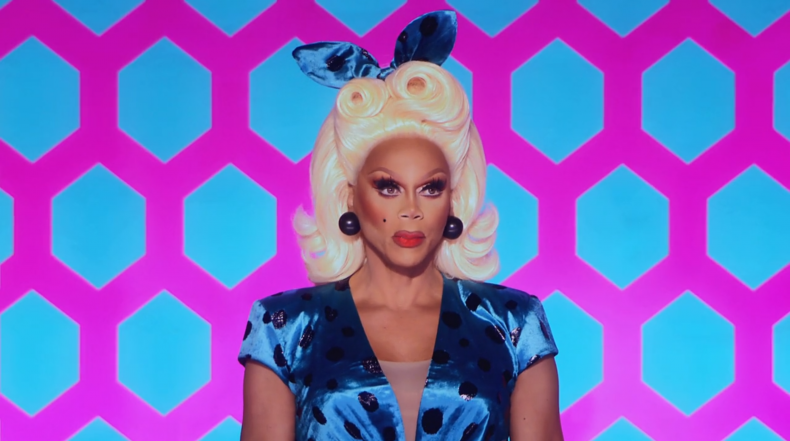 This week's lip-sync assassin is Jaida Essence Hall, our Season 12 champ, who faces off with Eureka to "Good Golly, Miss Molly" by Little Richard. It is hard to imagine the very religious later-life Little Richard give his approval to use the song for a drag competition, but now the rock 'n' roll legend has passed let's get some more of his songs as lip-syncs because their energy really works on the stage.
What does not quite work, however, is this lip-sync outcome. Eureka is the clear winner of this lip-sync, and yet it is declared a tie. Was the show worried that having a contestant beat a winner of the show would make that previous season look bad? It is not clear, but it feels like a production misstep in an episode full of good producing.
"All Star Rules" (which seem to have been written in about 10 minutes with lipstick on a spare tissue Ru had in her pocket) say that as both queens won the lip-sync, both of the people they had to eliminate go home. Sadly, they both chose Trinity, meaning that she misses out on the final.
In fairness, it was probably her time to go, even if her best moments on All Stars 6 were probably better than anyone else's. As it is, our final four are Ginger, Kylie, Ra'Jah and Eureka.
History could be made next week. We could have our first trans winner, or a plus-size queen may finally take the crown. As for Ra'Jah, if she wins she will go from a middling elimination in her original season to a drag legend, which could mean big things for future All Stars.
RuPaul's Drag Race All Stars 6 concludes on Thursday, September 2 on Paramount+.