'RuPaul's Drag Race All Stars 6' Finale Recap: Our New Winner Makes 'Drag Race' Herstory
Episode 12 of RuPaul's Drag Race All Stars 6 is probably the closest All Stars finale we have ever had, making for a nail-biting last episode.
All four queens have won at least one challenge, and no one has won more than two. Ginger Minj, Eureka, Kylie Sonique Love and Ra'Jah O'Hara are all queens that would feel right in the Drag Race Hall of Fame after the season we have just watched on Paramount+.
Luckily, the show did not resort to some sort of harebrained twist and make them all winner. By the end of the episode, we have our seventh All Stars winner.
It's a winner that not everyone may agree on, but it is a win that feels emotionally satisfying—and helps to make up for one of the show's past mistakes.
What Happened on 'RuPaul's Drag Race All Stars 6' Episode 12?
Before either Ra'Jah, Eureka, Ginger or Kylie take home that $100,000 and crown, there is one more challenge ahead of them. The queens have to write and perform a verse for "This Is My Country," RuPaul's new single with country singer Tanya Tucker. Presumably, Dolly Parton was too busy funding vaccines.
Each of their verses has to include the usual boasts that queens have to put in the final song each season, but this time they also have to also include what makes them proud to be American.
That's right, this is secretly one of those weird patriotic challenges RuPaul sets every once in a while—remember that Season 3 challenge where they had to send a message to the troops?
It would be tempting to call this American pride challenge Drag Race's response to Biden's America—and yet they did the exact same thing during the Trump presidency with the "American" final song in Season 10.
This episode has the same problem that most finale episodes of Drag Race have. The producers are so keen to justify its final four that we do not see anyone really do anything wrong, meaning the episode is completely free of stakes until the very end.
There are some highlights, though. We get our final confession of Ginger being horny for choreographer Jamal Sims, which has been a regular feature of hers three times on the show.
In fact, Ginger comes out the best on this central portion. Despite being one of our finest campy queens, she is totally open to trying Jamal's sexy choreography. Plus, she butters up Ru nicely in the interview portion by telling an anecdote about their time together on the set of AJ and the Queen—the first time literally anyone has thought about that show since it came out and was swiftly canceled.
Side note about this interview portion—it's kind of weird it's still here. After all, it began life as promotion for Ru's podcast, which no longer exists. Still, Ru get to unleash some of her signature pop psychology psychobabble. A highlight? When she uses the phrase "human ascended master" with a straight face.
Kylie also comes out well in this portion of the show. As I've written in these recaps before, she has a level of self-acceptance that is so refreshing to see in a show that loves to take any queen's insecurities, magnify then and then set at them with a pickaxe. You can't see Kylie, for example, falling into any of the traps that Jan did this season.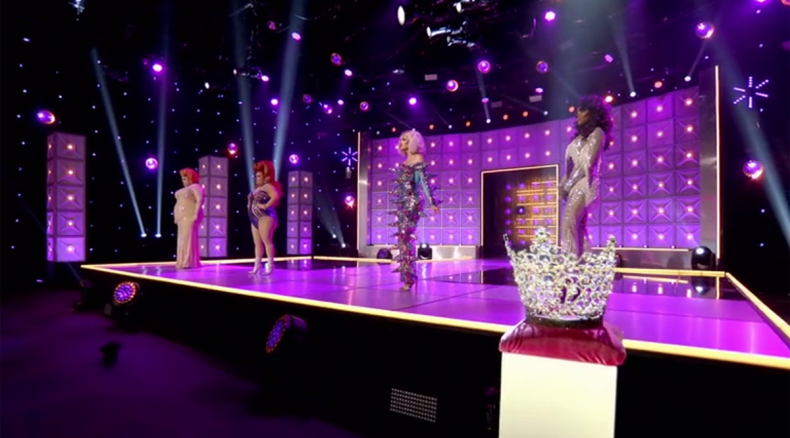 The Final Performance
Everyone did pretty good here, with each performer having their own strengths. Eureka looks great in her Marie Antoinette look (it's glorious un-country and I love it), and somehow manages to get a line about feeding the homeless into her song which should be commended.
Ginger, meanwhile, really does manage to pull off sexy. At this point, it really seems like she's being set up for a win—being sexy and glamorous was pretty much the only thing she was missing as a queen, and she manages both.
Kylie is the most country of the four, and it shows. She has the twang down perfectly, and her performance is pure country sass.
Ra'Jah makes the clever choice to set herself apart with a rap, and it really works. Her performance is flawless as usual, but she does seem to be dressed as a picnic blanket, the frayed edges of which she has covered up with tulle.
Final Runway
This can sometimes be a disappointing one—often you can really tell that rather than leaving their best look for last, queens are simply wearing whatever they have left after many weeks of outfits.
Not this week. Eureka's Cher high priestess look is stunning, as is Ra'Jah's slinky purple gown. Ginger's Westwoodesque number if also very beautiful, and much more fashion than her usual outfits.
The only slight misstep is Kylie's short American flag number. The statement of reclaiming the flag is a powerful one, but the dress lacks the final gravitas of the other three pieces. If only it had been a little longer.
The queens then have to make their case for why they should win. Before this, Eureka was probably most people's pick for fourth place, but her speech about why it is time for a plus-sized winner brings her right into contention again.
And she's right—we have had Drag Race winners of all types, races and backgrounds, but never one with a BMI above 30. Drag Race U.K. crowned Lawrence Chaney, and Thailand crowned Natalia Pliacam, so it is high time the U.S. version followed suit and championed a body type that has been stigmatized by many in the LGBTQ+ community.
Before we find out whether we are finally getting a big girl winner, however, the queens have to lip-sync one at a time, as introduced by a jarring cut that sees all the queens return to the stage in totally new outfits.
These four lip-syncs are cut together in such a way that it is hard to see anyone in particular standing out. Now the show is streaming, there is no reason they couldn't cut the episode slightly longer and show them perform one at a time. As it is, we see them perform Lady Gaga's "Stupid Love." Ginger is probably the most memorable by going comedy, and Eureka seems to perform the least well from the few seconds we see, but it still feels like anyone's game.
And the Winner Is...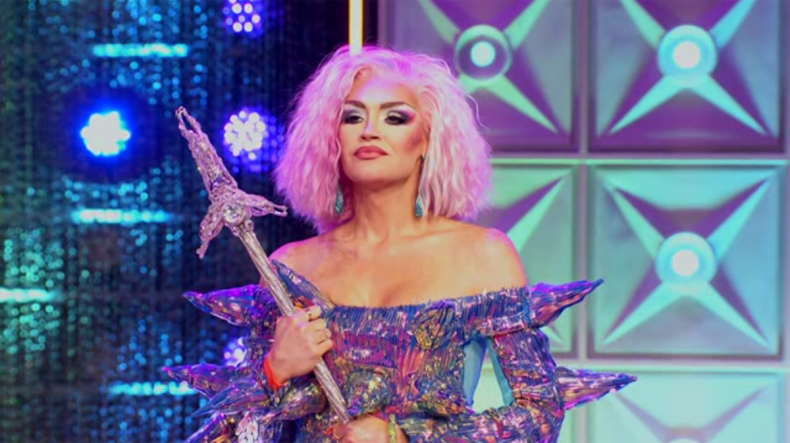 At this point, I really thought that Ginger Minj had done enough to win. She had two challenge wins, had proven she could be sexy and glamorous, and probably had the best overall finale. But then, I also thought she would win Season 7.
However, Ru announced that our latest winner is...Kylie Sonique Love.
Kylie's win is probably a surprise to many, but it is an effective way to end this season. She may have only won the one challenge, but she has probably had the perfect All Stars run in terms of coming back into the game and showing how much she has improved since her first run. Plus, she has had a great and surprising run on the show,and her self-love is an example to all the queens who come back to All Stars held back by their insecurities.
Plus, she becomes the first trans woman to win the U.S. competition and only the second in the whole franchise with Thailand's Angele Anang.
This goes some way to making up for Ru's refusal to let trans women compete on the show in the past. In 2018, he told The Guardian that he would not let a queen who had had gender-affirming surgery compete in the competition. He then doubled down on that with a much-criticized tweet reading: "You can take performance enhancing drugs and still be an athlete. just not in the Olympics."
This led to an apology from RuPaul, and since then trans queens like Gia Gunn and Jiggly Caliente have returned to compete. Season 13 featured trans male contestant Gottmik, while U.K. Season 3 includes the first queen who was assigned female at birth.
With this win, then, All Stars sends out a powerful message that fits Ru's general premise: That drag is for everyone. Just make sure you're not overweight if you want to take home the crown.
RuPaul's Drag Race All Stars 6 is streaming in full on Paramount+.