'RuPaul's Drag Race All Stars 6' Episode 5 Recap: The Queens Take It to the 'Pink Table Talk'
RuPaul's Drag Race judges are often mocked for their demand that every queen shows them vulnerability, but All Stars 6 Episode 5 makes a great case for why it is such an important skill for any queen serious about winning to have.
Some of the finest moments of Drag Race have come when contestants finally let down their guard. In fact, in many ways the show was built on vulnerability. Season 1 of the show, after all, felt like your standard frothy but empty reality TV show until Ongina revealed she was HIV positive onstage. From that point, the show came alive.
However, the show has never really been able to find a challenge to test how vulnerable the contestants are. It has tried—remember that strange mini-challenge in Season 5 where everyone had to tell a sad story, and everyone joked around except Detox who shared a harrowing story about a car crash she had been in? But it has never succeeded.
That it, until "Pink Table Talk." The queens are tasked with hosting a confessional talk show in the style of Red Table Talk, the Facebook Watch Show that has given us TV moments like Jada Pinkett-Smith discussing the infidelity in her marriage to Will Smith, and Lori Loughlin's daughter, Olivia Jade, being read to filth by Adrienne Banfield-Norris.
Post-deliberation
First, though, the queens discuss Yara going home. All the lipsticks in the box are for her, expect for Yara's own, with the queens saying that she basically gave them an excuse to vote her out when she refused to plead her case.
Sadly for Jan, she missed these signals, and reveals she voted for A'Keria. Jan tries to justify this, but Scarlet tells her she does not need the group's permission to vote a certain way. Of course, multiple seasons of All Stars have shown that you kind of do— miss the way that your fellow contestants are voting and your chances of going home are suddenly much higher as people are not sure whether they can trust you. From the first few minutes of this episode, it seems we are heading to situation where Jan is in the bottom.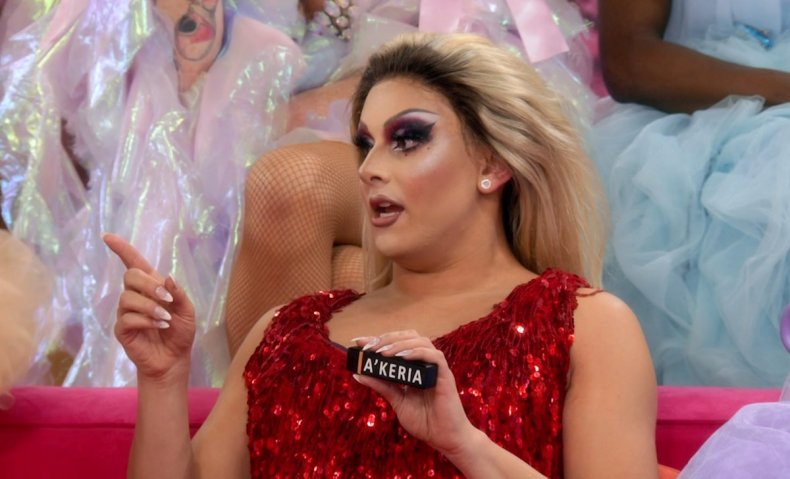 Main Challenge
Once the voting decisions have been discussed, Ru comes into the workroom to introduce the "Pink Table Talk," heavily inspired (but for legal reasons not copied from) Red Table Talk. The queens split themselves into the following groups with the following topics:
A'Keria, Trinity and Eureka: Sex
Ginger, Jan and Pandora: Body
Kylie, Ra'Jah, Scarlet: Motherhood
Those are the perfect topics—who would have thought flamboyantly gay people who completely change their shapes to become beautiful women would have things to say about sex, their bodies and their relationships with their families?!
First though, a classic Drag Race beat: Ginger wants motherhood as she is currently trying to have a baby by a surrogate, but so does Scarlet as she has two moms. Scarlet wins by scissors paper stone, and frequent Drag Race watchers realize she may already be doomed—if you fight for a given role, you sure as hell better deliver, as you have given the producers the storyline on a platter of the demanding queen who under-delivers on what she demands.
At this point, Drag Race viewers may find themselves skeptical about this challenge—after all, how hard can it be, it's just talking about yourself?
As the subsequent "Pink Table Talks" prove, it can be pretty hard. But not for A'Keria, Trinity and Eureka, the first team up. They have two advantages over their competition— they seem like the only team who has actually seen Red Table Talk, and they have Eureka, an amazing host who literally has her own HBO show where she helps people deal with their vulnerabilities.
Eureka is the stand-out of the team, but both A'Keria and Trinity also deliver the goods. Trinity is open and candid about being HIV positive, and spreads the important message that when it comes to the virus, undetectable equals untransmissable. Plus, she does it all while serving Jada realness. Trinity continues to impress week on week, and at this point it really feels her competition to lose, with Eureka and Ra'Jah her only real threat.
A'Keria also opens up about living as a transgender woman only to detransition. Interestingly, Eureka too has spoken in the past about the same thing in her own life, but either does not discuss it here or it is not shown. If it is the latter, then that is probably a wise move—the show has only really recovered from RuPaul's earlier controversial comments about trans contestants competing, so pushing the detransitioning narrative too much will only ignite that controversy, especially in an episode where Kylie ends up in the bottom.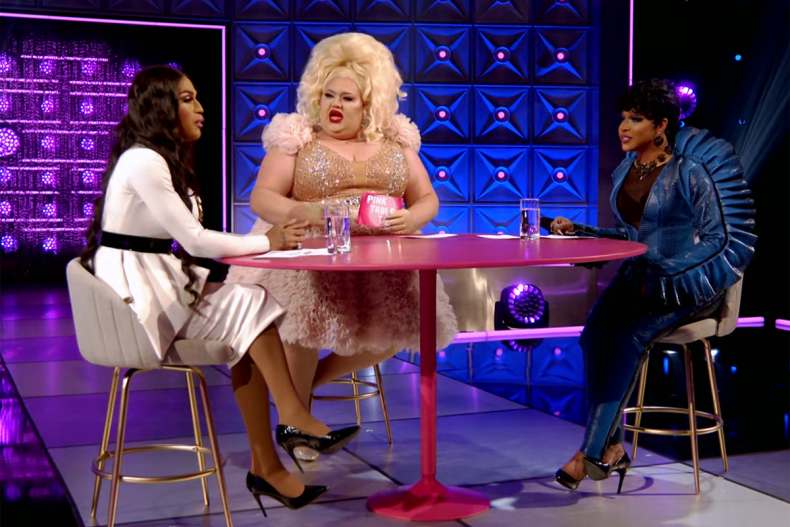 If A'Keria, Eureka and Trinity nail Red Table Talk, then Kylie, Ra'Jah and Scarlet is more like The Drew Barrymore Show. They really show that making this format work is harder than it looks.
For one, they are way too over-rehearsed, making the whole thing feel more like a bad SNL sketch about a talk show than a real one.
Ra'Jah manages to come out of it better by getting real about her struggles for acceptance from her mother. Scarlet and Kylie, however, fare less well. The former has the unfortunate habit of vamping when she is nervous about opening up, and does not deliver after fighting to discuss motherhood—the whole time, I found myself wishing we got to learn about Ginger's surrogacy struggles instead.
Kylie, meanwhile, has the unfortunate position of being in between Ginger and Eureka, both of whom nail the moderator role. She is fine, and has a sweet moment with Ra'Jah, but focuses too much on keeping the conversation moving on than she does making sure she has a moment to shine. And when other contestants have discussed their troubled family dynamics and living with HIV, just talking about how much you love your dog just isn't going to cut it.
Kylie has really blossomed since her season, and seems to have found a real inner peace and calm since transitioning that makes her a joy to watch on All Stars 6. Unfortunately, that does not serve her well in a challenge that, in typical RuPaul fashion, is just a thinly-disguised way of getting contestants to dish about their trauma.
Team Body fall somewhere in the middle of the other two teams. Ginger does a good job moderating, and is vulnerable enough to share a pretty grisly medical story about a bowel obstruction that made her put on weight as a teenager.
Jan, however, has a bad day. Her glittery outfit looks looks like something she packed for the Lady Gaga challenge last week, and makes her probably the first person in TV history to present a talk show in a leotard. Watching her in this challenge is frustrating. She makes a joke twice about how other contestants are giving the vulnerability the judges are looking for, and yet does not realize that her own inability to be vulnerable is what will send her into the bottom this week. Those jokes are telling—Jan is so obsessed with her place on the show and the competition that it stops her doing the things she actually needs to win it.
Pandora performs better than Jan, but uses jokes as a mask to stop herself from really getting into the ageism she finds in the gay community.
Overall, the challenge reveals exactly what the judges have meant about vulnerability all these years. It is much more engaging to watch someone like Trinity or Ra'Jah being honest and open about their struggles than it is to watch Scarlet channeling some third-hand idea of a '40s pin-up or Pandora deflecting things with a joke.
Runway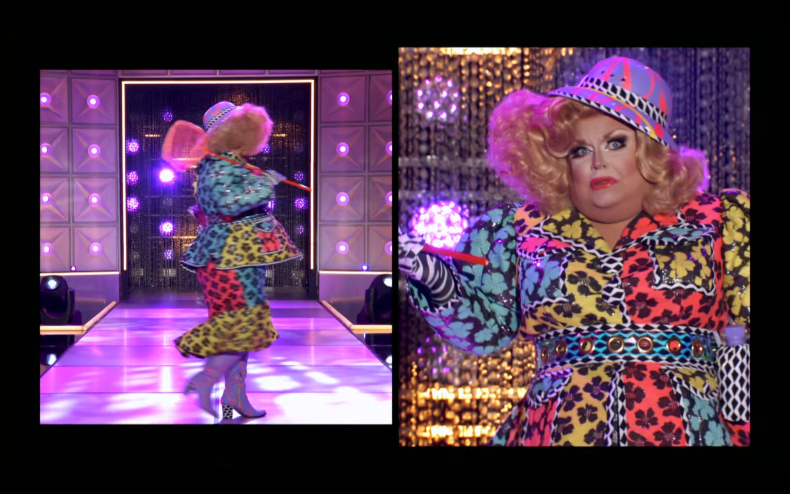 Judging time comes around, and this week's guest is former The Talk host Aisha Tyler, who gets a great joke in in which she lets rose petals fall out of her mask—she definitely should have given Shea Coulee a trigger warning before she did it though.
Tyler was last a judge for Season 3's "Snatch Game" a decade ago, meaning that the show has now been going for so long that they are starting to go full circle. The agents of Gigi Levangie and Alessandra Torresani better get ready for their call to make a second appearance.
This week's runway category is "Clash of the Patterns," and the big girls have a great night. Eureka delivers another gown that demonstrates she is a master of drag proportions, and Ginger has never looked better than in this psychedelic rave take on a safari suit. Honorable mentions also to Ra'Jah's assembly of African prints and Kylie in what RuPaul brilliantly calls "Michelle Visage's first communion dress."
Unsurprisingly, Team Sex are the winners, but Ginger is the overall champ. Eureka seemed like the winner to me, but Ginger looks stunning and by definitely shares the most in the challenge.
Voting Deliberations
As already set up, Jan and Scarlet are in the bottom, and are joined by Kylie. In the deliberations, however, there is no serious discussion about Kylie going home. No one says it, but the subtext is clear—Kylie has simply had a bad week, while Jan and Scarlet failed because of flaws that will continue to be major obstacles in their competition going forward.
Interestingly, in Untucked we learn that votes for Jan and Scarlet were evenly split, which kind of makes you wish Ginger lost the lip-sync just so we learned what that would mean.
Lip-sync for your legacy
As it is, however, Ginger does win the lip-sync of Lizzo's "Phone," but not before a fun fake-out. Initially, it seems that the "lip-sync assassin" will be Bianca Del Rio, a contestant who famously never lip-synced on her way to winning Season 6. However, it is then revealed she is just there as a joke (and, of course, to read the All Stars). Bianca fans probably breathed a sigh of relief there. She probably had the perfect run on Drag Race out of all the winners, so seeing her lose a lip-sync would have ruined that slightly.
The real assassin is revealed to be Mayhem Miller, who seems to be set up for a win as soon as Lizzo starts playing. Ginger matches her beat for beat, however, and adds a layer of comedy that Mayhem does not that seals the deal for her. Ginger is an underrated queen of the comedy lip-sync—look at her bizarre take on Tiffany's "I Think We're Alone Now" during Season 7's "Conjoined Queens" episode for proof.
Who went home in 'RuPaul's Drag Race All Stars 6' Episode 5?
After Ginger gives $2,500 of her $30,000 win to her teammates Pandora and Jan, Scarlet's fate is set. Ginger made it pretty clear that she was not sending Kylie home, and Jan was her teammate. Even at this last moment, Scarlet refuses to be vulnerable, not really saying goodbye to her fellow contestants as she leaves...or at least leaves until the "game within a game" begins.
No sign yet of what exactly it will be, so in the meantime, we can just imagine Serena, Silky, Jiggly, Yara and Scarlet are playing an epic backstage game of Drag Queen Twister.
RuPaul's Drag Race All Stars 6 airs Thursdays on Paramount+.