'RuPaul's Drag Race All Stars 6' Episode 10 Recap: A Lip-Sync Smackdown for the Ages
RuPaul's Drag Race All Stars 6 Episode 10 may have finally broken the show's bad twists curse.
Two things set the "Rudemption Lip Sync Smackdown" apart from the usually bad twists in All Stars. First, it brought something that the show had been missing. Lip Syncs For Your Legacy can be fun, but they can never compete with the manic desperation to stay in the competition that fuels the best Lip Syncs For Your Life.
The second ingredient that made this "game within a game" a winner was one person: the Reverend Doctor Silky Nutmeg Ganache.
Before viewers got to see Silky's herstory-making lip-sync run, however, the remaining four queens were told that throughout the competition, a "game within a game" had been taking place. Eliminated queens had been taking part in a winner-stays-on lip-sync tournament and whoever ends up as the ultimate champ will return to the competition.
The jury's out—no, not the terrible All Stars 3 jury—on whether it would have been better to show this competition happening at the end of every episode, or perhaps on Untucked. It could have been fun seeing queens go home and knowing they were about to face one final humiliation at the hands of Silky.
Instead, we get to watch the competition along with the remaining queens. This makes for some fun moments, such as when Ra'Jah says Silky's flat shoes are "from the Ginger Minj collection." What we don't get to see much of is Trinity, who seemed to be having a well-needed rest.
Here's how the lip syncs went down.
Serena ChaCha vs Jiggly Caliente
The one problem of this format is that it makes these early lip syncs fairly futile. These early contenders are just fodder for the later queens to eliminate.
Nevertheless, Jiggly takes the win, with Serena's weirdly childlike pigtail-based routine not really fitting the fierceness of the song ("Free Your Mind" by En Vogue).
Jiggly vs Silky Nutmeg Ganache
The self-described "two fat b****** in leopard" seem evenly matched in the early portions of Cyndi Lauper's "Girls Just Want to Have Fun." Silky has the moves and Jiggly has a fun bit with a lollipop that is a neat callback to her Season 4 run.
But then Silky starts making cocktails out of bottles she had hidden between her breasts. Jiggly just cannot compete with a queen who has a whole liquor cabinet in her bra. Drag scholars will spend decades crunching the numbers on how exactly Silky kept ice cubes intact under hot studio lights. Silky wins.
Silky vs Yara Sofia
If this was a regular queen returning to the competition, Yara would have a great chance. As it is, the pair face off to "Point of No Return" by Exposé and Silky simply outdances Yara—even if Yara's crotch air guitar move is sure to be copied by a thousand drag queens around the world. Silky wins again.
Silky vs Scarlet Envy
There is probably no universe in which Scarlet would beat Silky in a lip sync, even if Silky were not on the run of her life.
Scarlet really looks like Cher in her rhinestoned jumpsuit, which sets her up well for this performance of "Song For the Lonely," Cher's weirdly upbeat and dancey tribute to the fallen of 9/11 (yes, really).
Scarlet tries her best, but is given the red light once Silky picks up her flag and gives us her best color-guard moves. Silky wins for the third time.
Silky vs A'Keria C. Davenport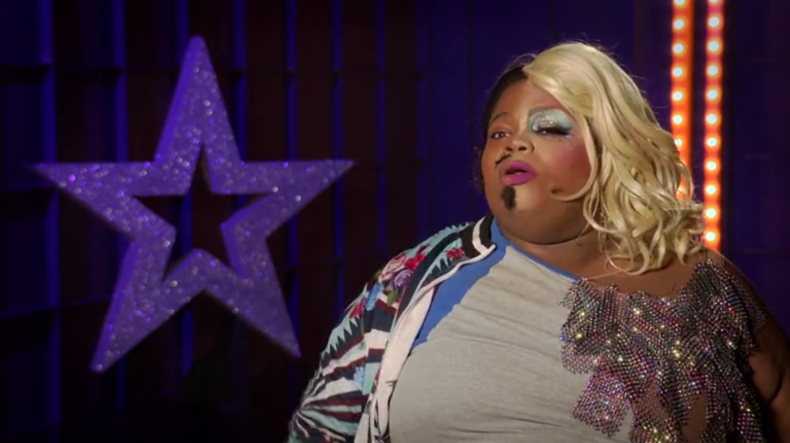 This is the point in the episode when, whatever happens in the end, Silky got her ru-demption. As Silky gets ready to perform in her green house dress and veil, it is revealed that A'Keria has turned down the chance to return.
Solidarity for A'Keria at this point—the All Stars process is designed to be emotionally manipulative and to play on queens' insecurities, so it is understandable that she would not want to go through it all again.
It was probably a wise move on her part. A'Keria is a fierce performer, but it may have been impossible for her to beat the pure insanity of what Silky did when she performed the song solo.
Ripping off her dress and mask, she revealed that she was dressed half as a man and half as a woman to match the two singers of Aqua's "Barbie Girl."
The half-man, half-woman thing is a bit of a drag cliché at this point, but there's something about the sheer heft of Silky that adds an extra dimension to this performance—and makes it once of the all-time memorable Drag Race lip syncs.
Silky vs Jan
At this point, we realise two things. One, this repeated bit with Carson pretending to host has way outstayed its welcome and two, that Silky has literally nothing to do all day but plan lip syncs and make props.
Judging by Ru's outfits and the people on the panel for each lip sync, these eliminators are being filmed weekly, shortly after the episode's losing queen has sashayed away. This means Silky is having to sit for days on end in her hotel room, waiting for her next challenger.
This week, it appears she has put this time to good use by making a whole guitar. True, she could have brought it along for the Super Bowl half-time show challenge, but it is more fun to think of her doing crafts to while away the hours between assassinations.
Jan provides the most fight so far and connects early on with the song ("Heartbreaker" by Pat Benatar). But then Silky brings out the guitar for the solo and takes yet another win.
Silky vs Pandora Boxx
Again, is there any world where Pandora could have beaten Silky? It is like Silky knew she was facing Pandora and wore sneakers as if to say, "I'm so confident I can beat you that I am committing one of the cardinal sins of lip syncs and will still win."
And win she does. Her Ariana cosplay outfit is enjoyable and she even cracks out a new dance move that can only be described as "the back flump."
Silky vs Eureka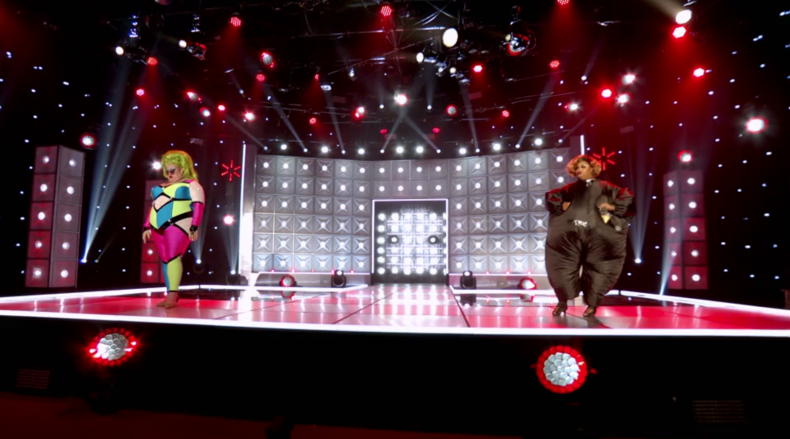 This lip sync is genuinely the closest that RuPaul's Drag Race has ever come to Shakespeare or classical drama.
For all you non-literature majors, in classical drama there are the concepts of hamartia, the fatal flaw that is the hero's undoing, and hubris, the excessive pride that brings disaster.
Throughout these lip syncs, Silky's stunts have become ever more audacious and complicated, as if she is tempting the gods to make something go wrong.
And go wrong it does, at the exact moment when she needed it to go perfectly. The song is "Since U Been Gone" by Kelly Clarkson and Silky is trying to tell an ambitious story about her mother's life-changing weight loss by stripping down from a giant shellsuit into a sparkly party dress. Except just as she seems to be pulling ahead of Eureka, the reveal fails and she has to perform with the first outfit stuck on her leg.
To those lit majors still reading, the shellsuit becomes the albatross around her neck.
The episode ends before they reveal who has won the lip sync, but it surely has to be Eureka—who commanded the stage, looked great and most importantly didn't perform the song with a reminder of her failure billowing around her leg.
Some may find the idea of Eureka lip syncing once and re-entering the competition an anti-climax, especially after Silky's incredible run, but I think it is probably the best way the episode could had ended.
Let's be real: Silky cannot win All Stars 6. What will happen is what always happens. The eliminated queen returns, stays for one or two episodes and then gets eliminated again. There was a reason, after all, that the queen went home in the first place.
If Eureka returns, meanwhile, a genuine competitor comes back. Meanwhile, Silky will forever be remembered as an all-time lip-sync assassin, which should finally get her the bookings she deserves.
Of course, the show will probably bring them both back, because if All Stars loves one thing it is a messy twist.
RuPaul's Drag Race All Stars 6 airs Thursdays on Paramount+